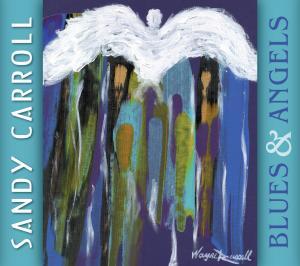 Singer/songwriter Sandy Carroll released her fourth album via Catfood Records on October 19th. Blues & Angels takes Carroll back to her Memphis blues roots, after previously recording more in the Americana and country music genres.
Produced by her Grammy®-winning husband Jim Gaines, Blues & Angels marries Carroll's husky voice with the undeniable blues talents of guest artists Rocky Athas, Bernard Allison and Johnny Rawls. Sandy is no stranger to blues music, as her songs have been recorded by such luminaries as Albert King and Luther Allison.
Her duet with Rawls, "Love Is a Wonderful Thing," was recorded at Bessie Blue Studios in Stantonville, Tennessee and East Avalon in Muscle Shoals, Alabama. Co-written by the two artists, the song also features Rawls and Will MacFarlane on guitar, Clayton Ivy on keys, David Hood on bass, and Justin Holder on drums, with backing vocals by Trinecia Butler and Rachel Robinson.
"I was honored to write and duet with Johnny Rawls," Carroll declares. "This lyric video reflects the mood of the song so completely! Videographer Shaye Smith shows Love in all forms and the joy in having fun with it. From puppy licks to the love of a friend, child, parent, mate … it's all here with a blues track that's organic and full of spirit. Go on … feel wonderful!"
*Feature image Sabrina Bordenkircher