On March 1st, Forty Below Records will release Somebody Save Me, the new studio album from soul blues singer, Sugaray Rayford. At 6'5" and 300 pounds, this cigar chompin' ex-Marine with a voice like a force of nature holds court in any room he enters. Possessing a magnetic personality, and an old school vocal style that echoes Muddy Waters, Otis Redding and Teddy Pendergrass, Rayford is also a stellar dancer with moves reminiscent of the legendary James Brown.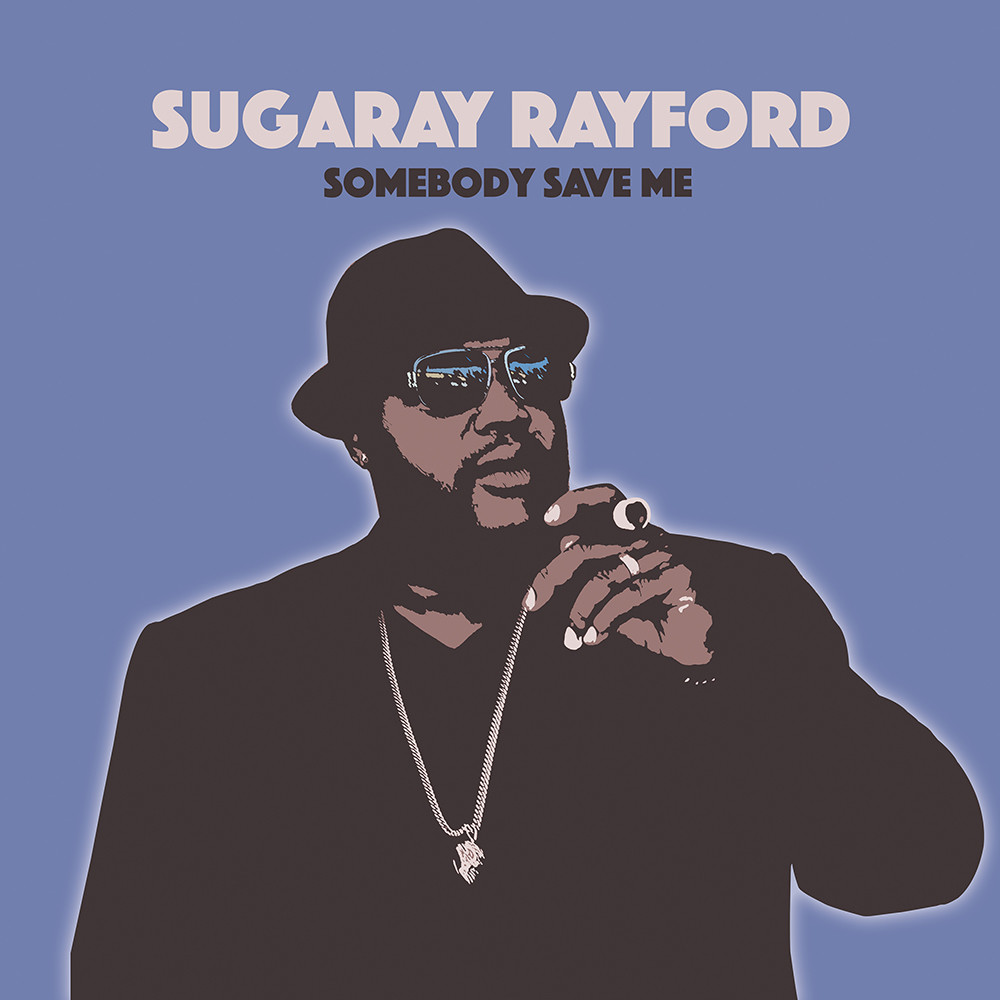 We caught up with Rayford, at his Arizona home, shortly after his Valentine's Day performance for the HART Fund at The Rhythm Room in Phoenix.
JD Nash for American Blues Scene: We've got this new album of yours, Somebody Save Me, coming out on March 1st. This is a Forty Below Records release. Is this the first time you've worked with Eric Corne?
Sugaray Rayford: "It is the first time I've worked with Eric, and it's kinda weird the way it went down. I was waiting on a contract with another record company, and I wasn't really too excited about that deal. My wife and I had been independent for a long time, but the time had come in my career to let somebody else help.
Anyway, I was in the middle of getting ready to sign with this other company, and Barbara Newman had invited me down to be a judge at the International Blues Challenge. So I went down to Memphis, and had just signed with my new booking agency Intrepid Artists. I was standing outside the Orpheum, dreading to go in because I was just exhausted. We'd just finished a world tour, and all we really wanted to do was go back to the hotel room. But, I had promised I would come in and play, and at that time my booking agent Rick Booth came up with this little guy in a baseball cap. He said, 'This is Eric Corne. I wanted to introduce him to you.' So I had a couple words with him right there on the street corner. He wanted to talk business. Well, my wife is my manager, so I told him 'If you wanna talk business, talk to the tall blonde over there.'
The next thing you know, two days later we were having a meeting. I really liked what he was saying, and really liked the direction he was going. It's like he was plucking it right out of my head. We signed a nice deal and so far I'm very happy with the way things are going."
JD: Eric always seems to bring a stable of great musicians with him when he brings an artist in to record.
Sugaray: "Yeah, he knows a lot of guys. That was a little tough for me because I have some of the greatest guys in the world that play with me. On the next album I will definitely try to have my band in the studio, because these are the guys that travel and play with me all over the world. Most of them are world famous in their own right. Grammy nominated or have played with some of the greatest bands in the world.
But yes, he brought in some real nice cats that I had never worked with before. It was a lot of fun and they did a great job. Even in the writing, Eric understands my sensibilities. Again, it was a little different because I've been writing songs and he produced them. I kinda gave up a little bit of power, but so far I'm very happy with it."
JD: I'm sure there's a tour planned following the release.
Sugaray: "Oh yeah. It actually begins on March the 1st too. The first show is in Utah, then we come back to Phoenix. We take a few days off then have a show in Los Angeles on the 8th, then San Diego, then we march across the country. Colorado, Nebraska, Chicago, Vermont, Maine, Canada, New York, Boston, basically the whole country. We'll be doing fifty shows in sixty days."
JD: Are you headquartered in Arizona then?
Sugaray: "Arizona is home. We keep a place in L. A., but Arizona is home. It's pretty much been home since 2009 or 2010. I really like it. I'm out here in the country surrounded by beautiful desert. It's just gorgeous. When we moved to this little city it had maybe 15,000 people. Now there's over 60,000 so it's really grown a lot."
JD: Well it makes sense that you were tapped to play that Valentine's party at the Rhythm Room then.
Sugaray: "For the HART Fund, yeah. I'm really good friends with Bob Corritore, and for me it's a way to give back. The HART Fund is a great thing and from that gig, literally 100% of the proceeds go directly to the HART Fund. Whenever I get the chance I do it in Memphis and I always do it here. It was a great turn out, a packed house. Andy T and his band came out, Annika Chambers came up, the Delgado Brothers, the local IBC winners from Phoenix. All told about 400 people came out for that show. It raised a lot of funds, and I know there are musicians in the area that need help. I did one up in Washington, and they raised enough money to get a guy a prosthetic arm, so that was really cool."
JD: Annika posted on Facebook that she was excited to have been on stage with "the baddest man on the scene right now."
Sugaray: "Ha ha. Alright. I'll have to thank her for that. Annika's a sweetheart. She's a hell of a singer and a hell of an entertainer. I like that because to me, a lot of people don't entertain anymore."
JD: You fall into that entertainer category as well. You sing, you dance, you bring so much soul into everything you do. You're pretty much categorized as a soul blues artist. Do you consider yourself a blues artist or more of a soul singer?
Sugaray: "I'm a blues man, but the caveat is I'm just a singer. A lot of times when people listen to blues they're only thinking of one type of music. That's sad because it never used to be that way. Good music is just good music. For example, I do a lot of commercials. I've done commercials for McDonald's, Jim Beam, Cadillac, several soft drinks and whatnot. The reason I'm able to do that is because I let them know I'm a singer. If I had to 'put myself in a box' I guess it would be as a Gospel singer. I've sung more Gospel than anything else. I'm a blues man. I had all those years as the lead singer for The Mannish Boys, or when I was doing blues rock with my old band. It's just been the last two albums that have leaned more toward Gospel/soul/blues.
Another thing is a lot of people aren't really educated in blues music unfortunately. I feel it's my duty to semi-educate them. They're really good at knowing Chicago blues or Mississippi blues. I have to tell them that just as big as Muddy Waters or Buddy Guy, are people like Tyrone Davis, ZZ Hill, Albert King, and Little Milton. They just did a whole different set of blues, which I realized after leaving The Mannish Boys was really, really, really, REALLY, under recognized in the blues community. It seemed that people only recognized blues as West Coast Shuffle or Chicagocentric."
JD: I've always been drawn to the sound that came out of Memphis. My whole life I've been an Otis Redding fan.
Sugaray: "Now you're preachin'!"
JD: That whole Memphis vibe was just so soulful. And it was Gospel flavored. All those guys came out of church.
Sugaray: "Yeah, we all came out of church. It was soul, but it was very much blues. Even now people tell me, 'I notice there's a lot of black people coming out to your shows, and we don't see that many black people at blues shows anymore.' Well the young blacks are mostly into the hip-hop scene and a little bit into R&B. But they're slowly coming back into the soul scene which is why I mix a little of that in there. You gotta give 'em a little sugar before you give 'em all the benefit. Go down south sometime. If you're in New Orleans, if you're in Memphis, or Houston, or Dallas, there's a live blues scene, but it's soul blues. Even in Mississippi it's almost like an underground thing. A lot of black people are listening to that but there's also few people who are privy to it. When I travel around the world singing the blues, they want Chicago. I mean no disrespect, I love Chicago but I'm not from there."
JD: Right. You're originally from Texas correct?
Sugaray: "I'm originally from Texas about 15-20 minutes from Shreveport, Louisiana. A town called Tyler, Texas. There's like 400,000 people there now, which was mind-boggling to me. What happened to my little town?"
JD: The new album drops March 1st, and I love the very first track, "The Revelator." Talk about taking you to church. Was that Eric's idea, or yours, or kind of a joint decision?
Sugaray: "Well Eric wrote the words, and I did the singing. I told him from the jump I don't like to sing things that aren't relevant to me. You can hear it. When I sing something folks can hear the conviction in my voice. Eric understood that. We collaborated and he came up with this idea. The other thing was having all those great musicians in the studio. Eric is the kind of producer who gives the musicians kind of a free rein. He'll say, 'Here's an idea,' then they'll bat it around and come up with something. He told me, 'I want you to learn these songs, so we spend less time in the studio.' Well, I don't work that way. I'll read the songs over but I won't learn the melody. The melody is going to change when I get in the studio. When I start singing it I feel it in my soul. Then I allow my soul to take it where it needs to be. The musicians and I tracked all this stuff live. We were in the studio looking at each other. They could feel my soul as we sang and played the songs. It was half and half. Eric writing it out, and then us capturing it in the studio."
JD: You brought a little of that southern flavor to the album too with songs like "You and I." That's a southern vibe for sure.
Sugaray: "I had a visit down in Memphis and was hanging out at Royal Studios where Al Green recorded 'Love and Happiness,' and that vibe just kind of came off of that. When Eric brought me "You and I," we started talking and decided this was great. My whole had been how to follow up the album that I had done the year before in Italy. It was probably one of the greatest albums I've ever done. That was strictly soul. Eric loved that idea, but wanted to keep me a bit in the blues, and I wanted to stay somewhat in the blues, but we still wanted to keep that soul flavor.
Otis Redding, Bobby 'Blue' Bland, Solomon Burke, Little Milton, those were all blues guys. But they were also soul guys. It's hard to do the blues if you don't have that soul and Gospel influence. To me, the blues has become more guitarcentric, instead of being what it used to be about which was the story. It used to be a sprinkling of piano, guitar, and harmonica to help tell the story. Over the last 30 years, in my opinion, the blues has gotten away from the story and gotten to how many notes can the guitar player kick out in a few seconds. I don't mean to cast dispersion but the story gets lost in the translation. A lot of people message me saying, 'man you never hear that song anymore.' Well of course you don't hear that song. With a three-piece band, you can't pull it off. Unless you have at least a B3 player and some horns, you might as well not even try to do some of these songs."
JD: It's probably like trying to pick your favorite child but out of the 10 songs on Somebody Save Me, what's your favorite?
Sugaray: "I really love 'The Revelator.' I really, really love the last song, 'Dark Night of the Soul.' That song to me is blues, Gospel, and soul all wrapped into one song.
This album is actually pretty political too, but the politics are from the bottom up versus from the top down. I've stayed out of that scene because I'm a musician but if I have something to say, I'm gonna say it. When we were deciding which songs to put on the album, I leaned toward political songs where I had something to say. I don't like all this division in my country. We had just gotten to the point where we had some stability and now people can't even disagree. When I was growing up the way to solve a disagreement was to talk. It seems we can't even do that anymore. I'm really tired of it and I just want people to be one people again. Not that we have to see eye to eye or drive the same direction. We're all trying to get to the top of the hill, does it really matter if I take the right and the back, and you take the left and the front? As long as we get to the top of the hill together, that's what's important."
JD: From looking through the song titles, there seems to be a mixture of dark and light themes.
Sugaray: "Originally we thought about calling the album Angels and Devils because the whole theme of the album is dark and light. The deeper meaning of that is you can't have one without the other. They're equally important. Somewhere along the line we've forgotten that and it's now become more 'my way or the highway.' This country is the most powerful country in the world when we come together. Again, that does not mean that we have to agree on everything. But it does mean when the feces hits the oscillating reciprocator, we can come together and come up with a solution that's good for everyone, and not just great for one person. If I was ever going to do a socially conscious album, now is the time to do it. This is my version of Marvin Gaye's 'What's Going On'."
JD: If there were one thing that you wanted folks to know about the new release what would that be?
Sugaray: "That's a tough one brother. The only thing I can say is that I'm real. I'm not an artist, I'm not a singer, I'm not a blues man. They call me Sugaray but I'm just Caron Rayford. Whether you listen to this album or the last 12 albums, what you will notice is I've been real, and I've just told the truth. I haven't lied. I haven't embellished. I've given my heart, soul. and what I felt at the time. If you're looking for an alternative to the guitar slingers in our blues/soul world, without even realizing it I've become that alternative. I have no guitar, I have no harmonica. It's just me, singing into a mic, bare naked giving you my heart and soul."
https://fortybelowrecords.com/
*Feature image Suzan Jones