Steve Miller played to a packed pavilion Monday, July 1st at The Ravinia Music Festival north of Chicago. Steve hit the stage while his winged, rainbow-colored horse logo hovered over a starry twinkling black background.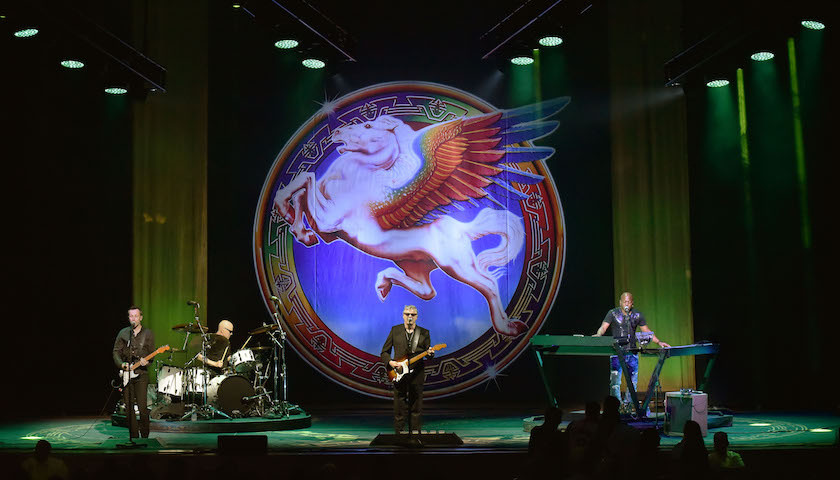 He opened with "The Stake." Miller is a natural on stage: calm, collected, balanced, and he plays within himself. For his 2nd song, he played "Jungle Love." You could see the B.B. King influence as he sang and played guitar separately. He really took his time. For his 3rd song, he channeled magic on "Abracadabra." His guitar lines contained Muddy Waters slide rips. Without the slide he zoomed up and down the fretboard.
Next came "Living in the USA," dedicated to the troops. The harmonica opening riff suggested Little Walter and the audience finally exploded and started clapping. Their energy went into Steve's blistering guitar solo. After this, he played "Space Cowboy," and his psychedelic jazz sound came out. Steve's 6th song was "Take the Money and Run."
He then paid homage to Chicago Blues, playing Jimmy Reed's "I Wanna Be Loved" over a Freddie King shuffle, Otis Rush's "All Your Love," and Elmore James' "Stranger Blues." Miller's a teacher and taught the audience. He played the slide lick Elmore James invented and went on to say that Rock, Country, and Jazz all come from Blues.
After his Blues trilogy, he switched gears and played his Texas two-step song "Dance Dance Dance." The audience went absolutely nuts over the rodeo hoedown. His sitar song "Wild Mountain Honey" put the crowd into a trance. He went on to say his original sitar is currently on display at the Metropolitan Museum of Art in New York next to Ravi Shankar's sitar.
His trancelike state segued into "True Fine Love" and "Fly like an Eagle." After the hypnosis finished, he transitioned into "Rock'n Me." This brought the audience to their feet, and women were especially having deep feelings for the song. Miller must have been the John Mayer of his generation in that his music has a deep and profound effect on women's hearts.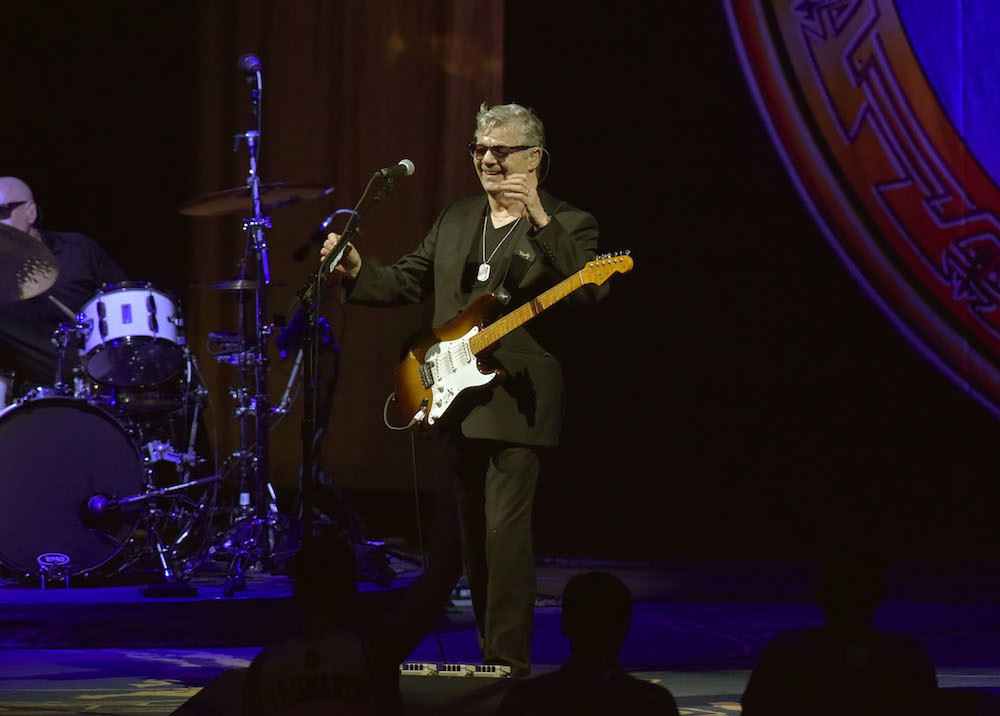 Steve's encore consisted of "Swingtown," "The Joker," and "Jet Airliner." The audience stood for the entire encore. Before "The Joker" a young Homer Simpson sang the lyrics on a video projected in the background. And as he launched into the song, he received his biggest ovation.
What's truly incredible is that Steve Miller's whole set consisted of hit songs. He is a hit-making creative machine. Throughout his career he's melded the sounds of Texas, Chicago, and San Francisco. His simplistic songwriting, sweet major vocal melodies, impeccably clean guitar playing, and Blues/Jazz roots make him one of the greatest songwriters around.
A Steve Miller concert is truly a masterclass in songwriting.
*All photos © Roman Sobus used by permission