Bluesmen and hats just seem to go together. Be it a fedora, trilby, pork pie, or Panama, a laundry list of blues artists have made a hat part of their personal style. Graham Thompson started Optimo Hats when he was 22 years old. From his shop at 51 W. Jackson Blvd in Chicago, he's made hats for a bevy of blues dignitaries.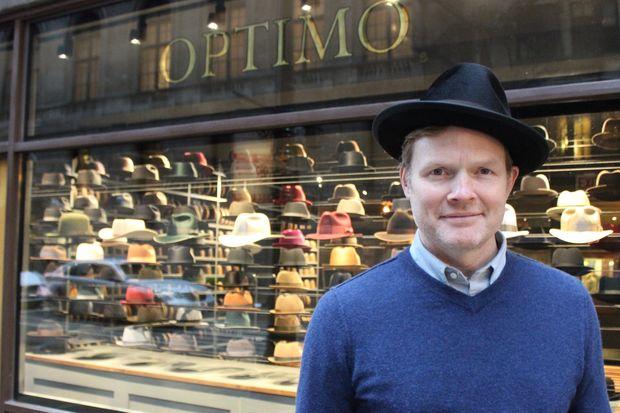 Brant Buckley:
What styles of hats represent Blues music and who have you made hats for?
Graham Thompson:
Classic American dress hats have a long tradition in Blues culture and style. I instantly think of the only photo of Robert Johnson, looking so cool in his fedora which he wore at a rakish angle. Since Optimo's founding 25 years ago, we've made countless hats for so many great musicians and Blues legends: John Lee Hooker, Buddy Guy, Jack White, Bo Diddley, Lonnie Brooks, Billy Branch, Carlos Johnson, Kim Wilson, Jeff Tweedy, David 'Fathead' Newman, Jimmie Lee Robinson, Dr. John, and Jay-Z to name a few.

Many cities where we have a lot of clients have rich musical traditions: New Orleans, Detroit, Nashville, Austin, and L.A. In addition to musicians, we have a heavier concentration of clients in other creative and artistic fields—chefs, entrepreneurs, architects, higher education, film and fine craft.

One of my favorite clients is Blues legend Buddy Guy, and I'll share a funny story about him.  I met Buddy years ago. I was a fan and I used to go to his club all the time. Not long after I opened Optimo, he was sitting at the bar in his club, and I introduced myself. I told him I made hats and I would love to make one for him. He told me he didn't wear hats. I told him I'd seen old photos of him occasionally wearing cool hats from years past. He told me he had grown out of wearing them (kind of blowing me off in a nice way… ha). Right before I was planning to leave, I mentioned that I made all of John Lee Hookers hats. He turned around to face me and said "You're the guy!" and asked me to pull up a chair. He'd been asking John who made his hats and John Lee wouldn't tell. It was an inside joke between them and was really funny. Buddy adores John Lee Hooker. Not long after I met him, I made a hat for him. He told me he was going to start wearing hats and from then on I would make all his hats. Sure enough that's what happened. I'm really proud that an Optimo hat is part of Buddy's signature look. Buddy and his whole crew have been wonderful to Optimo over the years. To be able to impact the greatest living Blues guitarist's style is pretty amazing.
You make a hat called "The John Lee Hooker." Can you talk about the hat and your history with John?
The John Lee Hooker hat is made from original specs of the hats I made for him. Not too long ago, I received a call from their foundation and they want to license the hat. We had a great conversation and I told them I knew him and he loved our hats. With the release of "The Healer", we may do an official release of a limited edition John Lee Hooker hat. If you don't see The John Lee Hooker hat on our website it's because we just took it off for name rights usage. In any case, we made hats for John and the hat we sell is exactly like the original. Towards the end of his life, he was known for wearing our Homburg style hats.
Vintage hat making is a lost art. What makes a great hat?
A lot of things go into making a great hat. It is a culmination of proper materials, technique, design, and styling. Twenty five years ago when I came on the scene, I realized truly great hats had disappeared from the market. They'd almost become extinct. They didn't look like the old school hats; they looked like costumes. Real hats look and feel different. For the last twenty five years, Optimo has been dedicated to building 'real' hats. You need exceptional material and workmanship. There's a lot of refinement in a great hat. We use extremely rare/obsolete tools and equipment—exactly what was used to make the great hats more than half a century ago. We don't use generic suppliers; we even have our hat bodies' custom milled for us. In fact, almost all the components we put on our hats are specially made. A great hat has quality all the way throughout and you have to feel it. You can see it and feel it. A really great felt hat is built for a lifetime of wear so you can wear it in the rain or snow.
How do hats reflect a person's persona?
A good hat absorbs the lifestyle of its wearer. You can see it when it flows with someone's character and vibe. There are subtle ways in which a person wears a hat; how they cock it over to the side or how they snap the brim. It really can flow with a person and their character. You see that when it becomes essential to who they are. They don't feel right without it on. When you look at John Lee Hooker, it's hard to picture him without his Homburg on. It completed the whole look. One of the reasons I went into the hat business was because I loved seeing the Rockers, Blues, and Jazz greats in super cool hats on old record covers. It wasn't a costume piece– it was part of their style. You can shape a good hat and create your own style because the material is strong but mellow.
Can you talk about your mentor Johnny Tyus?
I learned a ton from Johnny. He had the business for nearly fifty years when I met him. I did a seven year apprenticeship with him before he passed away. Johnny taught me the principles of making a great hat and how to make hats with integrity. A hat needs to be built strong and made well. Also, some great teachers were my clients who were veteran hat wearers. Some of these guys had been wearing hats for between twenty to seventy years. They knew what a good hat should feel like and how it should shape and how the brim should snap. I've worked on thousands of hats over the years. I had to prove myself to these guys – they all took their hats seriously. If I messed up their hat or even if it was off a little bit, in the way it was creased or the roll of the brim, they would let me know in no uncertain terms. They were tough clients, but I really grew to love them. All of it was a great education, and strong foundation for the rare craft we practice.
Why is Chicago the hat capital of the world?
A friend mentioned that to me some time ago and it made me think… Yea, it is the hat capital of the world, especially on the South Side. In the winter driving around you can see the silhouette of hats in cars. Hats are here and it's still part of our culture in Chicago. They are becoming more popular around the world but I see more hats in Chicago than just about anywhere. I notice a lot of Optimo's here now and that's always great to see. Back in the old days, every city and small town had a hatter. Decades ago, Chicago was known as THE place to purchase a great hat. There were legendary hat stores and hat departments in the iconic department stores here. The great men's stores on 47th street, for example, sold exceptional hats that came in from all over the world. Marshall Fields had a famous hat department. There were all kinds of shops lined through Chicago. It was known as a hat town and people always took hats seriously here.
What are Optimo's future goals and what else do you want to accomplish?
We just finished renovating a historic fire station and it is now our headquarters and factory. That was a huge move for us. We are now poised to share Optimo on a greater scale with the world. We want to serve more markets outside of Chicago. Next month, we are going to London for a three week residency. I am excited about that. We are going to visit more cities on a regular basis and possibly open up more brick and mortar stores. That's some of our growth plans. But the main goal is to always improve quality. We want to make the best hats in the world and continuously drive towards that goal. It's about making them the best that they can be made. There are all kinds of refinements and details that you can improve upon. Our growth is going to help us to continue to invest in research and development so we can take our hats to new levels of quality.
*Feature Image Danny Fogarty