Zac Taylor is a Berklee College of Music graduate and released his first solo record "Salesman" in 2010. After graduating, he moved to NYC and became a hired gun for the following acts: Alex Winston, Connell Cruise, Sandra Bernhard, and many others. His big break came in 2014 when he was hired by multi-platinum artists American Authors ("Best Day of My Life", Island Records). He has performed on Ellen, Conan, The Late Show with Seth Myers, The Late Late Show with James Corden, and The Late Show with David Letterman.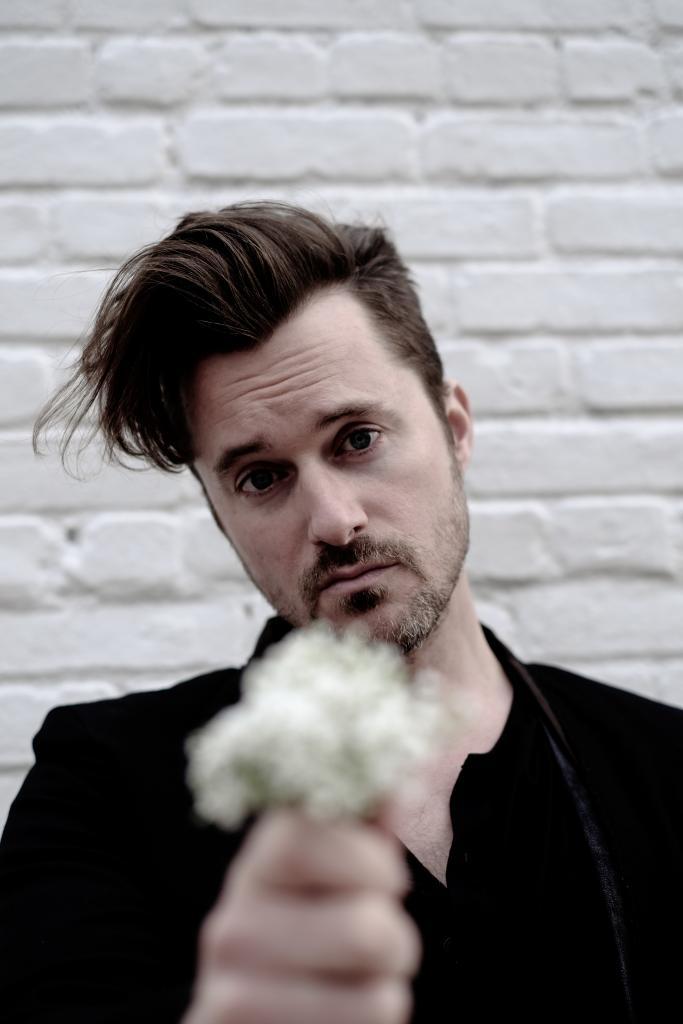 Van Bellman is the byproduct of Zac Taylor's experiences as a respected collaborator, hired gun, and songwriter. The self-produced single "I Hate to See You This Way" was co-written with fellow New York artist Kiyo Cato and has received airplay on Sirius XM's ALT Nation. His follow-up single "Gold and Blue" was premiered on Billboard.
More Van Bellman tunes are coming out one by one, as Taylor believes no one has patience for a whole record anymore.
Brant Buckley:
Who are your favorite Blues artists?
Zac Taylor:
I started playing guitar in 5th grade because my brother mowed lawns and he bought a guitar. I stole it from him. In 6th grade, I went to a new school and made friends with a guy name John who also played guitar. We both really got into blues because his dad was a big time blues aficionado. He'd seen Stevie Ray Vaughan live and that really blew our minds. My first musical passions were Nirvana, Jimi Hendrix, and The Beatles. From there, I started getting into bluesy guitar rock and roll. I love blues music that's in service of the song. George Harrison licks are bluesy but they are in service of the song. If you listen to Jimi Hendrix, he plays in a very lyrical way. Being from Georgia, I learned every Lynyrd Skynyrd and Allman Brothers lick I could find. Freddie King is another favorite. I love his playing and singing. I got a telecaster in high school for Christmas because I was a big Albert Collins fan. I love his finger attack and snap. Also, his songs are so cool that the guitar playing dances with the way he sings and suits the story of the song. I love the playing but also the singing and the songs. It's a package deal for me with the blues guys. I went through a big Robert Johnson phase where I just listened to the complete recordings over and over again.
How did you get the American Authors gig? What's it like playing with them?
We were friends at The Berklee College of Music in Boston, MA. They used to be called The Blue Pages and I would see them play at Harpers Ferry and Great Scott. They would see my band play at Café 939, Toad, or the different venues around Boston. They moved to New York a year or two before I moved there. You have to support your homies in the music business. When I moved to New York, I would see their shows and they would see me playing guitar for other artists. They saw me play guitar with a singer named Alex Winston who is a wonderful artist. I was playing guitar, banjo, and mandolin. I think that impressed them. A year or two later when "Best Day of My Life" started taking off, they could afford to hire a fifth musician. This meant Zac Barnett, the lead singer, could go out and do his Adam Levine Mick Jagger thing onstage and he didn't need to play guitar anymore. I think I was near the top of a short list of people they wanted to hire. Because we were friends and I supported them for so many years I got the call. That was almost six years ago. I quit my job as a bellman at a fancy New York hotel and toured the world with them. It was a glorious day. That was in January of 2014. Since then, I have been to 15-20 different countries with them and have played close to a thousand shows.

I have contributed a little bit in the songwriting department and/or recording department with them. There are four guys in the band and they typically have another songwriter or producer writing with them. There are already six cooks in the kitchen and typically they are not looking for any more input. I have been playing them my Van Bellman songs and demos. They give me some good feedback. I am actually working on a very cool bluesy song with Dave Rublin, the bass player for American Authors. He's a very strong producer and he lives two blocks from me. Working with those guys has been great. Everyone is a songwriter and producer. Everyone has their entrepreneurial mindset when it comes to music, strategy, and social media. Sometimes it can be exhausting dealing with Instagram and Spotify and thinking about what's cool and what's hot. It can be exhausting when you consider all the different avenues. One half of me says screw the noise I should just worry about great content and work on songs and trying to grow as an artist. The other more practical side of my brain has to know how the business works, how to strategize, and how to have as many people as possible hear my music. You have to know how to work the system and how to put your music in the right place so it has the best chance of connecting with people who can potentially become fans.
Can you talk about your new band Van Bellman?
I played as a solo artist for a long time under my name Zac Taylor. The last four to five years, I started taking songwriting much more seriously. I'm trying to develop a new sound and new style. I was writing songs with a bunch of different people. I was able to make a deal with a studio owner named Oliver Straus. His daughter was going to college and she needed her video audition filmed and I had a camera. I traded two days of studio time for making a whole video package for her. She's a wonderful artist and she received a huge scholarship. She is really crushing it now under the name King Princess and it ended up being a good trade for everybody. On my own, I recorded ten songs that had guitar, bass, and drums. I chose my favorite three to produce out fully.

I have been releasing them song by song. "I Hate to See You This Way" came out first, followed by a happier tune called "Gold & Blue", followed by a spacy piano ballad called "All this Time," which came out this past Valentine's Day. Today, I feel that everyone has such an ADHD approach to music. If you put out more than one song at a time, people can't handle it. If you put out an E.P., people may listen to the first song and the other four will fall by the wayside. You have to put out new content as frequently as you can. Just give people one song and make sure you have the next song ready, and hopefully that song points back to the previous songs.

There are a lot of blues elements in my new style. I like the dirty guitars. We used an old Gretsch kit on this record and the guy who runs the studio is a drummer. He has one of the best drum rooms in all of New York City. My buddy Bruno Esrubilsky played drums and he did a great job. He and my whole band are like me. Everyone has a steady gig that keeps them busy through most of the year and we are all hired guns. Bruno plays with these killer bands Mitski and Joseph, and my bassist Bryan Percivall plays with an amazing artist called Verite. Whenever I get to do a show with them, it's always a special treat. Because I'm playing with people who are good, everyone is very busy. It's hard for me to play my own shows because it's such a new project. I am trying to focus on building my "brand" as much as that makes me want to throw up in the back of my mouth. It is what you have to do these days. You have to have a clear message, mission statement, and an image when you are a new artist if you want to gain traction. First of all, the songs have to be great. Period. It doesn't matter if you have a ten thousand dollar a day PR campaign if your songs suck. No one's going to care. I am friends with American Authors, the people who work at Island Records, and their social media team. They give me great advice on how to move forward, how to tell the story of Van Bellman, and how the music relates to the whole big picture.
Where's Van Bellman headed?
American Authors have encouraged me, and have told me it would be great if Van Bellman takes off. Everyone is pulling for me. In the meantime, the American Authors gig is a great job. Record labels these days just want to see something that's reacting. Before they listen to a single song they will ask what are the Spotify numbers and how many followers do you have on Instagram. Those numbers have to be impressive for them to even consider listening to the first millisecond of your song. I guess it's a good and bad thing. Your song has to be amazing and that should be the prerequisite anyhow. One of my role models these days is Butch Walker. He's an amazing solo artist. He's a southern rock power pop songwriter. He's a genre blending kind of guy. He's a really cool songwriter and can really wail on guitar. He's also a songwriter and producer for a bunch of unknown artists and huge mainstream acts. He's worked with P!nk, Avril Lavigne, Weezer, Rob Thomas, and then does whatever he wants with his solo project. The last few years, I have done a lot of co-writing and producing for other artists. It has been fulfilling as a writer and producer and I have learned a lot about the craft of producing and songwriting. It has definitely helped me with my own career. When you work with more people you learn the way they write, their perspective, and their ideas. Every time you write with someone you mesh with them and become a stronger writer. Living in NYC there are countless people to write with and collaborate with.

I just did a European run with a band called Liza Colby Sound. They are a blues-oriented band. Their guitar player had a last minute Broadway gig so I covered for him. I had to do a lot of heavy lifting on guitar. They pitch the band as Tina Turner with Led Zeppelin as a backing band. Liza is an amazing frontwoman, goes crazy onstage, and has a really powerful voice. The rhythm section is super into Humble Pie and we did a Freddie King song most nights. We also played a Van Bellman song most shows so she could rest her voice. That was something I looked forward to every night. We played "I Hate to See You This Way" which is a blues rock number that fit really well with their repertoire. It was a ninety minute to two hour show and every song had a huge guitar solo. It was a really fun challenge to jump into a new band, learn new material, and be in a new city every night in Europe for six weeks in a row. It was wild.
Craziest road story?
I have thought of one and clearly there are some I cannot tell you. Some of them I will have to take to the grave. One time with American Authors we were playing the Australian version of The Voice. There was a karaoke metal bar called Frankie's Pizza and we went there the night before The Voice taping. It was live band karaoke and I signed up for Beastie Boys' "Fight for Your Right to Party". I was a couple drinks deep and I really wanted to get up there and rock the place out. I was screaming, dancing like a madman, and the crowd was going nuts. There was a guitar sitting next to an amplifier so I grabbed it and on the last chorus I start wailing ridiculously. I'm talking like stupid Van Halen Hendrix wailing. It was ridiculous. I was playing behind my head and the crowd was on their feet. I was on top of the world and it was one of the greatest moments of my life. I put the guitar down and tried to be a cool guy and do a heel click off the stage. I did not see the low hanging monitor speaker and I smashed my head right into the corner of the speaker and I hit the ground like a sack of potatoes. This is at peak applause and all eyes are on me. I just crushed my head and hit the ground. I am not sure if I have lasting brain damage from that. The crowd goes from cheering to laughing at my expense. I was dizzy and seeing cartoon birds fly around my head. My friends had to help me up. I have never gone from being so on top of the world to being so viciously embarrassed in one fell swoop. It was insane. I had a fist size goose egg on my head for a few days after that. I am a tall clumsy guy to begin with and I hit my head on speakers all the time. This one took the cake.
How has your songwriting evolved since your first album "Salesman"?
I feel like when I was younger, I wanted to get all my ideas out at once. I have become a better listener of music and listener to what I am doing. I have written maybe five hundred songs since then. With each song you grow a little bit. The more you co-write with other people, the more you learn about yourself as a writer. I have become a better producer. Being a better songwriter makes you a better producer which makes you a better songwriter. One helps the other. In my opinion, in this day and age, you have to be able to do everything yourself. You can't go and spend a thousand dollars a day in a recording studio. In my home studio I am getting better at sampling and finding drum sounds. I now have a nice microphone and some great plugins. I am a Logic guy. I am able to articulate my ideas in real time: I may say here's an Abbey Road set that Ringo used and I can use and 808 high-hat over that. Let's try this weird vibrolux sound with a clavinet going through a distortion and delay pedal and let's try the melody on that and let's double this chorus.

It's unrealistic to write a song on the acoustic guitar and then call four people and book studio time. You have just spent over one thousand dollars whereas you can get pretty close on ten songs for free. Then if you want to go to a studio and hammer some stuff out to make it sound more full and real you can do that in a smarter way. In this day and age you have to work smarter. Work harder but work smarter.
What are your future goals?
I enjoy living in New York. I have considered moving to Los Angeles because a lot of my friends have recently moved there and they are flourishing. A lot of the business has moved to Los Angeles for people like me who are hired guns. I think I can get a lot more business in Los Angeles these days. New York has become too expensive in a lot of ways. It has always been expensive, but it is harder for young bands to find their footing and be creative. I have noticed that there are less bands here. There are a lot of DJ's and a lot of EDM stuff. There is a lot of electronic based music. It's happening all over the place but particularly in New York. In Los Angeles you pay less in rent and can have more space in your home studio. Typically major label acts get their guitar, bass, and keyboard players in Nashville and Los Angeles. I have never lived in California and it seems like it would be pretty fun. I feel like now is the time. It's not a year from now or five years from now. My girlfriend is also interested in living in Los Angeles. We have two cats and I have talked with them and they too are interested in moving to California. They like sunshine.

There are a lot of moving parts, as I have an American Authors tour booked in January and February. Lately, I have been trying to dip my toe in the commercial and sync world which I know doesn't sound cool to put in an online blues interview. I know that you would be hard pressed to find any musician in any city who just plays blues music and makes a living doing that. I bet there's less than 100 in the country that just play blues. The cream of the crop are in Chicago, New York, and Los Angeles. I bet a lot of those players also play on Broadway or do some film scoring. Maybe they compose music for an American Express ad. You have to be creative and entrepreneurial in this music industry in this day and age. You can't just go out and play like you could in the 60's, 70's, or 80's. A lot of people are playing in wedding bands and you can make a lot of money doing that, but it just depends on what you want to do. If you just want to be a player and work sessions that's great but you have to diversify. I am going to be releasing some new music in 2020. You can find me on my website, @ZacVanBellman on Instagram, and catch me on the road in 2020 with American Authors.
*Feature image Andi Kammerer