When Billy Bob Thornton released his first solo record, Private Radio, in 2001, it was only the beginning of a very prolific musical career. After three more solo efforts, Thornton and Grammy-winning engineer J.D. Andrew formed The Boxmasters in 2007. Through their collaboration, they have explored a variety of genres, but they always come back to the 1960s harmonies and rhythms that inspire their songwriting.
Tony Braunagel characterized the band's essence eloquently, "The Boxmasters capture that simplicity that depicts early rock and roll like Buddy Holly and Bill Haley, only a couple steps away from their country influences, while telling stories about our lives today." American Blues Scene was fortunate to catch up with The Boxmasters in Topeka during their recent tour of the Midwest, where they played to a jubilant crowd, many of whom knew all the lyrics and danced with great fervor on a Monday night. 
During our interview with J.D. and Billy before the show, we learned more about their influences and songwriting philosophy, with a few delightful surprises thrown in for good measure.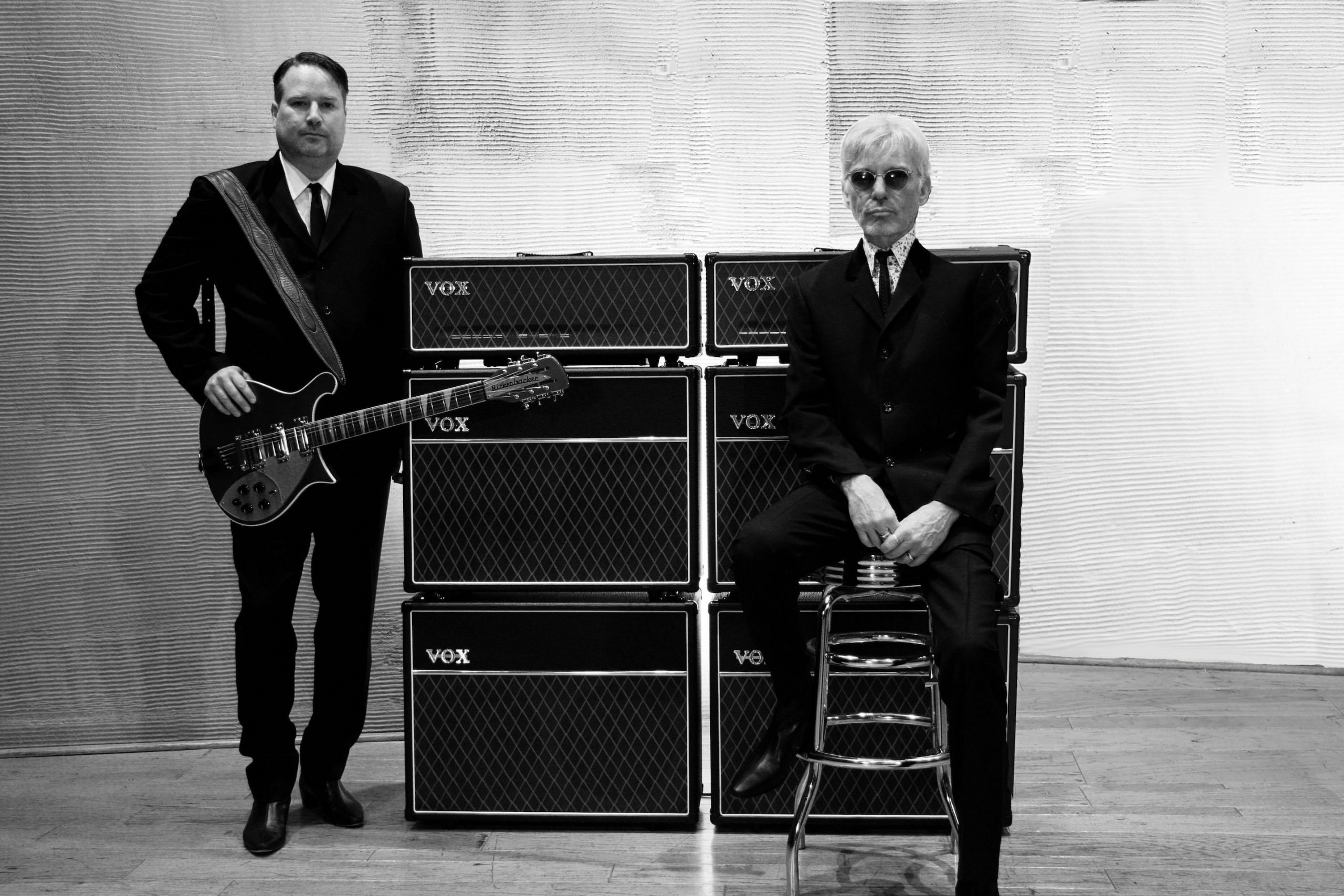 ABS: J.D., I wanted to start with you; you're a Kansas guy. Where in Kansas did you grow up?
J.D. Andrew: I'm from Gypsum, Kansas, which is about 15 miles outside of Salina.
I stayed here through three years of Kansas State, and then I took off to recording school. Then 21 years ago, I moved to Los Angeles.
ABS: You've created quite the resume in all those years. I can't understand why you're not in the Kansas music hall of fame.
J.D.: You know, we still got time.
ABS: You're still a very young guy. I was trying to figure out what exactly you won the Grammy for, and the Grammy search site was no help whatsoever.
J.D.: It was Kanye West's first record. I only worked on it for a day, so, you know. We were nominated for a Rolling Stones' record (A Bigger Bang, 2005), but we didn't win on that.
ABS: You've worked with Will Kimbrough
J.D.: I helped him make his first solo record. We did demos several years before that. He was one of the first people that I was able to take into the studio and start working with, kind of learning the ropes. That was a very good way to start; Will's a very talented boy.
ABS: And the late Stephen Bruton.
J.D.: Stephen came over to Billy's house one time and cut a song. Sadly it was not too long before he passed. So he and Billy – (talking to Billy) I can't remember if there was anybody else or of it was just you two guys that cut that song. Was it released?
Billy Bob Thornton: Yeah, it's on Stephen's album. Stephen cut a song that I wrote with Donnie Fritts years ago called "Build Your Own Prison" on his last album. Stephen and I were old friends. He actually did a tour with us back before The Boxmasters. He played guitar for us on one tour.
ABS: Billy, I was impressed when I read somewhere that you had been a member of Porter Wagoner's band some years ago. Was that accurate?
BBT: I don't know if you can actually call me a member. It was for one night, Marty Stuart called me. Porter Wagoner had never played in all his career in Los Angeles. He'd played in California but never in L.A. He opened for Neko Case at the Henry Fonda Theater, which I thought was pretty funny, you know, this legendary guy opening for Neko Case. Marty had produced Porter's last album, and I did a duet with Porter, just a little thing we did in the studio for the fun of it, "Wreck on the Highway." So Marty said, "How would you like to be a Wagoneer for one night? I said, "Yeah, sounds good to me." He said, "Call Dwight (Yoakam), and tell Dwight to bring a bass. All you'll need is a snare drum and a cymbal. We're going to do the Wagonmasters for one night because he's traveling without a band."
So we opened for Neko Case as Porter Wagoner's Wagoneers for one night. We did all that stuff, "Green, Green Grass of Home," but when he first told me to tell Dwight to get a bass, I said, "Dwight can't play a bass." He goes, "Well, he can play it on this stuff." So we did it, and Dwight usually dresses up fancy, you know the Wagoneers wore those Nudie suits, so I wore mine. I was talking to Dwight on the phone, and I said, "Yeah, we've got to dress up like the Wagoneers." Dwight showed up in jeans and a jean jacket. And there I was looking like a Christmas tree.
ABS: I would imagine Porter had one of his beautiful suits on.
BBT: Oh, absolutely – it was purple. I'll never forget it.
ABS: That would have been a show to see.
BBT: It was; it was a great show. I'll never forget it. Marty played the mandolin on one of those songs. Honestly, I'd never heard anybody play a mandolin and make sound the way he did. It was like he was ringing a bell.
ABS: Where did the name "The Boxmasters" came from?
J.D.: It's an old term of endearment from the South. Billy and our old drummer Mike Bruce – we called him "Bubba" – remembered the term from being a kid. They called playboys "boxmasters." They were looking for a name, and that just kind of felt appropriate. They wanted a band named that sounded like a band from the '60s. Most of the bands that influenced us have names that start with a "B," The Beatles, The Byrds, The Beach Boys, The Box Tops. Having a "B" name going with all those bands that are our heroes really makes sense to us.
ABS: Speaking of influences, I saw referenced somewhere that one of your influences is Michael Nesmith. His solo work after The Monkees was amazing, Loose Salute was one of those albums .
BBT: We were big fans of The First National Band. They're old friends of ours. I go way back with Mike, with all those guys actually. There's only two left. We did a thing for Mike up at his place near Monterey once. 
J.D.: It was early on, like 2008. When we first started, we were doing a lot of covers, working out the sound of the band. We tended to do a lot of Mike Nesmith solo stuff. "Some of Shelley's Blues" was on the first covers record. What's that one, it was a girl's name.
ABS: "Joanne."
J.D.: Yeah, "Joanne," we did "Propinquity," we did a lot of Nesmith covers in the early days.
BBT: "A Girl I Knew Somewhere." Remember that one?
J.D.: Yeah, I don't think we released that one. Great songs. Mike is a master and not just as a musician. He's a brilliant mind. Inventing MTV before it was MTV. You know he was on the whole video streaming, live concert video streaming, ten years before anyone ever thought about it. That's what we did up at his place. It was called "Video Ranch." We did a concert for people on the internet. It was ten years before anyone even tried that again, he's always ahead of the curve.
ABS: I found a clip of him on David Letterman – 1980 maybe? – he was talking about "Elephant Parts," and he was trying to explain the concept of a music video, and no one understood what he was talking about.
J.D.: He's always ten years ahead of everybody else. He needs to foresee health food. For a brilliant guy, he doesn't eat too well. He needs to learn about some vegetables.
ABS: If I could get an interview with him, I would bring him some vegetables, any kind. Speaking with him is on my bucket list. So for Light Rays, it's my understanding that the two of you wrote everything, played everything, sang everything a little while before the pandemic?
J.D.: After our tour in 2019, we got home and started on that record and got it finished somewhere by the end of the year. We were trying to get it lined up for our tour in 2020, but the release date wasn't perfect. They weren't going to get it out until October anyway. When everything shut down, we said there's no reason to sit on this record. We've got more stuff we're working on. We went and released it anyway and figured by the time the tour came, we'd promote it. We never stopped recording, and we had a couple of months where the studios were locked down. But as soon as they opened back up, we went into the studio and did three records.
One of them's a Christmas record that will be out in November called Christmas in California, and then we have another one called Help, I'm Alive that'll be out next April. We've got a third one that we don't know what we're going to do with, Nothing Personal. That was actually the first one we recorded. We'll figure out a way to get it out so people can hear it. Not to brag on ourselves too much, but they're really damn good records. We really did some good work. They're all three completely different. One's a little more moody, and then Help, I'm Alive is more pop-y. The Christmas record, it's just weird. It's got a couple of covers on it, eight original songs. As Billy describes them, they go from sad, sadder, to saddest; dark, darker, to darkest; and funny, funnier, funniest.
ABS: That reminds me of the songs on Light Rays. I'll get to that in a moment. There was one album you had recorded, Boxmasters 66?
J.D.: Yeah, that's another one that's just sitting there waiting. We intended to put it out for Record Store Day, but we didn't have it all pulled together at the time. We did 66 right before the 2019 tour and then Light Rays right after the tour. We thought Light Rays had a better feel with what was going on in the world at the time. We went with that one. I'm glad we did. We play some of the songs from 66 in the set. It's fun, it's our garage-y record. We used 1966 as our templar for what we were going to go for, The Kinks' influences that we've always loved.
ABS: I loved watching the videos of the big band with like four guitars. Did any of those albums have the band on any of those? 
BBT: It's pretty much just me and J.D. on all those records.
ABS: Y'all must be really in sync to be so productive. The way your vocals blend, it's really nice.
BBT and J.D.: Thank you.
J.D.: We always loved the bands that did all the harmonies  – The Beatles and The Beach Boys, they always had singing with each other. We love to do that.
ABS: Some of the songs on Light Rays are darker than others. 
J.D.: That's typical. 
ABS: "Breathe Easy" gets you feeling all good, then "Satellite Guy" just doesn't have anywhere to go. He can't find a landing place. Are any of these autobiographical or reflecting feelings you or loved ones have had?
BBT: Some are very personal and related to things we've experienced. "Breathe Easy" is about our kids. I'm nervous about kids. I mean, it's about when your kids go out somewhere or your wife or your husband, when they get home, you breathe easy. It's a pretty spiritual song in the last verse, and then "Satellite Guy" – that's not really related to one of us – but I'd just always liked the idea of a guy who's always on the outside of every circle and never part of the party. That's really what that's about. I know some people like that. I think it started with just a melody. I had that line, "I'm a satellite guy," so it's slightly humorous, too. There's some of those songs, you know "Downey Girl."
ABS: I was just reading about that helicopter crash way back that was so tragic, and I wondered where that song came from.
BBT: You know what the idea behind that was? J.D. first had the idea. One of us said "Downey girl" or we heard "Downey girl" somewhere because we always talk about being from Bellflower, which is down that way. So we wanted to write a song called "Downey Girl," so what I did, I literally looked up on Wikipedia, "What's Downey famous for?" and read that story about that crash. So the idea behind it, obviously it's a sad song, but what it's really supposed to be is one of those songs like back in the old days, "Tell Laura I Love Her," back in the James Dean days, doo-wop days, when the girl goes out to the race that night, and her boyfriend's going to drag race. "Leader of the Pack," you know, songs like that. We thought it would be darkly humorous for us to do one like that but make it the guy pining for the girl, and instead of a car race, it's a helicopter. It started to be more like Frank Zappa-like humorous song. And yet, when people hear it, I don't think we've heard anybody say yet, "That's a darkly funny song." They all say, "Oh, it's so sad." It's a pretty interesting song.
J.D.: That's a song that people always point out whenever we talk to someone. It's surprising that that's one that people remember. It's funny to us, one of the goofy songs we made.
ABS:  "The Air Around You" is really nice. It's not dark at all, is it?
BBT: That's another song about the kids, inspired by my daughter like "Breathe Easy" was and also by a couple of friends of mine. If you're in a love relationship, or a romantic relationship, they never feel completely safe. There's always jealousy or envy, arguments. There's always stuff at stake in romantic relationships. But with your kids, there's not any of that. With them, it's unconditional love no matter what. You have certain friends like that. When you're around them, you feel ok in there. You don't have to impress them; you don't have to be afraid of them, so that's really what that song's about.
ABS: It's a lovely break from some of the darkness. 
BBT: "Light Rays" is another one another that's just dark as hell. It's just straight up about a stalker.
ABS: It's like when the Police did, "Every Breath You Take," and everyone thinks it's a love song, but it's really not when you think about it. The musical part of one song I really liked was "Learn to Be." There's that piano riff, a chord pounded and then the descent of the notes, and there's this constant undercurrent. It reminded me of "A Day in the Life."
J.D.: Awesome. I think that was the first song I ever tried to write on the piano. I sat down and played that little line in the studio. We had it for quite awhile. I had a recording on my phone of that line and took it home and made some more chords to go along with it. Then I sent it to Billy, and he came up with lyrics. A really beautiful sentiment for that song. It's a really fitting song for all the terrible events going on in the world right now. We're taught to hate; it's not something we're born with.
ABS: In "Pipe Dream," you've got that big change of pace. It starts out all rock and roll, but then you slow way down. What is the thought behind having those very different feelings in the song?
BBT: "Pipe Dream" just sounds like a rock and roll song. I always loved that saying "it's just a pipe dream." There's a couple songs on our new record that we just made, Help, I'm Alive, that use the same sort of technique where you're rocking along and then all of a sudden you have a slow section. Those are influenced by the Beatles. We like the whole idea of "A Day in the Life" where McCartney had his part and then John Lennon wrote the other part.
ABS: That frantic part, "Woke up, got out of bed."
BBT: Right, we like a change of tempo or change of vibe in a song, and we didn't use to do that. Lately that's become a thing for us. We even do two songs live that do that, "You'll Never Be Mine" and a song called "I Got a Girl." But you know, on "Pipe Dream" I don't remember how we put it together that way. Sometimes the lyrics will say, well maybe this isn't the right vibe for these words. "Pipe Dream" is about someone's ideal person, but they don't exist. 
J.D.: And sometimes we like a challenge. We'll have two pieces of music that are completely different. We'll say, "What if we put these together, what does it sound like if we marry these? How do we go from this one section to the next section?" It's just a challenge for us to push ourselves. You could easily fall into a rut playing the same three chords coming up with the same things. That's not our style. In every song we want to push ourselves to do something interesting at least to ourselves. So maybe we can find sections that shouldn't be together in the same song, but we're going to try.
BBT: That's exactly how the song "I Got a Girl" that we play live came about. I had the melody and the chorus line in mind first as a song, then I was goofing around on the guitar playing chords that we hadn't used before, just thinking, "I wonder what that sounds like. This is interesting." It sounded like an America song, kind of like a "Ventura Highway" kind of vibe to it. Then we were talking, wonder what these two would sound like together. I'll be damned if they didn't fit perfectly. We didn't know if it would go over live because it's a song that has such an abrupt change in it. It's one of the songs that people like in our live show. It's probably one of the top two or three songs they like. 
J.D.: Honestly it's a song that, if the world was still like it was in the days songs broke through on the radio – not to say it would become a big hit – but a song that people liked to hear on the radio, this would be one of those songs. I feel it in my skin every night. If this was a different era, it would be a really big freaking song. We are a band from a past era, in a way like we were teenagers. We'll play it for the people that show up.
ABS: Speaking of radio play, I'd read, Billy, that you said, "We're not going for hits. We're just going to make albums as opposed to trying to get a business result." That's a very refreshing attitude. I was interested in your philosophy about this.
BBT: We're album guys because we grew up with albums, not that we don't love songs. But we don't set out to write it song by song. When we go into the studio, we're going in to make an album. If some of them turn out to be pop-y or something is really hook-y or has a possibility of being a song that people would listen to on the radio, it happens, but we certainly don't set out to do that. The thing about it is, if I do say so ourselves, we've written pretty hook-y choruses over the years. We never really set out to do it except when we're trying to make specifically '60s records. We just know what '60s choruses' vibes are. So it's a thing that we're able to do if we want to purposely do it. The next record we're going to do is tackle – this one we haven't done before – we've toyed with it a little bit on certain songs, but this time we're going to make a full on '60s psychedelic record. 
ABS: Please do.
BBT: And by psychedelic, we don't mean like a lot of trippy sounds, not like early Pink Floyd as much, more along the lines of a really raw record with some psychedelic sounds on it. You know, 13th Floor Elevators, people like that. We may put a little "Itchycoo Park" by The Small Faces. So you take the British psychedelia, "Hole in My Shoe" by Traffic and some of their stuff — just take all those British and American bands who were into psychedelia at the time and use our influences to create our own version of that. 
ABS: Have y'all heard The Monophonics from the San Francisco area?
BBT: I don't know it right off the bat. 
ABS: I'm sure J.D. probably knows Mike Finnigan who is very well associated with Kansas.
J.D.: Mike played with Billy in the solo era. 
BBT: Yeah, I knew Mike very well. On the very first tour, when I made Private Radio, my first solo record, Mike played organ.
ABS: How about that! Mike was everywhere. I was going to say, his son Kelly, and Rest in Peace, Mike Finnigan, but his son Kelly Finnigan is the one who put together The Monophonics. It's a little bit of that psychedelia; it's really worth a listen. I'm so sad that Mike passed.
BBT: Yeah, it's a shame. I hadn't talked to Mike in a while. It's another one of those instances where, dadgummit, I wish I'd called Mike. You don't expect that; you figure you'll run into him again sometime, I'll give him a buzz some time. That's why it's important to keep in touch with people instead of assuming they're always going to be around. 
ABS: You expect that he would always be there. 
BBT: I'm still in the middle of getting over – not even getting over – I was very close with Dusty Hill. That one hit me, and I was really close to John Prine, too. I've got to say, those two right there hit me harder than any that I can remember. And Dusty in particular, I don't know, it got to me. The night I heard it, Pablo their road manager called me at 1:30 am, not even an hour after he died. I knew that if I get a call at 1:30 in the morning, unless I'm on tour, something's not right. It drove me crazy for that night and the next day. I didn't even know who I was. It was pretty devastating, because I loved Dusty so much.
ABS: I'm sorry for the loss of Dusty and other friends who have left us way too soon. Is there anything I haven't asked about that you all want to people to know about your music, the album, the performance?
BBT: If you want to feel like jumping off a building, you can talk to J.D. about his pedal board (laughing).
ABS: What happened to your pedal board?
J.D.: We're not doing that. It's fresh on my mind because last night, we played Lincoln, Nebraska. We played there five years ago. The club we were in thought we still did country music. I'm sure the readers of your publication know we're not a country band but a '60s-influenced rock and roll band. It's funny that after almost 15 years we're still out there just because we did some experimental melding of genres in the early days. You know, this is how we sound; we've sounded like this for ten years, but we did make some experimental records in the early days. We were just testing the waters mixing things that led to what we do now which is '60s-influenced rock and roll. It's been a journey.