The blues is truly an international phenomenon. Born in the Mississippi Delta, the Carolina hills and the Wards of New Orleans, blues music has traveled the globe, picking up disciples along the way. Recently artists including Prakash Slim from Nepal, and Costa Rican Jose Ramirez have been creating huge waves in the genre. We can now add Yulian Taylor to that list with his latest album Blues Friends.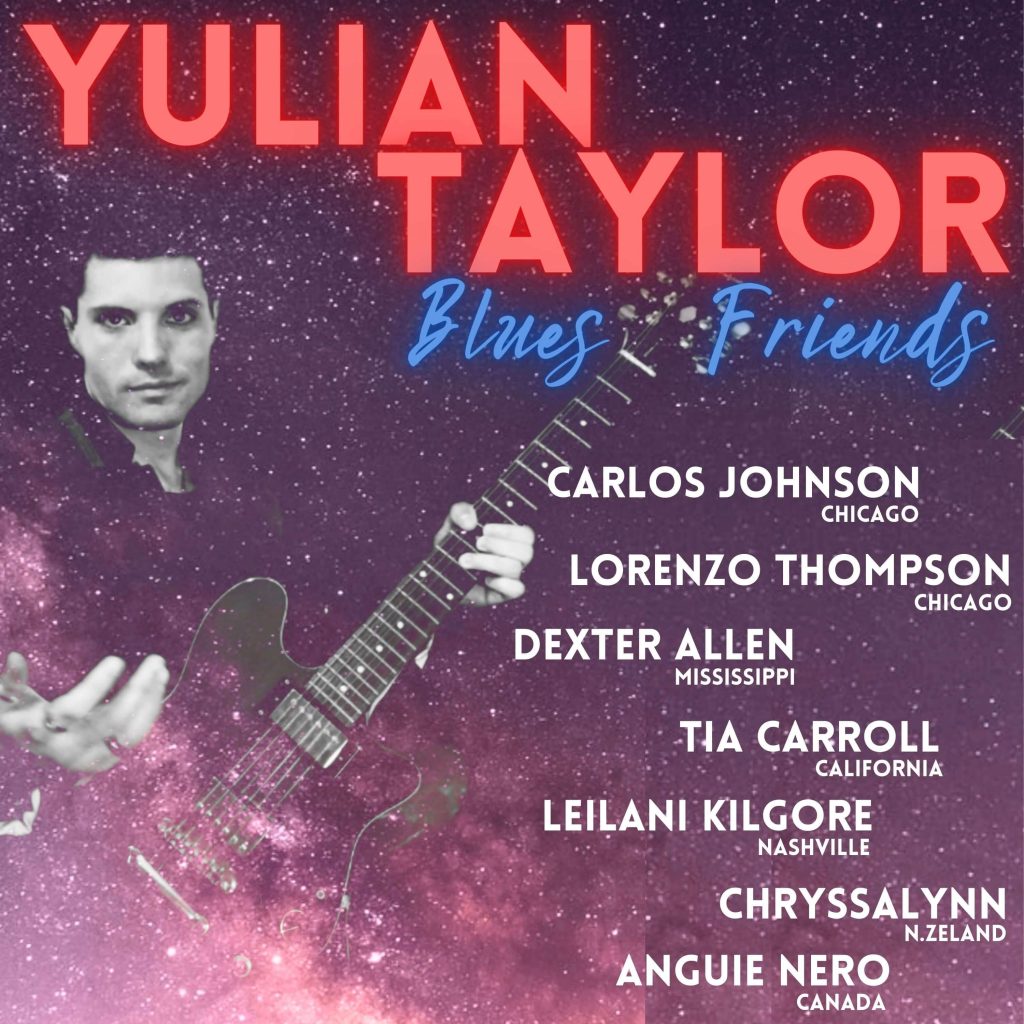 Born in Buenos Aires, Argentina, Taylor's musical career began when he was 8 years old, playing the drums in a bowling alley called La Rusa in San Isidro, recognized in the North Zone. Over time he began to dabble in percussion, then bass and finally the love of his life, the guitar and vocals.
Since then, he's toured Brazil, Argentina, Paraguay, Mexico, the US and performed at festivals in many other places with some of the biggest names in the business. Taylor released the EP Half Angel Half Demon garnering airplay across the world. Now he connects with a group of iconic blues performers for Blues Friends.
The album kicks off with Taylor's screaming guitar on "I Will Sing." Joined by booming blues vocalist Lorenzo Thompson (Lurrie Bell, Humbert Sumlin, Jimmi Burns) it's an ass-kicker of a shuffle that grabs the listener right by the earholes and refuses to let go. Chicago born, left-handed guitar slinger Carlos Johnson (Koko Taylor, Buddy guy, Otis Rush) joins on the 12 bar jam "Rolling Blues." The vocals are not particularly powerful, but clean and soulful. The song has a warm feeling that permeates the speakers with the occasional jolt from Taylor's axe.
The grungy blues rocker "You Are Asleep," featuring the psychedelic vocals of New Zealand's Chryssalynn, is reminiscent of Vanilla Fudge and Cream. It has a decidedly evil 60s vibe that is a surprising treat. "Start," comes in with that classic, electric blues from Mississippi, belly rubbing, late night at the juke feel. The feeling is legit as it comes courtesy of Bobby Rush's former guitar player, Dexter Allen.
Another great shuffle kicks off with Canadian Angie Nero doing the vocals on "I'm Going to Get Together." Some well-placed harmonica adds to the mix, with Taylor's guitar turned down and coming across clean, and pure as crystal. Things get real crunchy again when Nashville's newest blues rock royal, Leilani Kilgore, joins in on "You're Free." A bit more rock than blues, it's still a killer track, and my personal favorite on the album.
Tia Carroll is no stranger to the blues. Having shared the stage with artists from Ray Charles, Sugar Pie DeSanto and BB King to Tommy Castro and Eric Gales, Carroll brings her powerhouse, West Coast vocals to the album's closer, "I Want to Fly." This is one of those dream closers; the song that makes you want drop the needle again and again.
Recorded in Chicago, Mississippi, California, and Nashville, Blues Friends from Yulian Taylor is a brilliantly laid out album, combining his skills with those of some of the most iconic artists out today. Blues Friends isn't a party album, nor is it pedal to the metal drive it home disc. Rather, it's a near perfect compilation of blues and rock that one can enjoy day and night, over and over.