Chicago's finest indie-blues combo are set to release The Claudettes Go Out! On October 14th via Forty Below Records. Replete with strong hooks, the new album is a showcase for their brand of piano-propelled, cabaret blues at its best.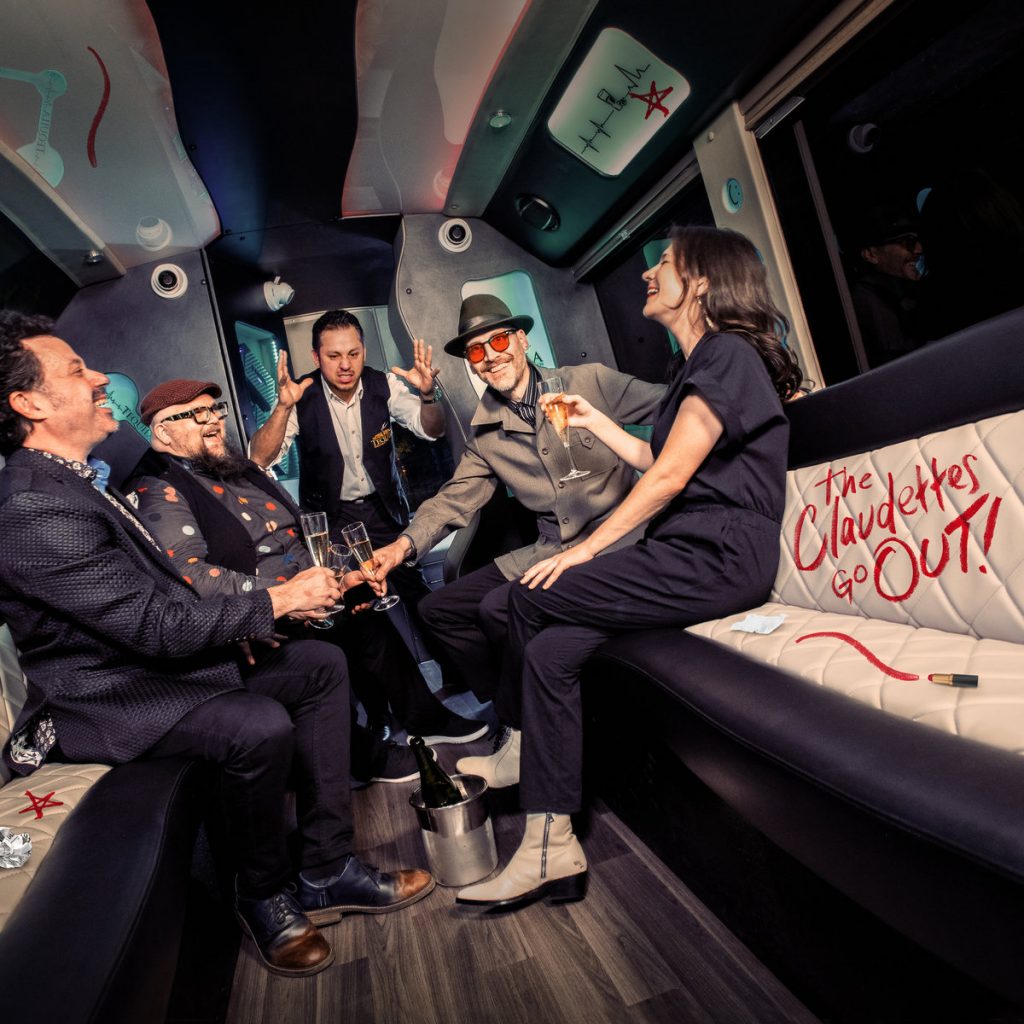 Pianist/songwriter Johnny Iguana first gained distinction as pianist for blues luminary Junior Wells and as co-founder of punk-organ band Oh My God. Johnny has toured or recorded with Buddy Guy, Otis Rush, Johnny Winter, Derek Trucks, Gary Clark Jr., Shemekia Copeland, Mick Jagger, Keith Richards, James Cotton, and more. Johnny co-founded The Claudettes with drummer Michael Caskey (Chuck Mangione, Koko Taylor). Michael had previously toured with Johnny's band Oh My God, as had Claudettes bassist/singer Zach Verdoorn. After hearing Berit Ulseth sing in a Chicago country band, Johnny asked her to join The Claudettes in 2016. Ulseth studied jazz vocal instruction at NYC's New School and has sung on three of the band's albums and an EP.
Premiering exclusively today is the video for "The American Sky." Imagining a man who is enamored with his own political views, the words "He loves the sound of his own voice in spring" came to Johnny. He forgot he wrote them, and then later found them in his journal. After condensing that line, he found the rhythm on the piano and attached the melody. The descending chords and the ascending vocal work together to cast the narrator in a smug, pompous light. Johnny pictured the subject as one who thinks of his talking points as sacrosanct bald eagles roaming the sky with majestic pride, over amber waves of grain and purple mountains, not realizing he is just parroting the pundits and living inside an echo chamber.
Johnny explains to me, "It was very interesting to work out that track in the studio with producer Ted Hutt. Initially our arrangement had a garage-rock chorus that kind of reminded me of the Clash's 'Should I Stay or Should I Go,' with a kind of retro hot-rod/surf part on distorted bass guitar. Ted hated that. He kept saying, 'Those chords and that melody, Berit's voice… it's all so beautiful; you should double down on that and not distract from it.' Once we started adding mellotrons and vocal harmonies, we really started to buy into that approach–even though, at first, I resisted, because the narrator of the song thinks his majestic, soaring, twinkling talking points are beautiful, but I don't!
"So, we took the very unfunny matter of today's strident political discord in America and made it into something funny, but then we presented the song from the narrator's point of view, emphasizing the beauty and majesty of America, its landscape, its ideals."
Johnny asked his son Roman to portray the son with the telescope in the video, and Johnny is the father's silhouette. "The lyric video finds a father gazing with wonder as his talking points rise up into the beautiful American sky. His son is at his side, and he shares binoculars with the boy as his eyes well up with tears."
With Peggy Lee's version of "Fever" in mind, Johnny came up with a piano figure and a finger-snapping idea to give it that smoky feel. "And it starts that way, but our record-label head (producer/songwriter Eric Corne) said when he first heard the track that the chorus gave him a Flaming Lips kind of feeling, and I totally see that: sincerity and heart from the singer, bathed in synthesized strings and choral vocals. I really do love the movement of the chords in the chorus, and especially Berit's heavenly voice on this track.
"Zach, Michael and I meticulously worked out the drums/bass/piano foundation together. It's very spare outside of the choruses, and every choice counts. Michael not only played drums and percussion but also some of the mellotron parts. Zach played some nice slinky bass throughout and then added some furious walls of guitars at the end that cry out to be heard, way in the background, soaked in reverb. And we all snapped our fingers! Berit's voice is a very special instrument to get to layer and work with in the studio. In addition to her beautiful tone, her pitch is so spot-on that layering, doubling and harmonizing comes easily and is extremely satisfying. That becomes a mess with a lesser vocalist."
The band completed two sessions for the new album. The first was recorded and co-produced in Chicago by recent Grammy nominee Anthony Gravino (Kurt Elling, Charlie Hunter) and mixed in NYC by Grammy-winning legend Kevin Killen (David Bowie, U2, Elvis Costello). The second, also in Chicago, helmed by Grammy-winning producer Ted Hutt (Violent Femmes, Old Crow Medicine Show) and mixed in LA by Hutt and Ryan Mall.
The recording sessions of The Claudettes Go Out! marked something of a reunion, and to be honest it sounds like one, too. The warmth, depth, and rhythmic precision are all products of a band ecstatic to be once again playing together. "Thank you, yes, it was so rewarding after all those months of loneliness, uncertainty, fear and isolation. First, we recorded some parts separately and then came to the studio to assemble them. Then, we were able to feel safe enough to just get in one room and do it the live-in-studio way. I was really pleased that all the sessions turned out to 'play nicely' together on one album. I think High Times in the Dark (our 2020 album) was mostly playful, spunky, punky… This new album is all heart, many tears (of sadness as well as joy) and mostly, I'd say, thanks. Thankfulness for being alive and together, for whatever time life will allot us. The last song on the album is 'The Show Must Go On (and Then the Show Must End).' That gets to the heart of it: every session, album and show together is a precious thing."
The Claudettes have been touring with frequency this year and will continue with lots of shows in the fall and early winter. "I do not like to get behind a wheel in the winter, so we'll be mostly off the road in the dead of winter. But then the flowers come out and so do we."