"I've had a love affair with the blues since I first was bitten by the Muddy Waters bug." So says Chicago blues harmonica ace Bob Corritore. A disciple of and minister to the post WWII, electrified Chicago blues, Corritore calls Phoenix, Arizona his home, but the music he creates with fellow storied masters of the craft, is the sound of the South and West sides of the Windy City.
His 21st album, You Shocked Me, is scheduled for release on September 9th via VizzTone. On top of these 21 album releases, Corritore has also played as a guest on 94 other full-length recordings, and produced 25 more.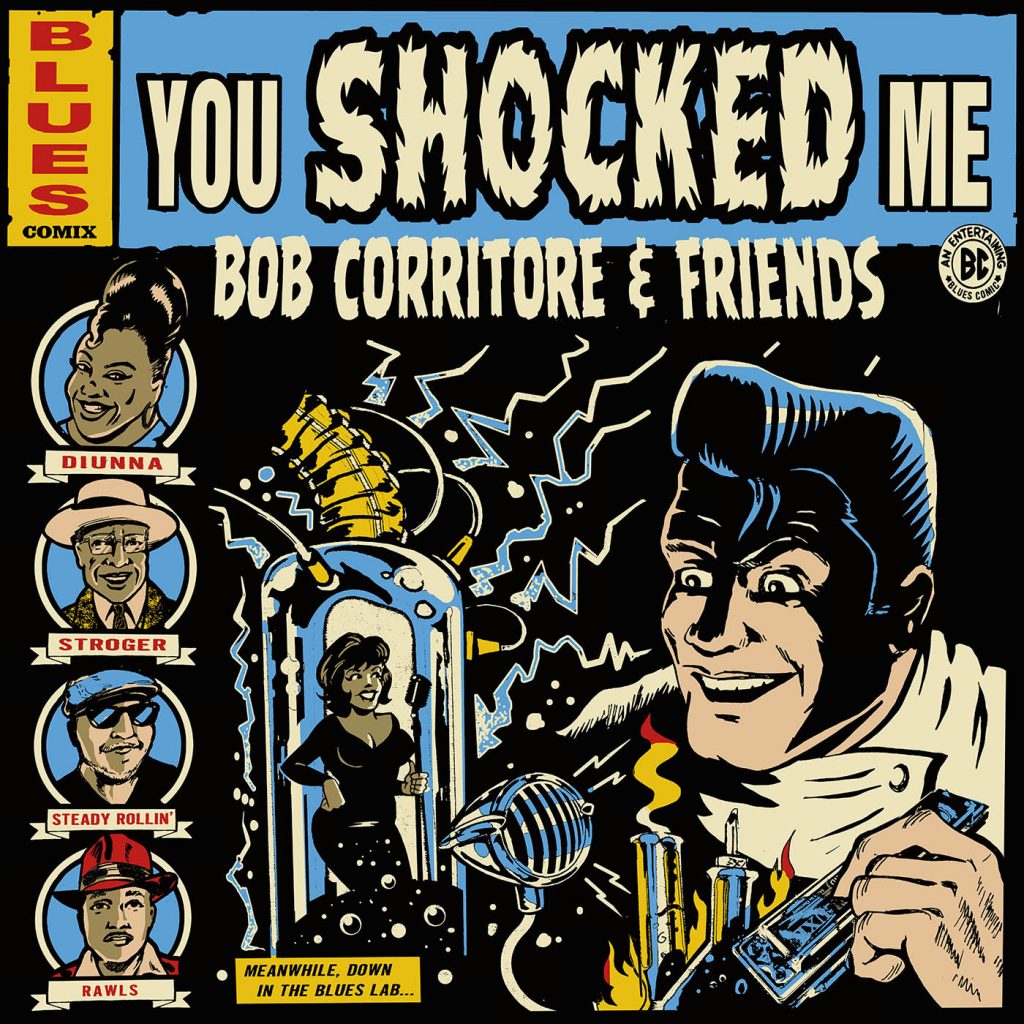 On You Shocked Me, Corritore once again puts together an all-star blues showcase of his amazing friends, the cream of today's current crop of blues artists, delivering 16 killer songs and electrifying performances. Captured during 12 recording sessions between 2018 and this year, these tracks deliver pure, unvarnished blues of the highest order. Recorded at Tempest Recording in Tempe Arizona, Bob's masterfully understated production captures the urgency of a live performance and the finishing touch to make complete, memorable songs.
The glue that holds it all together is the combination of his focused production work and his expressive "serve the song" harmonica style. Featured vocalists on this set include longtime collaborators Alabama Mike (who contributes four powerful songs), soul/blues/gospel icon Johnny Rawls, salt of the earth Southern bluesman Bill "Howl-N-Madd" Perry, Oscar Wilson, Sugaray Rayford, Diunna Greenleaf, Jimi "Primetime" Smith, Oscar Wilson, Bob Stroger, Francine Reed, and Willie Buck.
This is all new recordings I've done within the last five years. It's just a collection of what I've been doing lately, and it's got some really powerful performances on there. So it's great bands, great singers, and really cool stuff on 16 cool songs. Each one has a little story so kind of each song is chapter in a storybook.

Bob Corritore
Besides being a talented musician, Corritore is also a club owner, opening The Rhythm Room in Phoenix in 1991 as a desert blues oasis for both new acts, and elder statesmen to perform. It has served as his home base ever since. He and his house band, the Rhythm Room All-Stars, have backed dozens of high-profile blues musicians, both at the club and in recording sessions, which makes these types of recordings possible.
I'm like, okay, I'll fly you out. Let's do a recording session, let's do a gig and let's make this a weekend. Let's make a weekend out of it. So that's how that happens now. Before, people were just coming through on their own because that's all those older guys, when they were still alive, that's what they knew.

They knew to get in a van and get on the road and tour and they needed a place to stop in Phoenix and I was that stop. Now some of that is still the same but more often than not nowadays it's more defined that I'm bringing people in for the idea that we're going to make some recordings and eventually the highlights of what we did would come out.
You Shocked Me has a cornucopia of musical styles, fitting each guest that stepped into the studio. From the powerhouse soul/blues of Sugaray Rayford, to Jimi "Primetime" Smith's "Soul Food," an old Rex Garvin song which is early soul meets rock-n-roll, to the Southern blues of Bill "Howl-N-Madd" Perry and his song, "Back to the Crossroads," to Alabama Mike, a great soul and blues singer now residing in the Bay Area. Then there's Willie Buck, straight Chicago blues from an artist who was Corritore's former employer in the late 70s and models his style after the late, great Muddy Waters. The basis is all Chicago blues, but Corritore is never afraid to add a cool rock-n-roll, or deep soul number to the mix.
It all began in Chicago for Bob Corritore. Born in the Windy City in 1956, he was turned on to the sound of Chicago blues at the age of 12 after hearing a Muddy Waters song on the radio. Shortly thereafter he received his first harmonica as a gift from his younger brother. Teaching himself to play, he went to every blues concert he could. Waters actually played at Corritore's high school, as did Sam Lay, Eddie Taylor, Wild Child Butler and others. His musical education continued on Maxwell Street, where he caught Big Walter Horton, and Big John Wrencher, and actually played in public for the first time when John Henry Davis invited the teen to sit in.
After checking out some North side clubs, Corritore also ventured to clubs on the South and West sides of the city. There he was mentored by folks like Louis Myers, Lester Davenport, Junior Wells, Big Walter,Little Willie Anderson, Big Leon Brooks and others. After attending college at the University of Tulsa, and playing in that area, he returned to Chicago. His first Chicago blues gig was with Willie Buck, and his band made up of Louis and Dave Myers, Johnny "Big Moose" Walker, Odie Payne, Jr. and Blyther Smith.
Eventually came the move to Phoenix.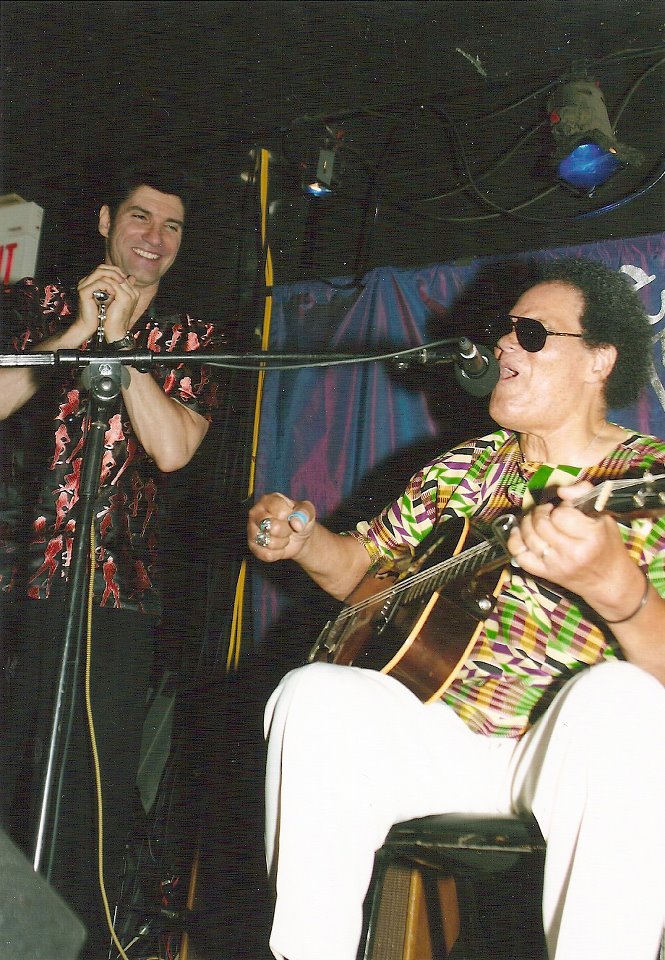 My move to Phoenix was not meant to be a permanent move. At age 24 I quit drinking and all of a sudden I looked around and here I am playing in the South and West sides of Chicago, which were fairly impoverished areas, and there was a real reality check you had to do because I'm playing in places that were high crime and things were happening around me. I was beginning to not have that same naivete of believing that the world around me wouldn't hurt me. As I see things happening around me, I see guns and people with fresh knots on their heads after a street fight and stuff like that. Let me take a chill from this.

My brother lives in Phoenix, Arizona, he invited me come stay with him for a while. Yeah, I need to chill out from Chicago for a second and reevaluate where I want to go in my life. I was really enjoying all the aspects of Chicago. I love Chicago to this day. I love Chicago blues. But at the same time, I'm like, okay, where am I going? I was also at a point that I hadn't fully committed to a musical direction because I was still trying to be a day job guy, and then also hold down the fort while playing music.

Really, my passion was playing music, but my upbringing was that I wasn't going to be a profession for me. That wasn't what my parents would approve of. It took me to come out to Phoenix to get to that point of realization. Most people have that awareness early on, and I it took me a little while you know. I was happily a student of the music in Chicago, and played and sat in and loved to do that. I got a few gigs here and there. Willie Buck had hired me and for his All Star band. Here I'm friends with, playing with all the best guys that ever lived, and having the time of my life. But I just, I needed to just get a little perspective on that.

So I moved to Phoenix, Arizona, in 1981, thinking, I'll just hang out for a year and I'll come back to Chicago after I get a couple of things figured out in my life. So within a month or two, I got a call from Louisiana Red, who I played with at Delta Fish Market. Red calls me out of the blue after I'd moved to Phoenix. He said, "Bobby, where you at?" I said, I've moved to Phoenix. "Phoenix huh? I know Eunice Davis out there, this blues woman. And I'm thinking about going to visit." Red apparently had romantic intentions with Eunice. I said, if you come out here, let's do some gigs. I didn't really think much of it at the time. I thought, well, maybe he'll come out here. That'd be cool. But I wasn't holding my breath. But a few weeks later, Red calls. "Bobby. I'm in town." I'm like, okay, that's cool. So I go over to Eunice's house and we all have a little jam session. She had set up a gig for us, and I'm trying to set up a few other things while Red's in town. Well, about a week later, I get a call from Eunice, "Bob you'd better come pick Red up. I just threw him out."

Then, my brother and I had a new roommate all of a sudden. When we took him in, my brother, my girlfriend at the time, Red and I, we were like a family. We worked as a unit, you know, and Red never forgot that. I mean, he was an orphan. He felt abandoned oftentimes in his life, but he always had a place with me. That year, we played a lot of music. I'd wake up in the morning and I'd be preparing breakfast and Red would be already in the living room with his guitar playing John Lee Hooker and Muddy Waters songs.

And I go this is unbelievable. This is my life right here, this is crazy. And I grew so much in that year and Red established me musically in Phoenix. So next thing you know, I'm a well known musician in Phoenix, Arizona and I hadn't exactly planned on that.

So Red would go off on a tour to Germany and he met his wife Dora there and stayed in Germany and they lived in Hanover for the rest of Red's life. And she was a good woman for Red you know, she stood by his side and looked out after him and Red was happy and I was happy too. We kept in touch through letters and whatnot and then at a point Red started coming back to the United States and then we we got to reconnect in person, which was really great. So Red would do a month in the United States and always spend the last week in Arizona with me. We'd do sessions, and he'd be a guest on my radio show, and do a couple nights at the Rhythm Room.

Sometimes we'd do a night in Tucson too. Then we also did a few other tours here and there. We did a New Mexico one time. Red and I got to reestablish our closeness which was great. I got to play with Red in Europe a few times which was great. Red was just a super human being and he was really like family to me, like a big brother. But that established me in Phoenix. Next thing you know, I'm working with Big Pete Pearson and Tommy Dukes.

We brought Chico Chism out to Phoenix, in 86. He was Howlin' Wolf's last drummer and we had a run for the last 20 years of his life. He became part of the Rhythm house band when the Rhythm Room opened up. And, and so he came in 86 and then passed away in 2007. So you have the last 20 years of his life. So all these things happened.

I started my radio show in 1984, which is now 38 years old, oh my God. Now, I've got all these Phoenix roots. I didn't plan on it, but Phoenix became the place to do stuff. Feels like Phoenix is my home now. I never stopped loving Chicago. I love all that. So much of what I remember from Chicago from those days, the Big Walter Horton shows, Eddie Taylor, Jimmy Rogers, Sunnyland Slim, all of that great stuff. Being able to see Muddy Waters when he played in town, and Howlin' Wolf, I got to see him play a number of times. All that stuff is embedded in who I am as my personality, as my soul, you know? That's just who I am.

But in Phoenix, I kind of went from being the student to being somebody well established. And at that point, I decided that music was my absolute life calling. I tried to deny it and tried to think that I could actually do a day gig and be fully invested in it. And I realized there's no way I could. I had to just follow what I was destined to do, what my heart was calling me to do. There's no way around it. So I stayed in Phoenix, and here I am.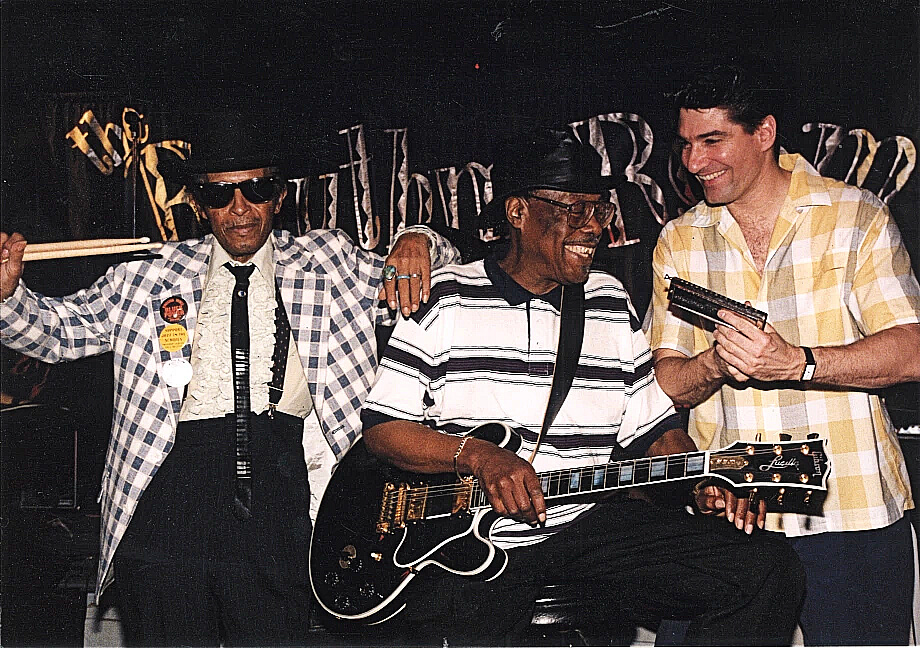 In this year alone, Corritore has released 3 albums prior to You Shocked Me. Two from his "From the Vaults" series included Tell Me About It with Louisiana Red, and Down Home Blues Revue. Then came the acoustic album, So Far, with Bob Margolin. These are all hot on the heels of his uber-popular 2021 release Spider in My Stew. There are two things they all have in common. First is a backing band that is tighter than a knife fight in a phone booth. The second is the unmistakable base of the Chicago sound.
But what makes up the Chicago sound? Bob explains what it is, and how to listen for it.
Well, I mean, I would say listen to Muddy Waters, Little Walter, Howlin' Wolf, Elmore James, Eddie Taylor and Jimmy Reed. And I don't know if I mentioned Jimmy Rogers in there of course, you've got the basics right there. Then just go with it. Just listen to that. if you listen to Muddy Waters, you also notice Otis Spann, Little Walter, Junior Wells, Big Walter Horton, James Cotton and notice all of the interplay in each song. But that's a specific style of Chicago blues. It was the early 1950s style. Prior to that, there was the Bluebird sound.

After that, it became more of like a guitar sound that was popularized, or at least initiated a little bit by Cobra records, and USA records and all these different labels. Chicago blues continues to have a number of its own branches, but strict Chicago blues is home base. I mean, obviously, I've played a lot of other styles too, but, that's home for me.

I would say start off by just listening to some of those original masters. One of the things that folks should listen for too, is what's called an ensemble style of playing blues. Because in today's blues world, so much of it's about solos. The guitar player does a solo, the harmonica player does a solo, the keyboard player, the sax player, everybody has their little slot for their solo. In Chicago blues, it's much more of a conversation that happens. If you listen to Howlin' Wolf's "Evil," for example, the harmonica will play something while the guitar plays something, while the piano does something completely different. Everybody's interacting. It's like this wonderful conversation happening where, at that point in time, everybody's speaking in unison.

Another point in time, people are interacting based on what they just heard, so some play one thing and that will cause somebody else to play something in response to that. It's a very responsive kind of thing you know, it's a place where there might only be one 12 bar solo, but everybody got their licks in. And it doesn't sound like it's too busy or competitive or clashing. It just sounds like an ensemble playing, playing their parts. So that's something that people should listen to in some of the early Chicago blues.

Oftentimes within that, the harmonica has kind of the lead chair. Muddy Waters would construct his songs where the harmonica player would take the solo and yhe other musicians would play their parts around it. There's guitar parts, piano parts and drum parts that would be floating around and be responsive to where Little Walter was leading them on harmonica. So that's kind of cool. I don't know if that will help people appreciate this, but it's a different way of playing than most modern players play.

I recently gave some CDs to a friend of mine who has taught blues and is a experienced blues player and producer, Dr. David Allen. He says, "You know, Bob, I just listened to your records, you're like the only guy playing ensemble these days." That's not exactly true, because other people do, but that's the style I subscribe to. So that's an important thing to listen for in Chicago blues. But of course, check out those great classic performances.

Chicago blues is Mississippi blues that's come into the city and is electrified, and takes on a life of its own. It reflects the louder, more brash aspects of the city in a musical way. There's all these cool things about the music. It's Southern music but brought to the city, and amplified. That electricity made a whole bunch of difference in that music.
Like a nightclub pastor, Bob Corritore keeps and preaches the gospel of Chicago blues, bringing in both young and venerated artists to help him spread the word. He converses, with his harp, in a language that touches our very souls.
It's the music of slaves and share-croppers, brought to the big city by those looking for a better life. It's the good times, bad times, and all times in between of the human condition set to music. When Bob and his friends plug in, and you push play or drop the needle, you'll never be quite the same.
Check out Bob Corritore's website for great music, and one of the most extensive blues photo galleries on the internet, and make sure to pick up a copy or two of You Shocked Me on September 9th.