The blues runs deeply through the veins of singer, composer and multi-instrumentalist Ruth Lyon and also within the themes of her original songs. Whilst the musical structures are not traditional blues they are perfect platforms for her intense emotions and reflections in this latest recording, Direct Debit To Vogue. The title refers to Lyon's reluctance to cancel her subscription to a magazine which was addictive and yet exacerbated insecurities with its ideals of physical flawlessness and assimilation.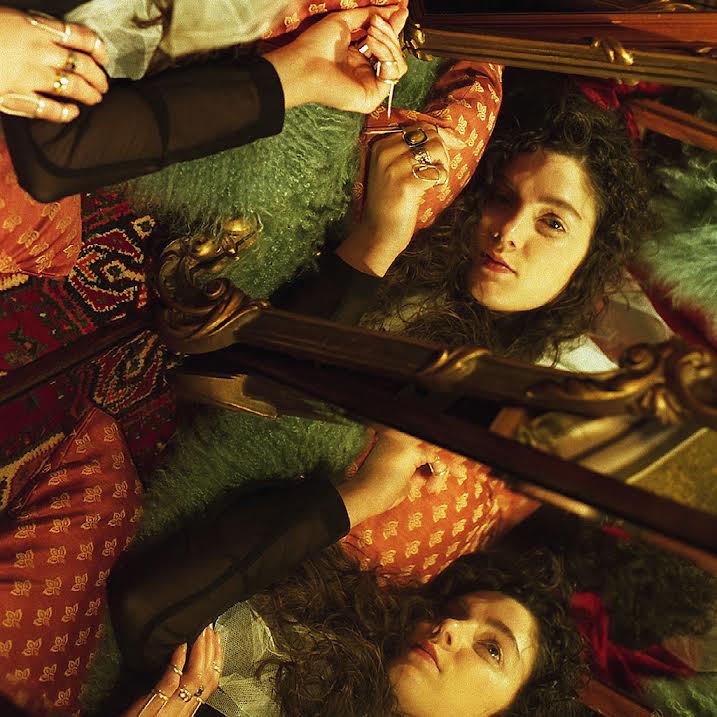 The key themes of all five songs are power in fragility, and beauty in imperfection. Disability ambassador Ruth explains: "I think the EP is very, very personal, but it doesn't sound preachy, which I really liked. I wanted to tread a line of saying something powerful and interesting and speaking honestly about stuff that is sometimes hard to talk about, but without it sounding, like, ugh." Equally as important as what it means to her is the impact it will have on listeners. "I want it to be very inclusive, like anybody could listen to any of the songs and come up with their own story. I wanted to evoke the feeling of the kinda music that just punches you in the gut. Rather than 'oh, this is pretty, this is nice' — I want to emotionally drag some stuff out of people."
This new release follows an impressive American debut at the SXSW Conference and Festival in Austin, Texas, a highly acclaimed debut EP, Nothing's Perfect and a first headline UK tour this autumn. Any spare time is devoted to charity work, with wheelchair user Ruth an advocate for the disabled community and a diversity and inclusion activist, specifically in relation to improving accessibility in live music, and a spokesperson and panelist on forums across three continents.
This spectacular video of "Clown" by filmmakers Antonia Luxem and Tegid Cartwright is the first time Ruth has used a mobility aid front and center in her creative work and it enables the graphic portrayal of her story and the movements. This strong symbiosis between the visual and lyrical imagery reinforces the meaning. 'They wanted to explore this idea of the inner clown in the line, 'Though I may be bound down, I'm bonded to my own clown.' Being able to creatively explore myself through music, dance and costume gives me an immense power that societal constraints can often strip away from my community and this video is a celebration of that bold energy. I absolutely loved leading these wonderful dancers through the trees in a vibrant procession past dog walkers and morning joggers. People are going to stare when you look different so I want to give them something to really stare at.'
Ruth's vocals exude anxiety, about the past, present and future, captured by the fear in her expressive lyrics 'Will I hit the ground when I come crashing down?' and the contrasting powerful and lilting piano tones and haunting violin.
Lyon has referenced the inspiration behind the song, the legendary Jim Morrison, poet, songwriter and lead singer with The Doors who wrote: 'I think of myself as an intelligent, sensitive human but with the soul of a clown which always forces me to blow it at the most crucial moments.' I totally relate! We've all got that clown living inside of us, leading us down a crazy lane, tripping us up at the last turn in the road when we think it's all going so well. But, that's sometimes when I feel most alive.'
The somber, minimalist instrumental introduction to "Trouble" sets the tone for the opening lines: I woke up wondering when I'm going to die/ Window shopping everything feels like a lie. 'This is a reaction against this idea of perfection that society has us believe is the goal, when actually it's a short cut to death,' says Ruth. 'I've never been able to tread the path of least resistance, but nor would I want to. I am hard work, I am difficult, I don't want to be boxed up with a neat little bow with my labels printed on it. I am trouble and I love it.' The rest of the first verse introduces the precise, funky percussion courtesy of Tommy Arch. This immediately changes the atmosphere to an almost carefree admission by Lyon of never knowing what she is doing and it's all her own doing anyway. The infectious chorus takes the listener into another world of alt-pop before returning to her reputation for 'trouble' and someone who isn't likely to be going very far, the slower change of pace to the song emphasizing the anxiety. The potential juxtaposition, which turns out to be similarities, between shaving her legs despite the cold and cursing her direct debit to Vogue confirms a creative, somewhat mischievous and very individual talent with the confidence, power and wit to express herself as she feels and with dramatic effect.
"Wool" opens with Rhodes piano and Ruth's declaring that she, 'Came into this world on a string on a string/Nobody could hear a thing/Wish I could've heard the noise when they cut the cord/Maybe I'd understand my own voice.' The versatility and intonation of the vocal delivery are breathtaking as Ruth elongates the vowels at the end of each line, her voice soaring high above the beautifully arranged backing music including her glorious violin.
"Stone" is about long-term relationships: 'The words came out on the page like a poem in one morning and have never changed. It is raw and I am really grateful to John Parish for being so respectful of the nature of the track, giving it life without taking any of the simple power away. Lady Nade's haunting tones really lift this song.' The keyboard and percussion introduction is followed progressively by vocals and strings alongside slow burning, echo effects. These strong, conversational vocal tones contrast with the background chorus creating an ethereal vibe to the lyrics. Paradoxically, the song's climax is the relaxed ending with Ruth's smooth voice accompanied by sumptuous keys: 'If you were a stone, you'd bear the weight of my heavy heart/If I will Road, I'd be forgotten torn apart/If you were the Sun, you save my mind/If you were the sea, I'd be thunder in your hands.' "Flood" at one level is quite a jaunty vibe with its carefree backing, changing moods and tempos. However, Ruth is also brutally honest as she implores: 'Please don't cry when you see me living my best life, surprised I'm a wife/We are all just skin and bone, recycled carbon in time.' As always, her phrasing and timing of the carefully crafted lyrics are impeccable.
In a single review it is impossible to do justice to an artist who is inspiring her generation as a gifted musician, tireless campaigner, and powerful role model. Direct Debit To Vogue is another step for Ruth Lyon in creating a lasting legacy of innovative music and making life better for disabled people whilst battling illness herself with energy, positivity, humor and dignity.
All songs written and arranged by Ruth Lyon
Ruth Lyon on Rhodes piano, clarinet, violin, electronics and lead vocals. Tommy Arch: drums, percussion and electric bass. John Parish: keyboards. Joseph James and James Cameron: backing vocals.
Produced and mixed by John Parish. Engineered by Olliver Baldwin. Recorded at J&J Studio Bristol. Mastered by Jason Mitchell at LOUD Mastering.
Single Artwork and press shots by Tash Barker.
Video credits:
Director – Antonia Luxem Director of Photography – Tegid Cartwright
Art Director – Rosie Bristow Production Assistant – Tommy Evans
Makeup Artist – Victoria Taylor Editor – Antonia Luxem
Colour Grader – Megan Lee Choreographer – Michaela Wate
Dancers – Patrick Ziza, Amy Becke, Martha Hill