One of the most reclusive, laid-back artists in the history of blues, rock, Americana, and red dirt country. A master songwriter whose influence transcended genres. And yet, many people didn't know his name. 
1. Although a great many fans, and fellow musicians alike, were under the presumption that J.J. stood for Jean-Jacques, that is not the case. He was born John Weldon Cale, and although he began his extensive career in Tulsa, and is recognized as one of the architects of the "Tulsa Sound," he came into this world on December 5th, 1938, in Oklahoma City.
It wasn't until the mid-1960s that Elmer Valentine, co-founder of the iconic Sunset Strip clubs Whisky a Go Go, The Roxy, and The Rainbow, suggest the J.J. moniker. The recommendation was made so that people wouldn't confuse him with avant-garde rocker John Cale of the Velvet Underground. In addition, Valentine thought it would look good on the marquee at the Whisky.
2. Cale didn't start out to be a rock star. In fact, he shied away from public performances and the media for almost his whole life. His first actual love was electronics and recording. He studied the principles of sound engineering while still attending Tulsa Central High School, building a recording studio in his parents' home. He furthered his knowledge of electronics while serving in the US Air Force and got his first job in Los Angeles as a studio engineer. In his capacity as studio engineer, Cale recorded artists that included Freddie King and Bobby "Blue" Bland. Many of his own original recordings, including his demo recording of "After Midnight" in 1966, were done with electronic drum machines providing the rhythm section since he wasn't making much money and couldn't afford session musicians.
3. Speaking of "After Midnight," Eric Clapton, who recorded it on his eponymous debut solo album in 1970, was turned on to the song by other Tulsa musicians. Well, let's backtrack a bit. It was Delaney Bramlett, the Mississippi born blues rocker that first introduced Clapton to the music of J.J. Cale, while Clapton was working with Delaney & Bonnie and Friends. When Clapton went into the studio to record, Delaney, along with Tulsa musicians Carl Radle and Leon Russell, were session musicians on the album. It was Radle that played this particular song for Eric, and the decision was made on the spot to include it on the record. It was the runaway hit single from that project, scoring the number four position on the Billboard charts, and Cale had no idea Clapton had recorded it until he heard it on the radio and the royalty checks began arriving.
4. Of course, "After Midnight," and later "Cocaine," were both J.J. Cale originals recorded and made famous by Clapton. Probably his other most famous song was "Call Me the Breeze," which he initially recorded in 1970, released on his album Naturally in 1972. It became a southern anthem when Lynyrd Skynyrd rocked it on their 1974 album, Second Helping. But that's just the tip of the proverbial iceberg. Other famed artists to record Cale's music include: Jerry Garcia, Nazareth, Johnny Cash, John Mayer, Kansas, Waylon Jennings, Dr. Hook, Poco, Beck, Santana, Widespread Panic, Johnny Rivers, Lucinda Williams, Maria Muldaur, Cissy Houston, Randy Crawford, The Band, George Thorogood, and dozens more.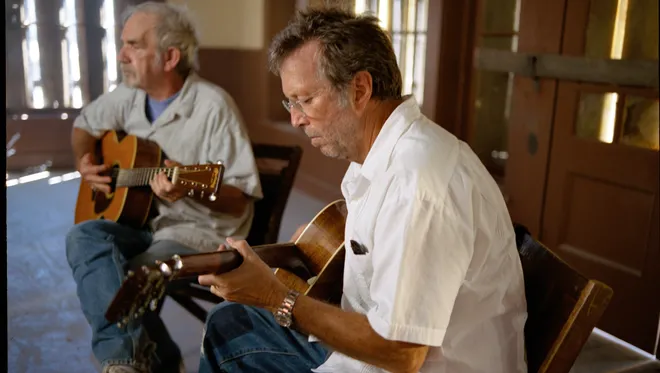 5. Clapton once said of J.J. Cale, "He has been misunderstood by most people, referring to him as a recluse when he's very sociable, open and charismatic. He just prefers his own company." To say the least. So much so, in fact, that he never publicly claimed to be married to his long-time guitarist and muse, Christine Lakeland. Her first recorded appearance with Cale came on his 1979 album, 5, although she had been a member of the touring band for three years prior to that.
Being a rather cloistered artist herself, no confirmation was made of their actual relationship until the printing of his obituary. They lived for years in mobile homes, and eventually on a secluded piece of property outside Escondido, California. Early in his touring career, supporting Black Oak Arkansas, Cale's band opened for Quicksilver Messenger Service at the Warehouse in New Orleans. The night before, they had been booed and assaulted with bottles, flung by the young crowd in Baton Rouge. Cale's response was to play the entire New Orleans show, seated on a stool with his back to the crowd.
6. Famed blues rocker Tinsley Ellis was once fired from a gig because of J.J. Cale. Well, sort of. Ellis was just getting started in the music business, playing as part of a '70s hits-oriented, supposed family act at Six Flags over Georgia. The story goes that the band broke into a spirited rendition of the Cale song "Cocaine" at the amusement park, and were summarily dismissed from employment, even having to leave the park barefoot. According to Ellis, "They fired us and confiscated our leisure suits and high-heeled boots."
7. Of all the recognition his songs achieved over the years, Cale has not been included in the Rock and Roll Hall of Fame, the Blues Hall of Fame, nor the Country Music Hall of Fame. He was posthumously inducted into the Oklahoma Music Hall of Fame in 2014. Cale also received a Best Contemporary Blues Album Grammy Award in 2008 for his collaborative album with Clapton, The Road to Escondido. The award remained in the box for the rest of his life. Cale said, "I may put it on the mantle but I probably won't. My domestic duties are kinda slow. It didn't really change my life, 'cept it was a nice pat on the back. Good for my ego."
8. Cale's only hit song that he performed himself was in 1972. Recorded in one take, with Barefoot Jerry slide guitarist Mac Gayden, "Crazy Mama" was actually the B-side of the single "Magnolia." It was a DJ in Little Rock, Arkansas that flipped the record, loved the tune, and hammered it out on the airwaves. The song peaked at number 22 on the charts, making it his only Top 40 hit. Cale was glad the flip-side got the airplay. He considered "Magnolia" a "slow, draggy-ass ballad." However, his fans loved it, and he ended up playing them both at every gig he played.
9. Neil Young once said, "Of all the players I ever heard, it's gotta be [Jimi] Hendrix and J.J. Cale who are the best electric guitar players." Guitarist Mark Knopfler, also claimed Cale as an influence on his art, even participating in the 2014 tribute album, The Breeze: An Appreciation of J.J. Cale. Cale, though, didn't feel the same way about Knopfler. According to Gayden, Cale would, "rag" on him, claiming the Brit ripped off both his guitar playing and singing styles. Apparently burying the hatchet however, JJ did eventually open for Knopfler on a US tour.
10. Not all of Cale's recordings were the relaxed, dirt road-sounding songs that caught the ears of generations of artists to follow. In 1967, while trying to fit in to the California scene of the times, he joined a band called the Leathercoated Minds at the insistence of producer Snuff Garrett. Their one venture was A Trip Down the Sunset Strip, which was mostly psychedelic covers of songs such as "Eight Miles High," "Along Comes Mary," and even "Puff (The Magic Dragon)."
Although it did contain four original Cale instrumentals, Cale considered the entire project regrettable. In a 1999 interview with Max Bell, Cale admitted that it was recorded under the influence of LSD and quite a bit of pot. "I hate that album,"Cale said. "I've tried to burn it whenever I see one. We bought into the psychedelic scene but it was a bad imitation. You guys might like it, but you're nuts!"