Singer-songwriter Tony Holiday is following up 2020's Soul Service with a strong sophomore effort, Motel Mississippi. A collaboration between Holiday, guitarist/songwriter A.J. Fullerton, and guitarist/producer Dave Gross (who shared production duties with Fullerton), the album is at once Delta blues, Memphis soul, North Mississippi hill country, and juke joint stomper. It is only reasonable that Motel Mississippi was recorded at Zebra Ranch, the studio of the legendary Jim Dickinson (The Rolling Stones, Big Star).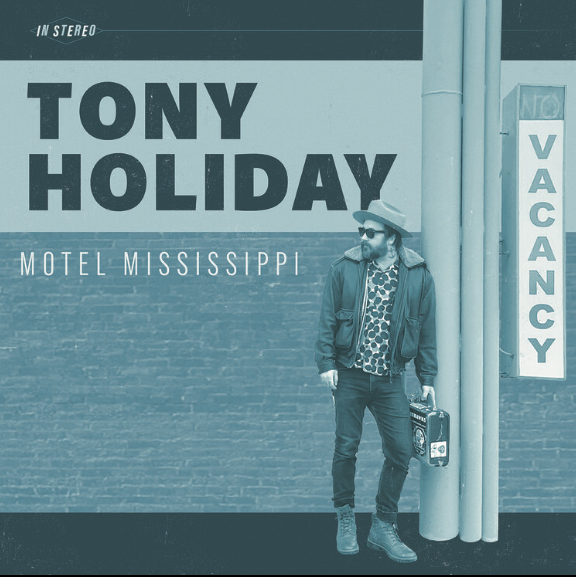 The musicians featured on the album include A.J. Fullerton on rhythm guitar; Lee Williams Jr. on drums; Terrance Grayson on Bass; Victor Wainwright on Wurlitzer; Aubrey McCrady on guitar; Jake Friel on Harmonica; Dave Gross on lead guitar, Hammond organ, acoustic guitar, percussion, background vocals, snare drum, and Moog synth; and Mikey Junior on backup vocals. "The band on this album is phenomenal; we had to ask very little, and the recording process went very quickly, which allows things to stay fresh in the studio," Holiday tells me.
Premiering exclusively today is one of the two covers on the new album, Paul Wine Jones' "Rob & Steal." Holiday explains, "A.J. Fullerton came to me with this record, which he wrote most of, and in the pitch for this record was the Paul Wine Jones cover. I fell in love with it instantly."
He was only introduced to Jones' music in the past five years since living in Memphis, but his music left an ineffaceable imprint on him in that short period of time. The chief characteristic of Delta blues is the guitar itself having a vocal quality, complementing the singer. And with Holiday's vocals he makes an already melodic song even more so. "I will say there is nothing more moving to me then when a musician can sing with their instrument of choice. I just hope we can do this song justice and make people want to go listen to more of the record and more of Paul Wine Jones."
Of the collaborative effort with Fullerton and Gross, he explains, "A.J. has been a friend for many years. I called him up to ask him if he wanted to play guitar on an upcoming hill country record, and he said to me, 'Better yet I have a record written that I would like for you to put out.' He came down to Memphis for about a week and we sat with the record together and decided we were going to do this project.
"Dave Gross I met through my great friend Victor Wainwright, who is playing keys on this record. I also spent some time with Dave on the Legendary Blues Cruise, and was convinced that he was one of the most special and unique guitar players I have ever heard. I asked him if he would put the guitar down on this record and he ended up co-producing, mixing and mastering the whole thing as well."
The album was recorded by another Memphis mainstay, Kevin Houston (Southern Avenue, North Mississippi Allstars, G. Love). "Kevin Houston is obviously an accomplished engineer, and is one of the names that constantly gets brought up when you first move to Memphis. Kevin has a very special quality that makes you feel very comfortable, and he just brings out a security within the session. Thankfully I was introduced to him through my last producer, and one of my best friends Ori Naftaly."
Motel Mississippi marks an evolution of sound and growth, and is "a big statement about the last five years in Memphis. It's the first record I think that really represents me accurately to be completely honest. I really took my time with this record and came into my own with Motel Mississippi."
Memphis has played the biggest role in his musical career. Just as important as coming to Memphis to play is to come to Memphis and listen. "The groove and vibe it lives and breathes in is outrageously contagious. This city has a way of educating you constantly, musically."