Singer-songwriters and twin brothers, Rich and Rob Kwait, have performed as Cabin Dogs since the early 2000s and will release their latest LP, On The Creek, May 12th. The 13-song album is the duo's sixth full length release and was recorded in a cabin between Lake Cayuga and Lake Seneca in upstate New York.  Based in the Greater Philadelphia area, the brothers have escaped to the same house in this secluded location every six months or so over a three-year period (including the pandemic) to work on the music that became the album.  
"The songs on this record have a bittersweet quality. There's darkness, but never a loss of hope" explains Rob. "There's also a theme of keeping it simple… that life might be tough, but you just gotta get home for supper time."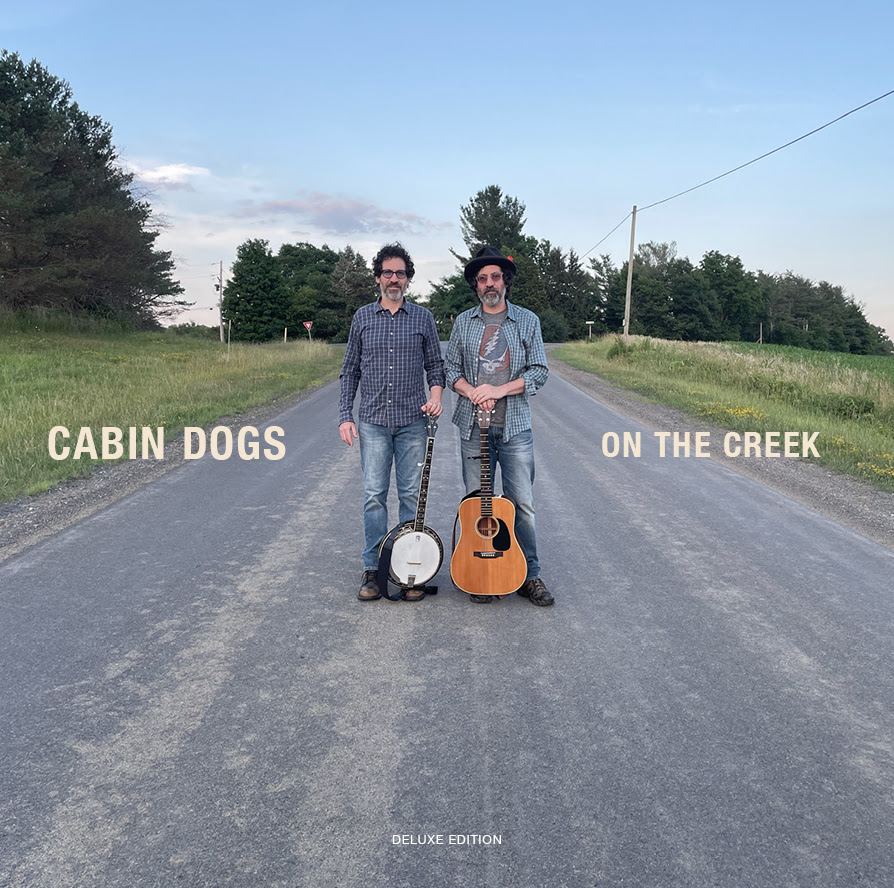 "Usually, we need to get away to create as we find that it not only helps us focus, and hash things out in our own way, but it also solidifies the batch of songs," Rob says. "We feel invested in the songs, as they embody the experience of leaving our day to day lives. There's a mind-trick at play. For the time we are away, we can think of ourselves as different people or different versions of ourselves. It helps us create and inhabit the characters of the songs."

On The Creek was produced by the Kwait brothers and features performances from drummer Ron DiSilvestro, pedal and lap steel player, Isaac Stanford, mandolin player, Adam Monaco, pianist David Streim, keyboardist John Hildenbrand and vocalist, Christina Kubiak. Rich Kwait takes care of most of the lead vocals, guitar, harmonica, percussion, piano and organ, while Rob handles vocals, bass, banjo and percussion. The album was recorded at the Bee House on Taughannock Creek (Trumansburg, NY) and at The Cabin (Merion Station, PA) with mixing by Ron DiSilvestro of RDS Music, and mastering by Phil Nicolo of Studio 4.
Premiering exclusively on American Blues Scene is the video for "Wolves," a song expertly synthesizing country traditions and modern folk-rock sensibilities. The last song written for the record, "Wolves," as it turns out, is about a different animal. "We watched a family of foxes near the country house – studio where we were recording," the Kwait brothers tell us. "At some point, 'Foxes' got changed to 'Wolves.' It's a hopeful song. A song about finding forgiveness, and of having someone on your side no matter what."
Cabin Dogs have played stages that include Newport Folk Festival and Philadelphia Folk Festival, and now they are set to play select dates in support of On The Creek.
Upcoming Dates:
May 21 – The Music Salon Presented by Andrea Clearfield – Philadelphia, PA
June 3 – Bryn Mawr Concert Series at the Gazebo – Bryn Mawr, PA*
June 24 – Battleship NJ Craft Brewers Festival – Camden, NJ
August 1 – White's Road Park Concert Series – Lansdale, PA
*supporting Lucy Kaplansky