Whereas a song's lyrics often provide the schema through which emotion is interpreted, purely instrumental music can emphasize a song's abstract beauty in a way words can't always do. That is, if you are Raul Malo. Ever since the singer-songwriter/guitarist was a kid, he knew he wanted to make an instrumental record of his own.
He may be one of the last singers you'd ever expect to cut an instrumental record, given that he uses his own voice as an instrument, an operatic yet pure-as-gold country voice that creates a highly emotive vehicle for his band The Mavericks. On the long road he has traveled for nearly 35 years as the GRAMMY-winning longtime leader, "I just never had the opportunity or time to create one," Malo tells me from his Nashville home before his bus leaves for Joliet, Illinois where he will resume the band's tour.
"You know, you're always doing something else. It's always like, oh, we'll do that someday. We'll do that someday. Well, the pandemic happened. And then guess what? All of a sudden we had a lot of time to do stuff. There were a lot of things going on, too. We were shooting a documentary, and so I was writing music for this documentary that sadly didn't happen. That was kind of the idea of this project, but it didn't pan out. I had a couple of tunes that were already written for the documentary. I was really enjoying the experience of scoring a film and writing music for a film. At that point, during the pandemic, I just kept going."
In his little home studio, Malo started developing different grooves, melodies, and riffs until they eventually took the shape of the songs on Say Less. When asked why it felt like the right time to release this album into the world, he says, simply put: because it was finished. These songs without lyrics sounded complete to him. "This record's done. Let's put it out. I think honestly I'm at a point now in my life where I want to keep putting music out. If you have something to say musically, do it. I get it, people want me to be singing on my records. You know, I understand that sentiment. But this is just a different way to sing. It's a different way to express some music. The music that was written really didn't have lyrics, and honestly I couldn't really bring myself to write lyrics for them.
"Well, you always think about lyrics when you're writing a song, right? This was a different thing. These were melodies that I'd had in my head, riffs… And not one lyric ever came to mind or fruition. I thought that was interesting in the whole process, because they worked from the beginning to me as instrumentals."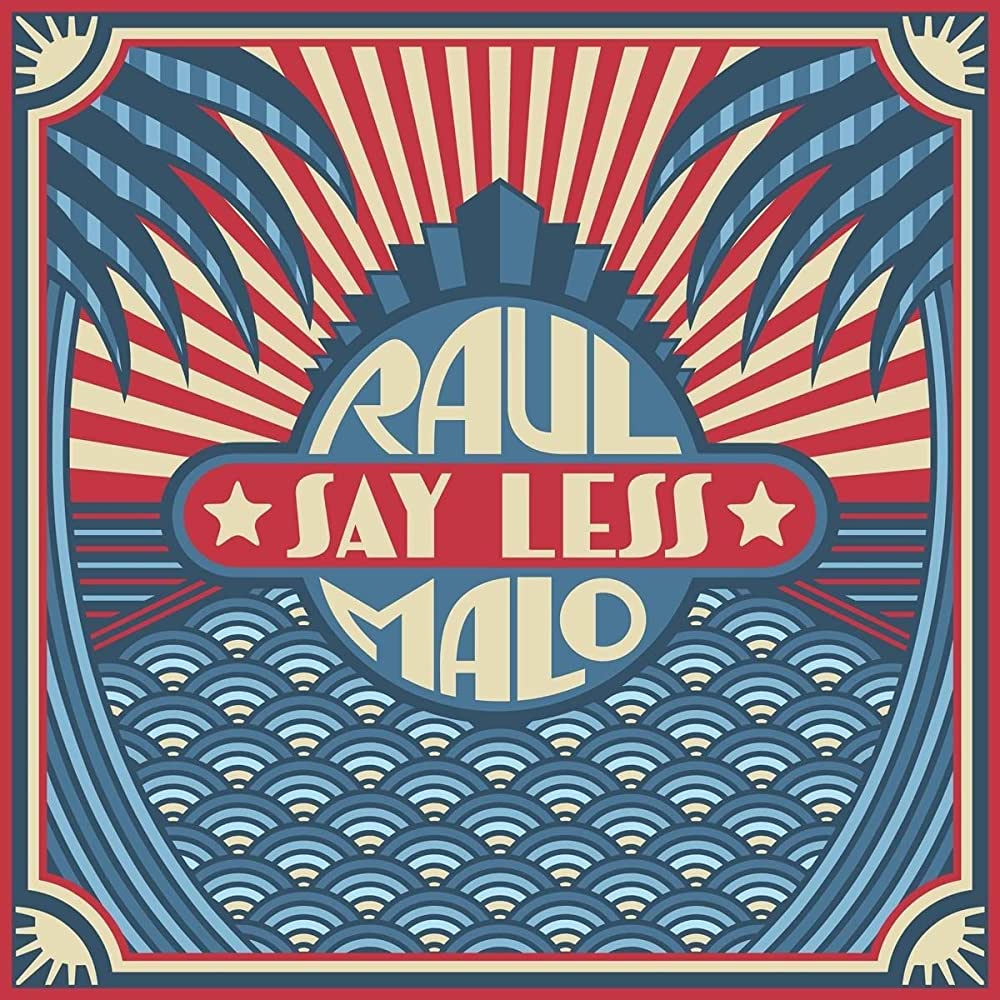 Malo came of age with earlier albums that came of the Space Age, when high fidelity stereo was making its way into everyone's living room. "And so there were records that were made to showcase the equipment, which is sort of a different thing than we do now." He cites Martin Denny, the Jackie Gleason Presents records, and Esquivel as some of the main sources of instrumental album inspiration. Though a bit of a contrast to cocktail hour adult listening records, for example, his lush arrangements on Say Less move cinematically through purpose-built scenes.
He continues, "They were really interesting records. They were arranged and orchestrated, and they were really funky. I love those. And one of my favorites was an artist named Terry Snyder. He was a drummer – a percussionist. He made several records back in the early sixties. And again, it's one of those audiophile records." The records were detailed in that they told you about the recording process, right down to what mics were used. "And I thought that was really fun."
Malo's guitar playing is the next closest match to what his voice can produce, and his 1963 Fender Jaguar in particular has been with him from the Nashville floods of 2010 to the writing of this record. "I really wanted to use the guitar as the anchor for this, the protagonist, the one that's leading the charge. And I wanted to explore that side of guitar playing – not necessarily lead guitar playing, per se, but really kind of leading the band with the guitar and leading the music with the guitar. And that was a fun exercise. That was a really fun way to go about it, at least for me, and using the instrument in that way."
As evidenced by their live shows, Malo composes songs The Mavericks' diverse fan base strongly bond with. The creative process for this solo venture, he says, is similar. "With The Mavericks, I'll play the band the song, and we'll get in the studio and record it. In this instance, there was no playing the band the song. Well, there were two occasions because The Mavericks did contribute on a couple of the tracks. There's really not much difference, except of course, when I'm with the Mavericks then chances are we recorded it together. And I think you hear that on this record where The Mavericks played. And then the other ones, we built the tracks with my son (Dino Malo) playing drums and keys on some things."
Malo sequences an album like one would a book. You could say like one would a concert, too, but The Mavericks are known (and loved) for abandoning their setlist – thinking on their feet, thus getting the fans on their feet. The lead-off track and first single "Solitary Blues" is what solidified the idea that this was going to be an instrumental record. "There's an ebb and flow to take you on a little trip, and what's the trip you want to be taken on? Hopefully the listeners will want to go on this journey with me.
"For example, 'Granada Boulevard' – I wrote that because, to this day, I think Granada Boulevard in Miami is one of the most beautiful boulevards in the world. It's a huge boulevard that runs through the middle of Coral Gables. I've been all over the world, and it's still one of the most beautiful I've ever seen. The way the trees line the sidewalks, the houses… It's historical. I remember riding bikes through there as a kid, and it's still the same. I love that about Granada Boulevard. To me, that song sounded like something I'd want to hear as I'm driving down that boulevard in a convertible, you know?"
"Havana's Midnight" brings you reverberations of a tropical, balmy night in Havana at midnight, not least because that was where and when it was written. "To me, that melody just sounded like something that would come out of there. When I hear it, it just takes me there. That's the whole point, to become a little trip for the listener." The whole record is about soundtracking physical and cultural spaces, transferring a mood and a mystery. "Take the listener somewhere, and then it's up to them." I imagine it can be more challenging to write an instrumental record than one with lyrics, because "you still have to make it interesting for the listener. You still have to get people on the hook, you know? The details might be a little different, but the objective is still the same, at least for me."
Every time you make a record, there is always something to be learned, and what Malo learned along the way of making this one is that sometimes less is more. "I'll give you an example: the song 'Liberty City.' It's really an homage to a part of town in Miami that was instrumental to The Mavericks coming into play. Liberty City at one point was considered a pretty dangerous part of town. But Liberty City housed the very first club that The Mavericks ever played at, so it was the first time that anybody had ever heard The Maverick's, and it was a place called Churchill's Hideaway.
"By the way, it's still there and still showcases young bands. It was that way back when. Dave the owner was a big rock and roll fan, and he wanted his club to feature up-and-coming artists. So, that's where we got our start. We would go to Churchill's to see bands or to play ourselves. I remember when we'd go to soundcheck during the day – the sounds on 'Liberty City' are kind of the sounds that I heard in the neighborhood. It was sort of a mix between R&B, funk, Caribbean, calypso… I never felt in danger there. It was a beautiful, colorful, funky part of town that had this great club and a lot of cool stuff happened around it."
Malo's take on "Sound of Silence," which he first recorded during the pandemic for his YouTube Quarantunes series, appears now on Say Less. For the video/recording, he enlisted part of his "stay-at-home band" of Hector Tellez Jr. on bass and Dino Malo on drums. Watching heart-stopping footage of otherwise teeming metropolises like Paris, Rome, and London suddenly silent and entirely empty inspired him to pay tribute to the Simon and Garfunkel song.
"I'll never forget that. And I'm sitting there watching this footage. I have my guitar in my hand and I'm just strumming chords. But as I'm strumming chords, the melody to 'Sound of Silence' came out. Then I realized, man, the melody to 'Sound of Silence' is right in the chord." In addition to the lyrical depth I think many would tell you it's Simon and Garfunkel's haunting vocal harmony that truly speaks to the human experience, but Malo's guitar manages to wring out every ounce of the turmoil, empathy, and beauty. "Because it's that melody I think that's just so beautiful. That song really resonated with me at that moment. I mean, genius to Paul Simon and (Art) Garfunkel. The melody is right in the chord. I just thought, what a beautiful way to play this song. What an interesting way to play this song."
The Latin, rockabilly, and neotraditional country textures that give The Mavericks their signature sound naturally converge in this debut instrumental record, while dreaming a nuanced and fully formed world of surreal surf guitar noir. "I think they're all there. Yeah. This album really had a clean slate, no prerequisite or agenda set forth. Just create some music and see what happens. The influences are there; I can't help that. I loved the surf music from the sixties; those guitar records were really influential."
The Mavericks' world tour stretches out for another year, so there won't be much time for Malo to tour this album. But perhaps since they don't really have a setlist, surely they can fit in a couple of those instrumentals. "Absolutely. That's what we'll end up doing. That way it keeps it fun, and at the very least people will get to hear something live. I mean, Eddie (Perez) can certainly cover the guitar parts, and we can certainly do that. I might do a couple specialty shows where we do something special for the album."
Malo beams with pride when he talks about this record born of the creative process in his home studio, and out of the pandemic. "Just a horrible time for the world, but musically it afforded me the time to do this, and I'm grateful." But he's proud in large part because he worked on it with his oldest son, Dino. "It gave him a chance to really suggest and produce this thing, which he did. And he rightfully got the proper credit for his efforts. There was a lot more than just making a record here. I'm looking at it now; I'm holding the vinyl version in my hand, and I'm really kind of proud of this record."
The Mavericks Tour Dates:
05/27/23 Kansas City, MO Knuckleheads Saloon
06/02/23 Montreal, QC Corona Theatre
06/03/23 Rouyn-Noranda, QC Festival des Guitares du Monde
06/05/23 Peterborough, ON Showplace Performance Centre
06/06/23 Belleville, ON Empire Theatre
06/08/23 Gatineau, QC Theatre du Casino du Lac Leamy
06/10/23 Moncton, NB Casino New Brunswick
06/24/23 Interlaken, CH Trucker & Country Festival Interlaken
07/04/23 Portland, OR Waterfront Blues Festival
07/13/23 Franklin, TN FirstBank Amphitheater
07/14/23 Mount Vernon, KY New Barn Theater
07/22/23 Webster, MA Indian Ranch
07/23/23 Cohasset. MA South Shore Music Circus
07/27/23 Hyannis, MA Cape Cod Melody Tent
07/28/23 New York, NY Beacon Theatre
07/30/23 Selbyville, DE Freeman Arts Pavilion
08/03/23 Huber Heights, OH Rose Music Center
08/04/23 Cincinnati, OH PNC Pavilion
08/05/23 Charlottesville, VA Ting Pavilion
09/07/23 Durham, NC Carolina Theatre
09/08/23 Bristol, TN Bristol Rhythm and Roots Reunion
09/09/23 Union Hall, VA The Coves Amphitheater
09/13/23 Iowa City, IA The Englert Theatre
09/15/23 Des Moines, IA Hoyt Sherman Place – Theatre
09/16/23 Minneapolis, MN State Theatre
09/17/23 Fargo, ND Fargo Theatre
09/21/23 Amarillo, TX Globe News Center for the Performing Arts
09/22/23 Dallas, TX Majestic Theatre
09/23/23 Helotes, TX Floores Country Store
09/29/23 New Orleans, LA Civic Theatre
09/30/23 Houston, TX House of Blues
10/26/23 Philadelphia, PA World Cafe Live
11/09/23 Napa, CA Uptown
11/10/23 San Francisco, CA The Fillmore Night 1
11/11/23 San Francisco, CA The Fillmore Night 2
11/14/23 Grass Valley, CA The Center for the Arts
11/16/23 Monterey, CA Golden State Theatre
11/17/23 Cajon, CA Magnolia Performing Arts Center
11/18/23 Scottsdale, AZ Center for the Performing Arts
1/13/24 Fort Lauderdale, Fl Sandy Beaches Cruise 2024
3/01/24 Miami, Fl Cayamo Cruise 2024
04/28/24 Antwerp, Belgium De Roma
04/29/24 Utrecht, Netherlands Tivoli Vredenburg
05/02/24 Eindhoven, Netherlands Muziekgebouw