Friday, June 9th marked the first full day of the Chicago Blues Festival, and what a rich musical smorgasbord it was!
But with such a bountiful blues buffet, it was tough trying to take in everything that was being served up at the Pritzker Pavilion, the Rosa's Tent, and the Visit Mississippi Stage. Suffice to say, there was talent everywhere, so here are some snippets of what the American Blues Scene crew did on "Day 2 of the Blues."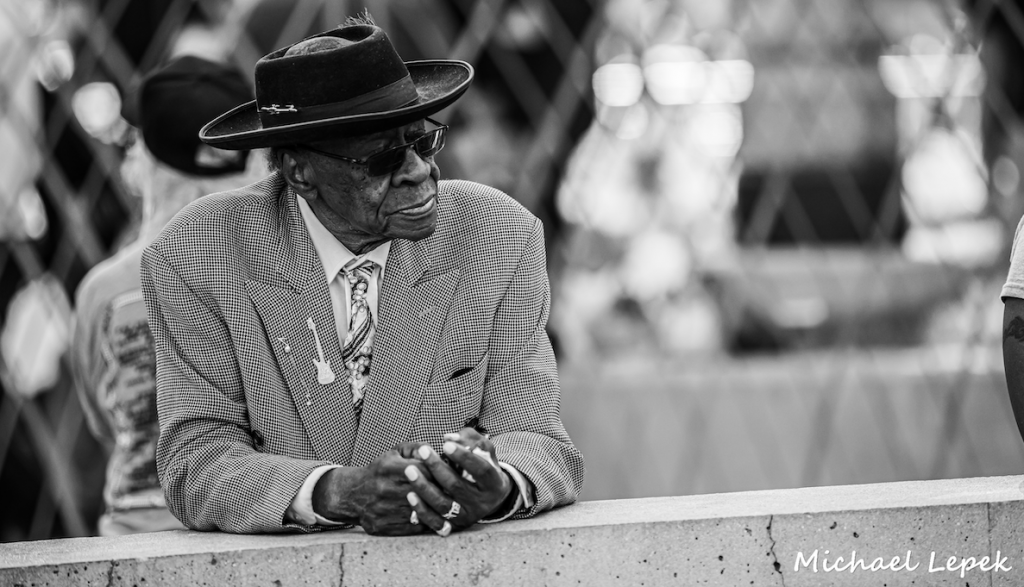 First stop on that fine, sunny Friday was the Visit Mississippi Stage and checking out the state of great giveaway items including stickers, sunglasses, water bottles and other swag.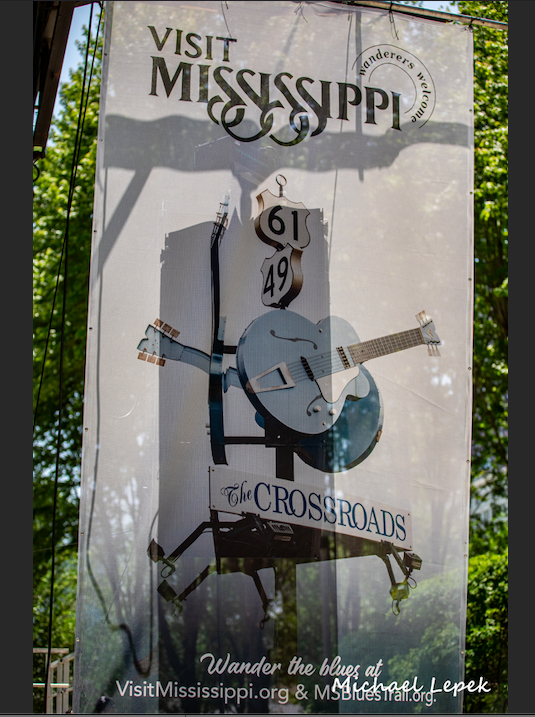 While the souvenirs are always fun, the main takeaway from the Mississippi Stage is its close connection to Chicago blues. The t-shirt tagline "Born in Mississippi. Electrified in Chicago" underscored the partnership between the State of Mississippi and the city of Chicago.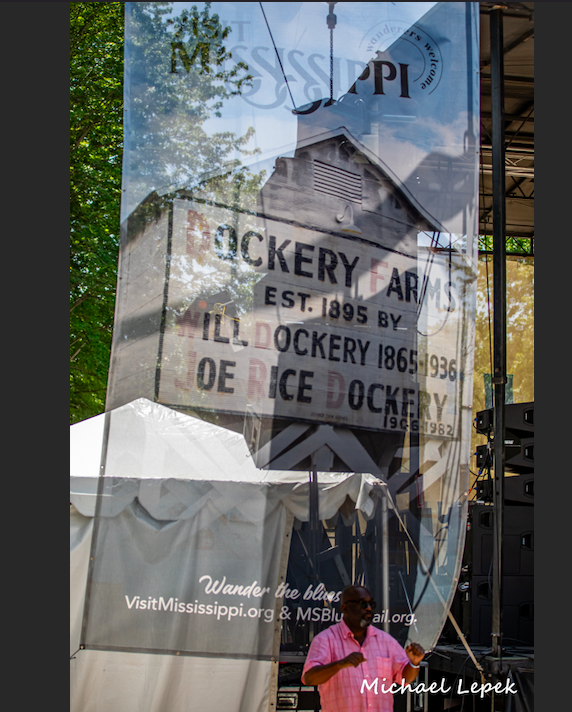 The first performer on the Mississippi Stage, Mzz Reese, served as a prime example of the Mississippi/Chicago connection. She was born in the Magnolia State and was exposed to gospel through her dad who was a member of the legendary Canton Spirituals. She later moved to Chicago where she has electrified audiences with her sassy performances and music that's a mix of old-school blues and classic R&B.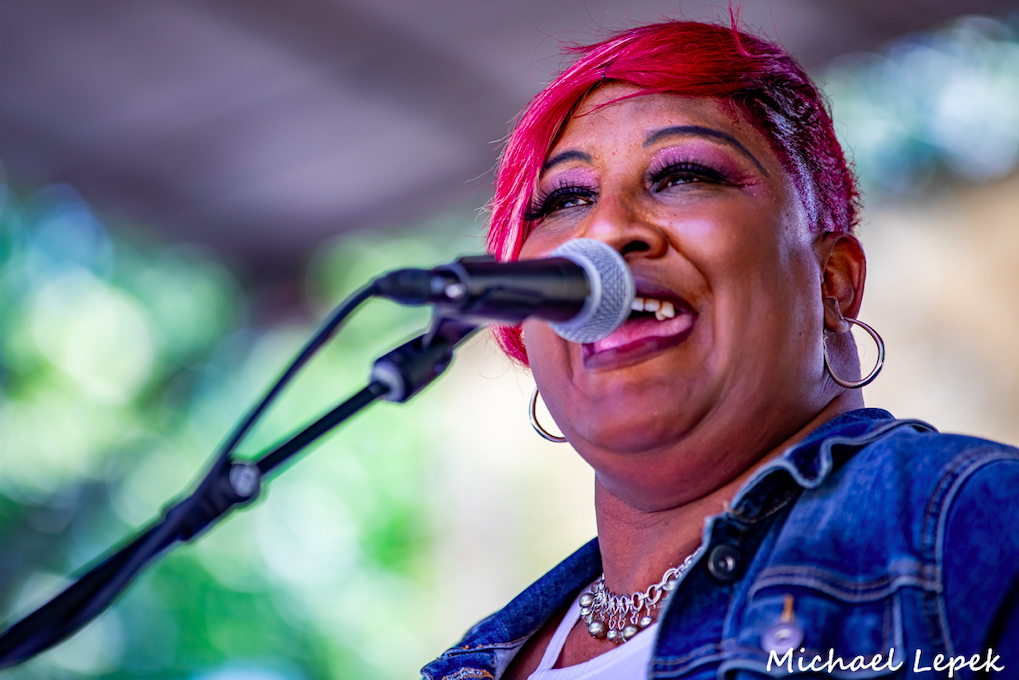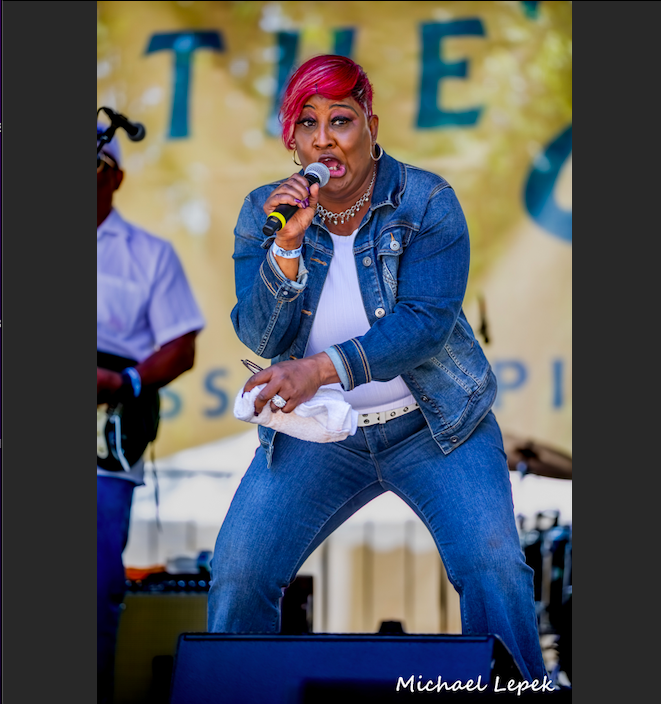 Reese has credited the late Denise LaSalle as a major role model, and she delivered a few bawdy numbers in the spirit of the Mississippi songstress. Whether she was ripping out a racy tune or taking on a slow soulful jam, Mzz Reese and her Pieces put on a satisfying opening set and picked up some new fans in the process.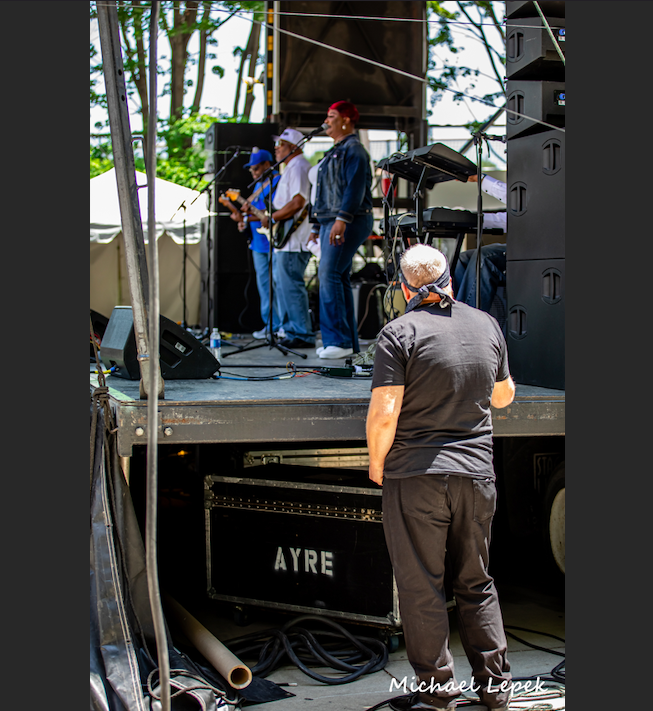 Following Mzz Reese was the always energetic and highly entertaining, Lightnin' Malcom. Long a fixture on the Clarksdale, Mississippi music scene, this engaging artist seems destined to expand his fan base as he recently signed on with Tab Benoit's Whiskey Bayou records and has a new release entitled Eye of the Storm.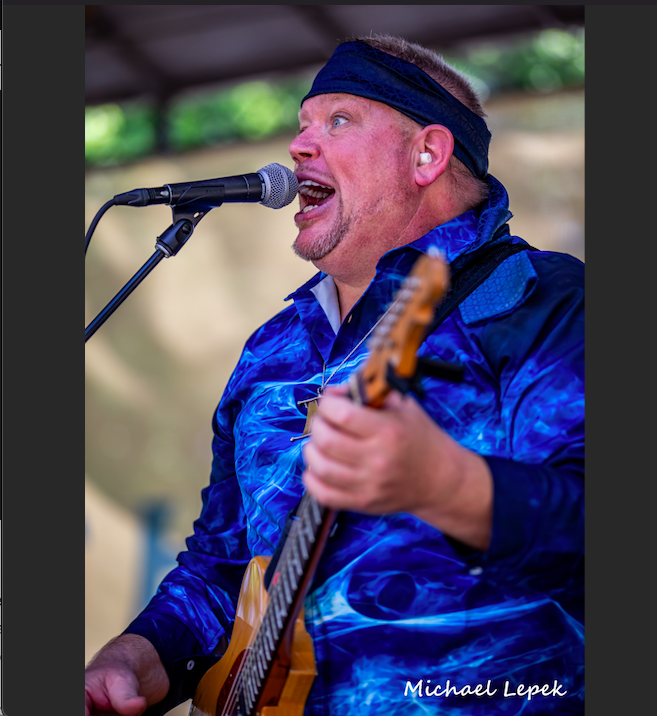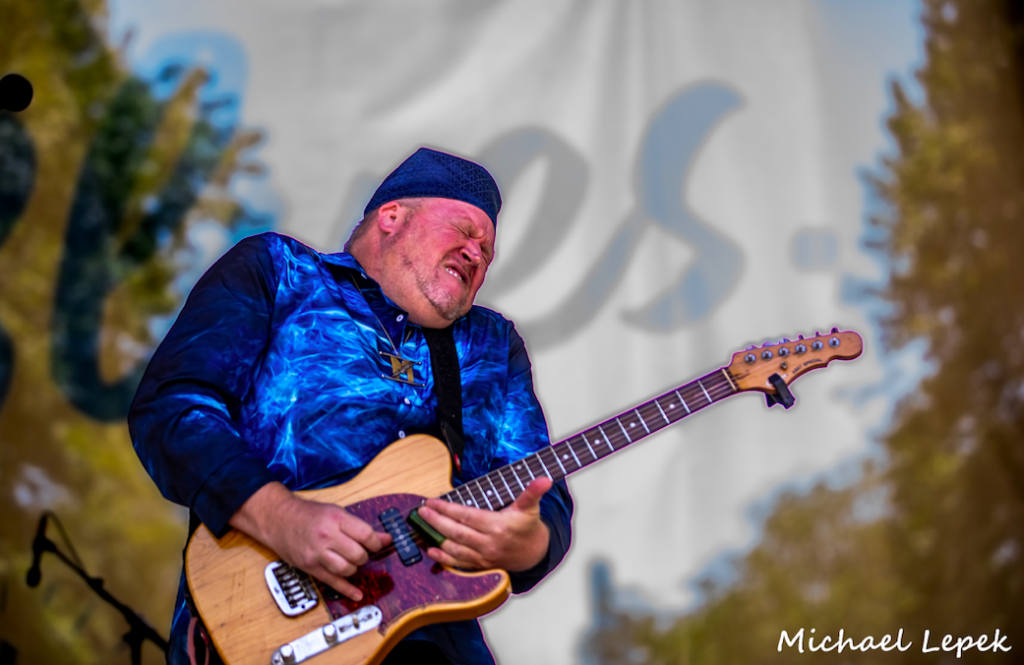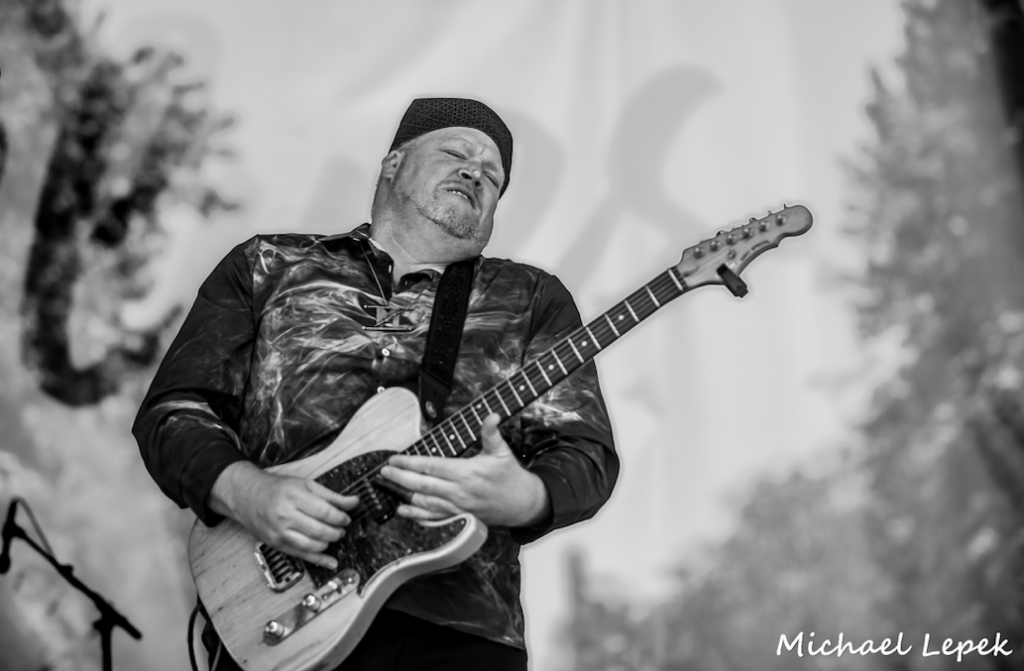 Lightnin' lit up the crowd immediately with his big sound and mastery of the Hill Country blues style that he learned at the hands of legends like RL Burnside and T Model Ford. While Lightnin' Malcom often does his show as a "one man band," he was joined by drummer Clark Winkel and singer Prayer Bailey for his Chicago Blues Festival appearance.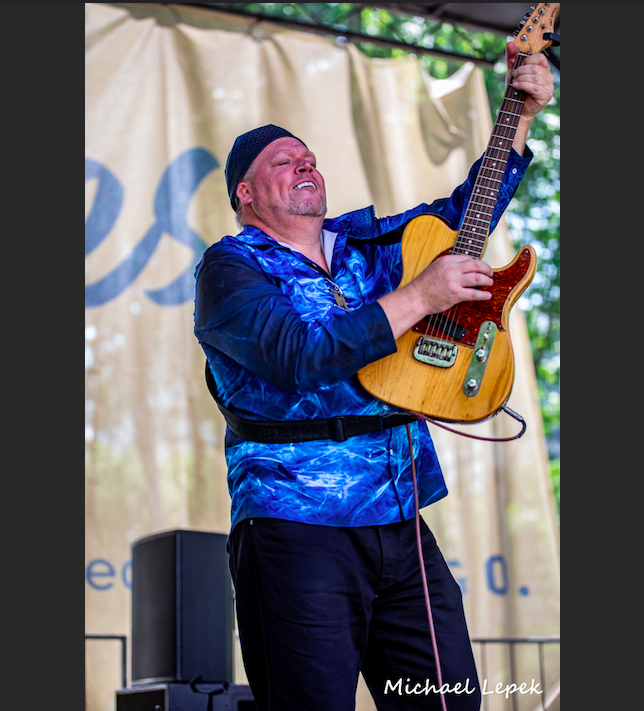 Bailey brings yet another dimension to Lightnin' Malcom's diverse set list as they performed everything from a reggae-style song called "Reality Check" to a call and response on "Fit to Eat." Like so many others who play Chicago, Malcom expressed his admiration for his "blues heroes" who "exported the music all over the world."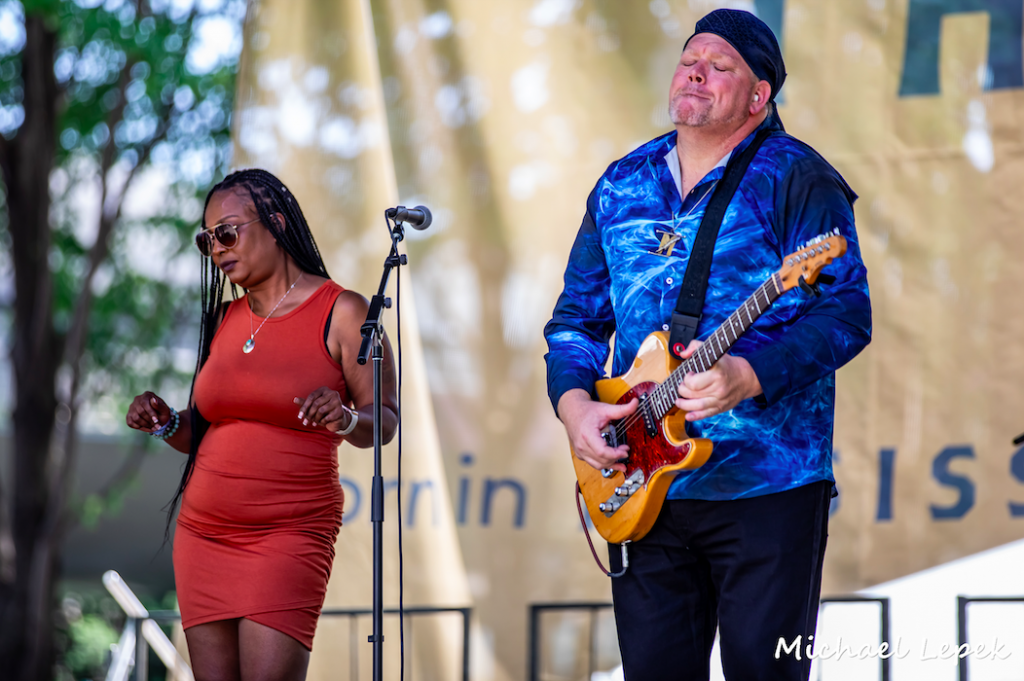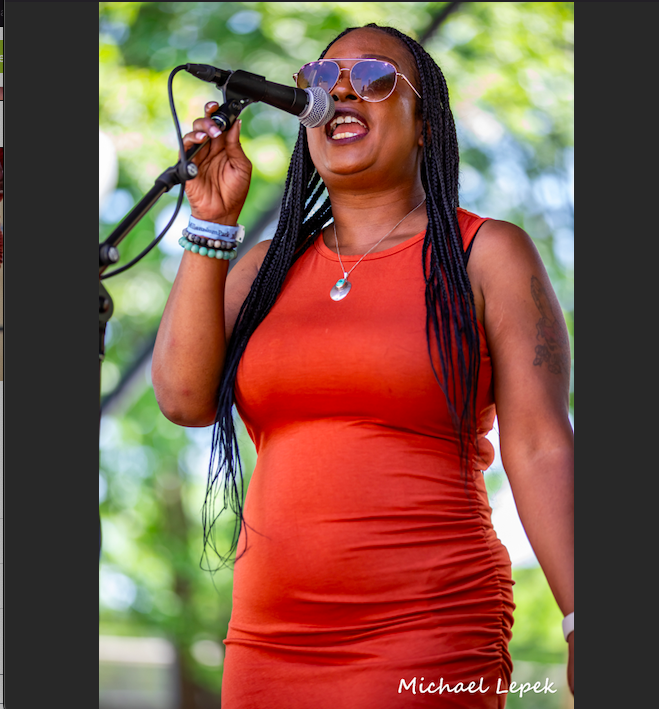 One of Chicago's early blues heroes was the late Eddie Taylor Senior, who would have turned 100 years old this year. But Taylor's large and musically inclined family is carrying on his legacy and that was evident in the Rosa's Tent. The Eddie Taylor 100th birthday tribute featured a full slate of his talented offspring including vocalists Brenda, Demetria, Edna, and Larry along with drummer Tim Taylor.
Besides their prodigious musical talent, the Taylor sisters were in sync with their stage presence and style game. Demetria donned black leather pants and a sparkly top while Edna opted for a white sequin swing dress. At one point, Brenda Taylor removed her white high heels and announced that she was ready to "party without my shoes y'all."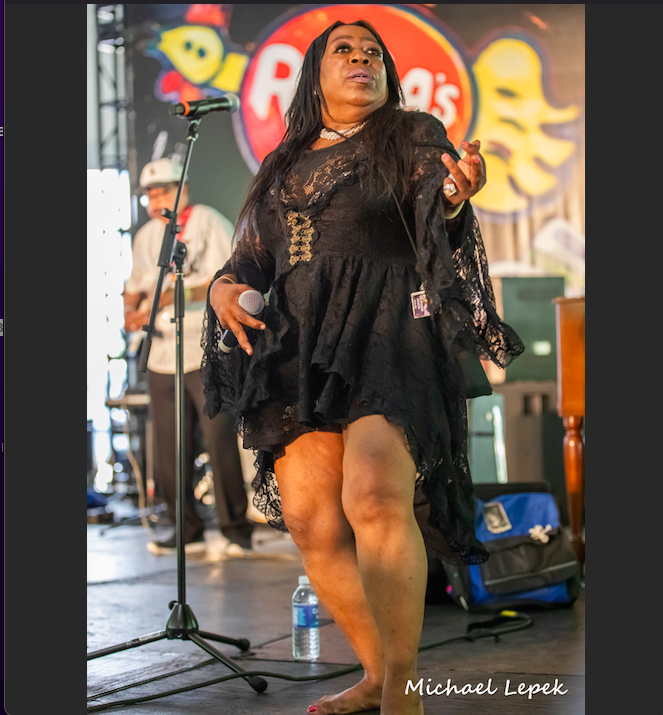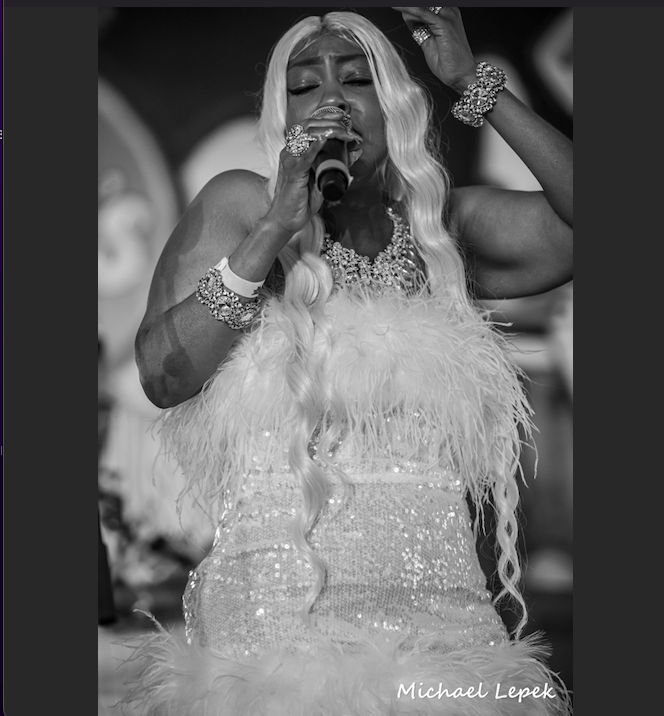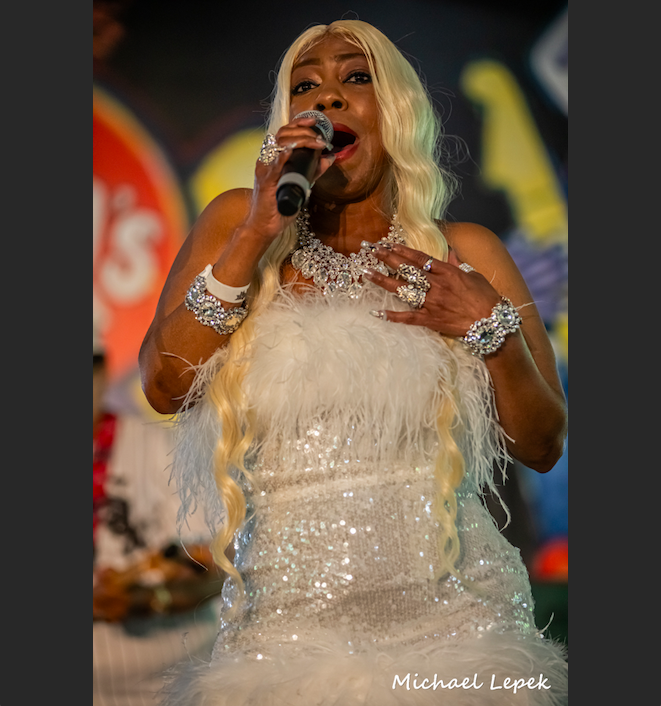 The entire family kicked it into high gear when all four singing Taylors took their act out to the audience on the floor and cajoled the crowd to join in on Demetria's "Bad Girl," her first release on Delmark Records.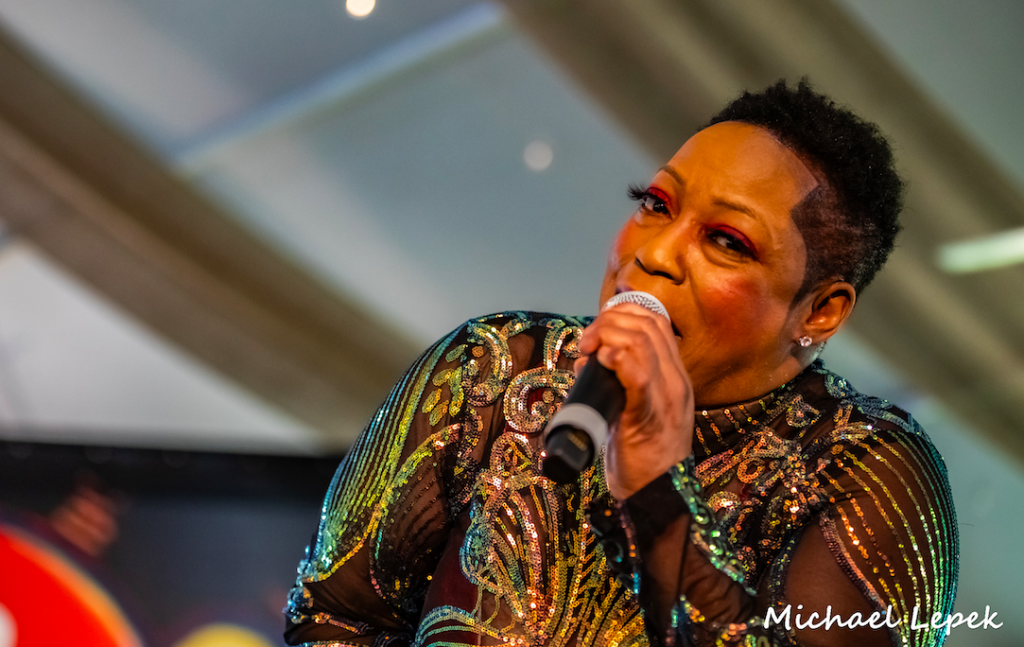 They closed out the show with Larry belting out some tunes by his father's famous friends like Jimmy Reed and Magic Sam.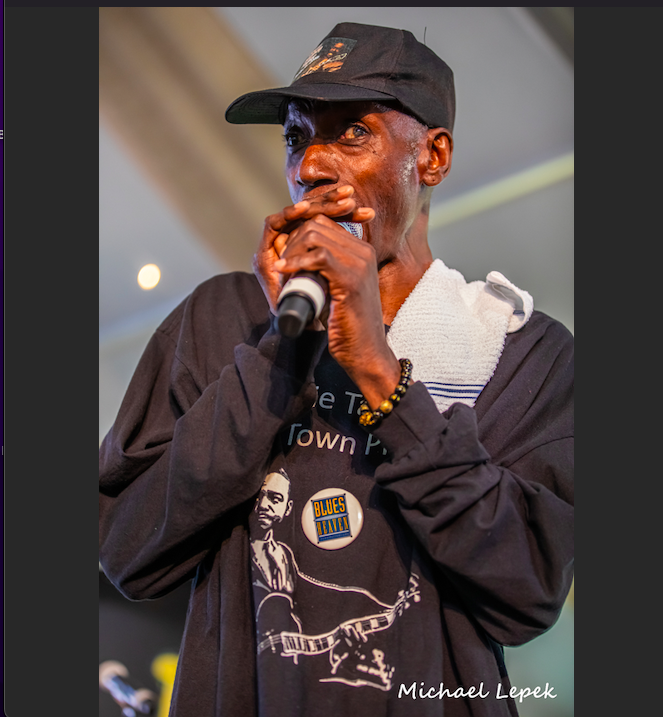 Before that rousing tribute in the Rosa's Tent, we were perched at the Pritzker Pavilion for more of those "only at Blues Fest" magical moments on the main stage.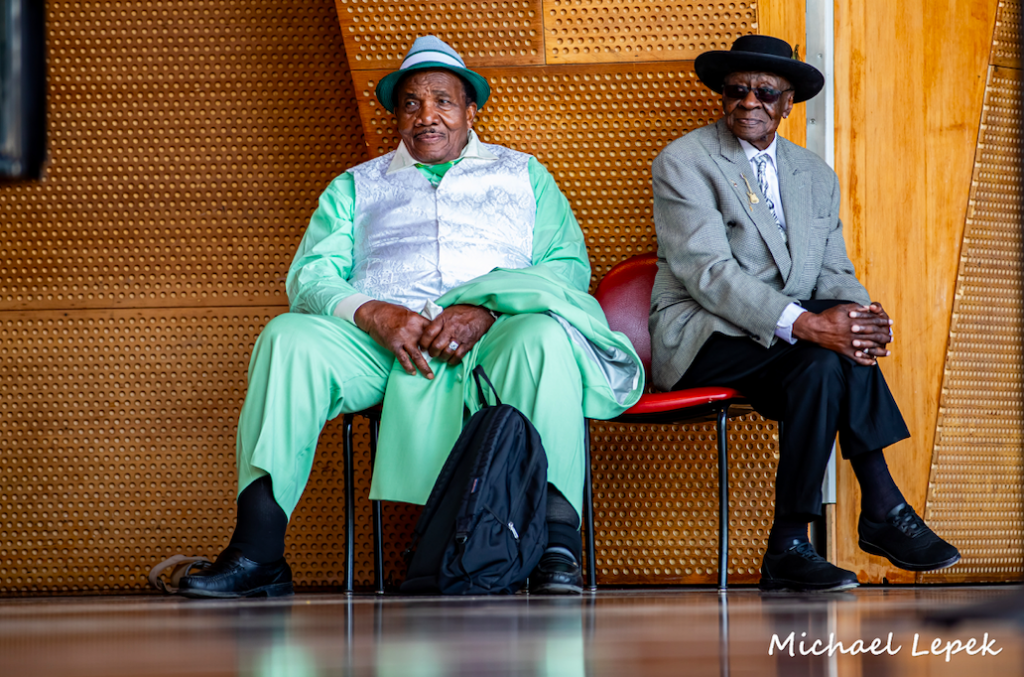 From Delmark's 70th Anniversary Tribute kicking off the afternoon to a truly grand finale by newly christened Blues Hall of Famer John Primer and his Real Deal Band, there were some primo performances taking place on the Pritzker Stage.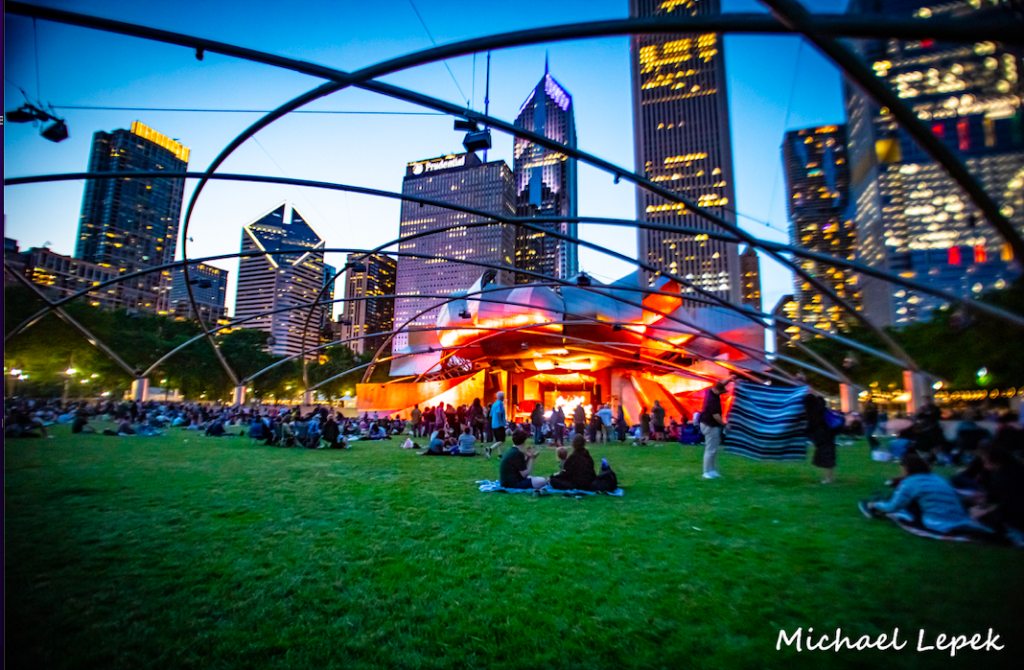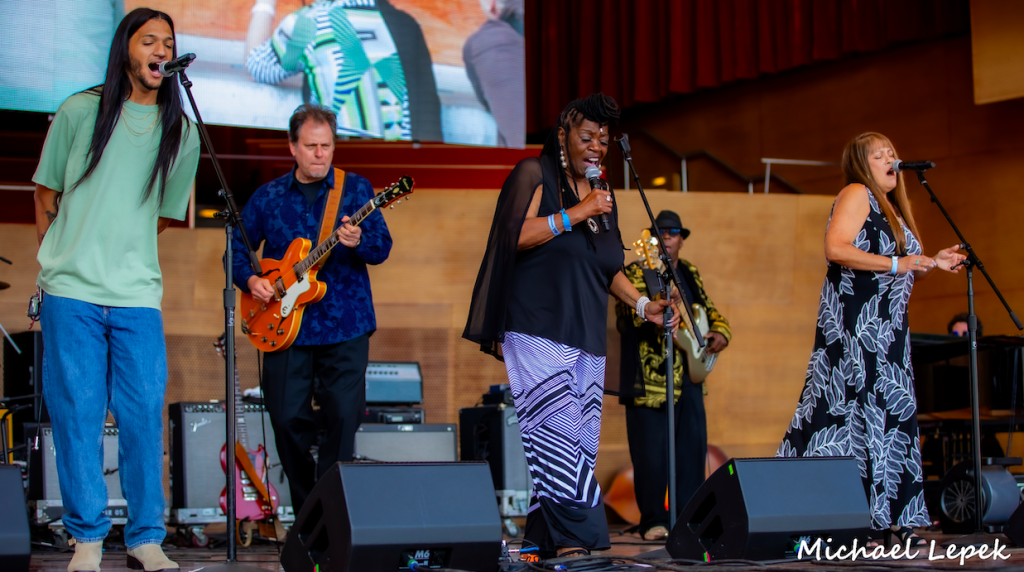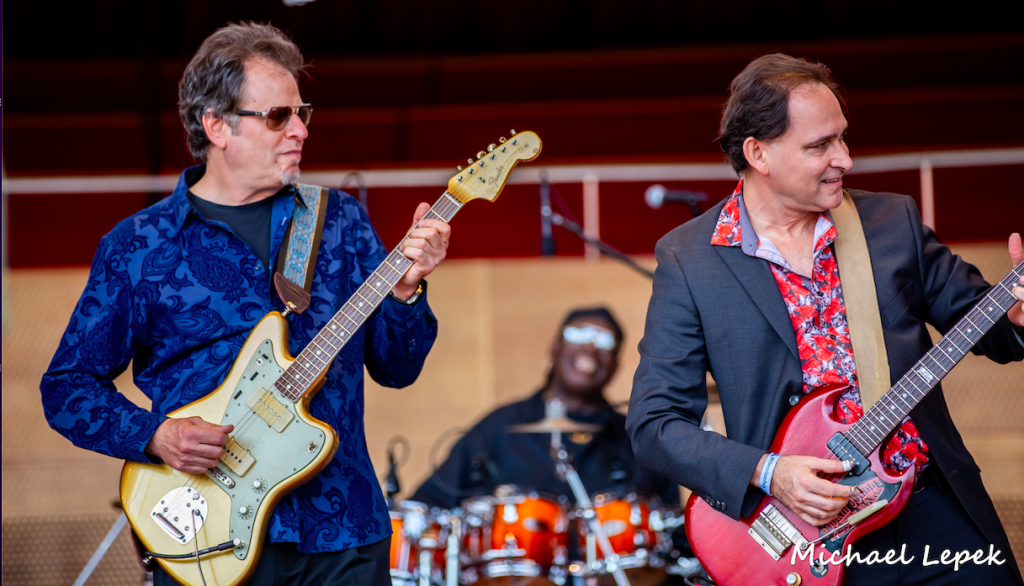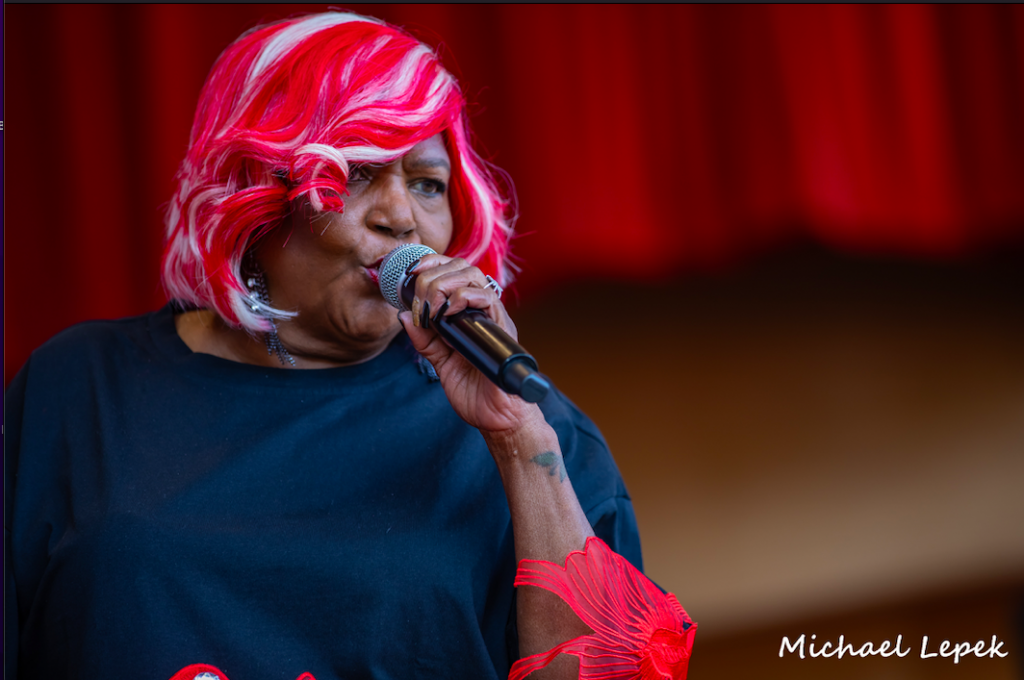 The Delmark All-Stars came on at 2:30 sharp with a lineup that read like a "who's who" of the blues. These well-seasoned musicians were all in peak performance mode and ready to do their record label proud.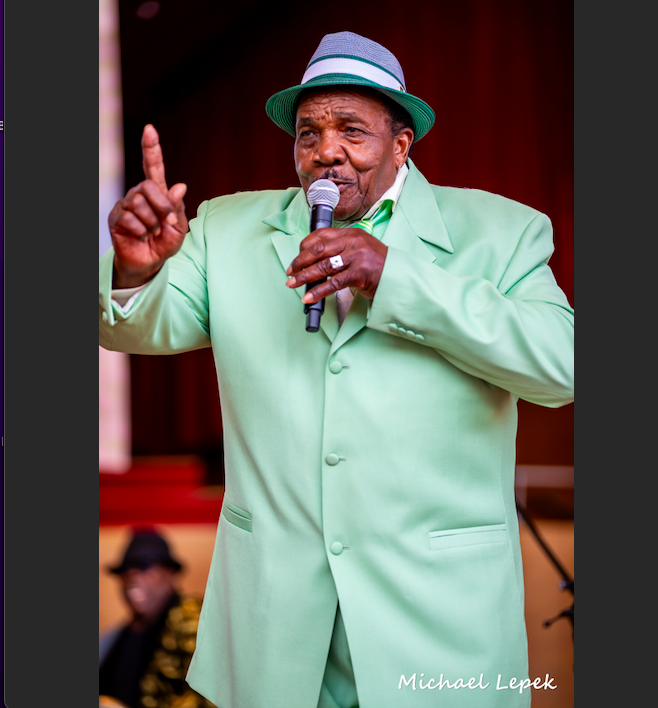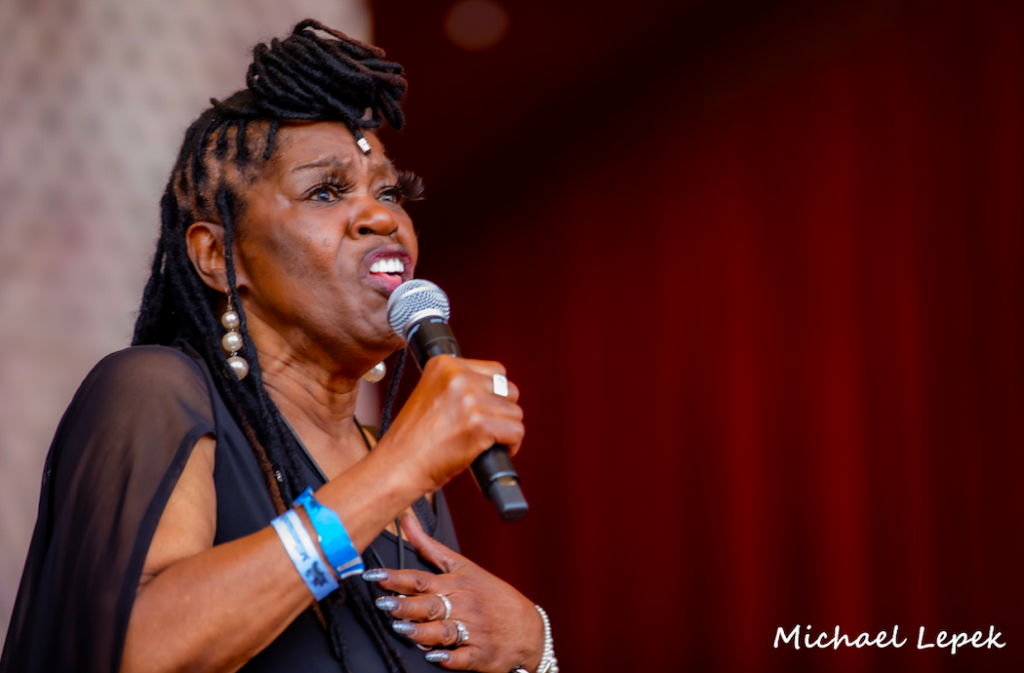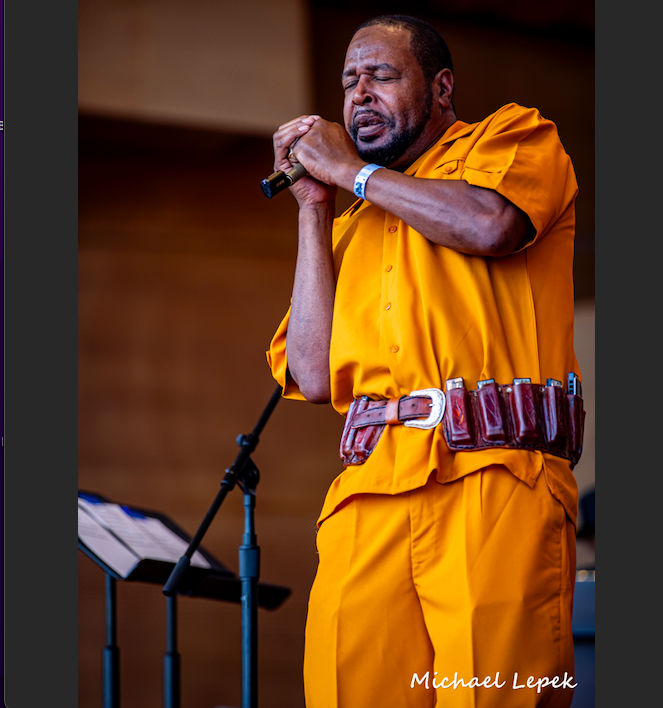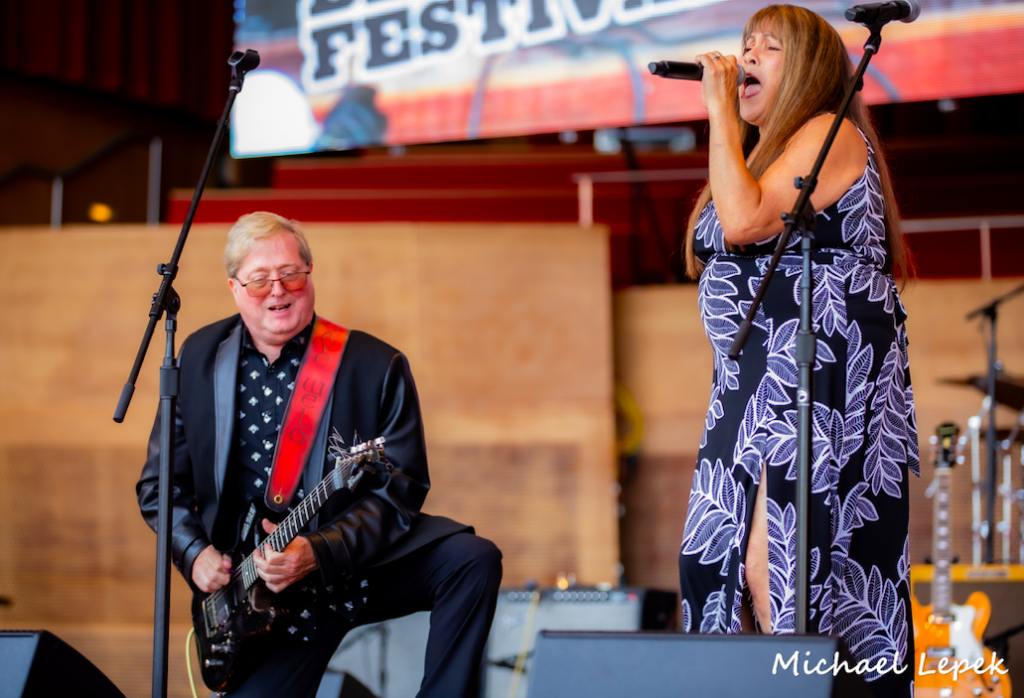 It had been proclaimed "Delmark Day" by the city of Chicago with Delmark's President Julia Miller and Vice President/Artistic Director Elbio Barilari on hand to accept this well-deserved honor from emcee Scott "Hambone" Hammer.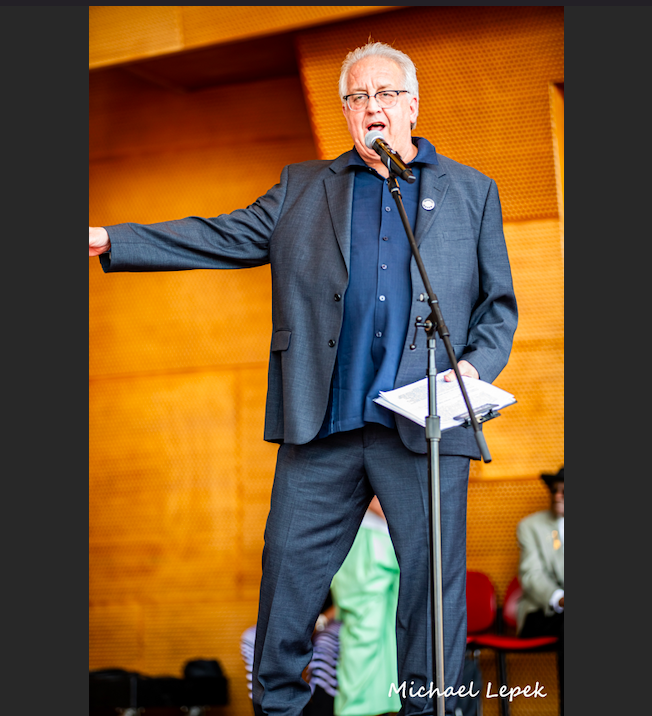 The list of featured Delmark All-Stars included Dave Specter, Steve Bell, Larry Williams, Roosevelt Purifoy, Johnny Iguana, Big Ray Stewart, Nick Alexander, Johnny Burgin, Willie Buck, Dave Weld, Monica Myhre, Shirley Johnson, Sharon Lewis, and Bob Stroger.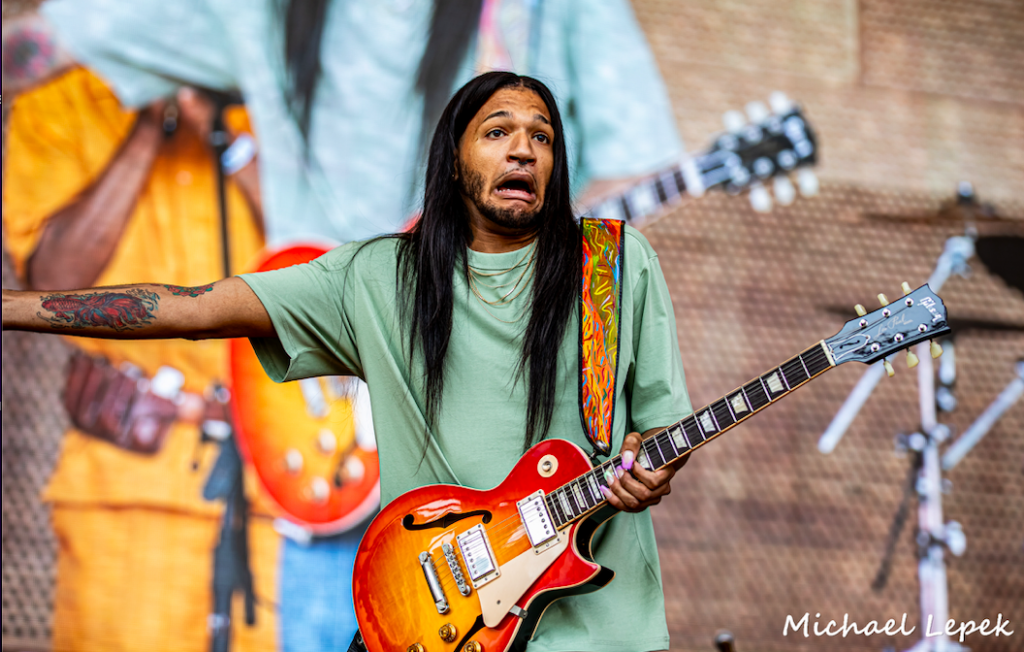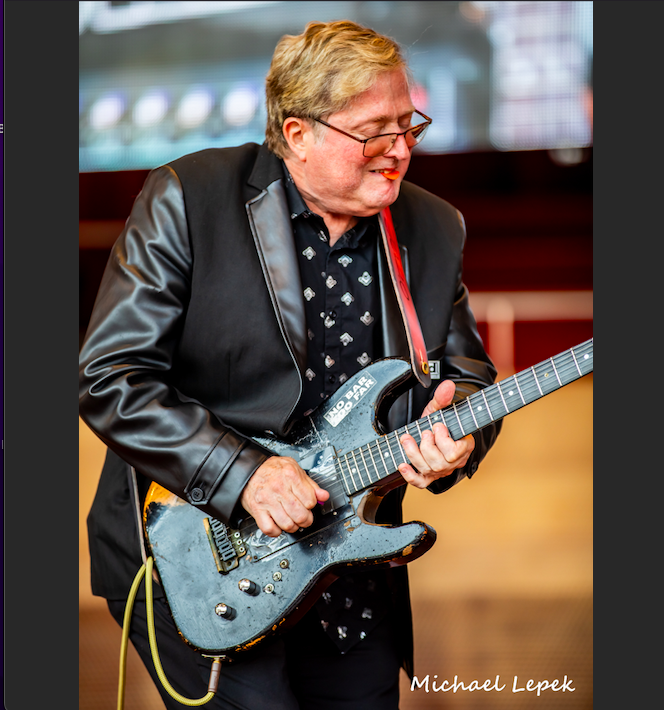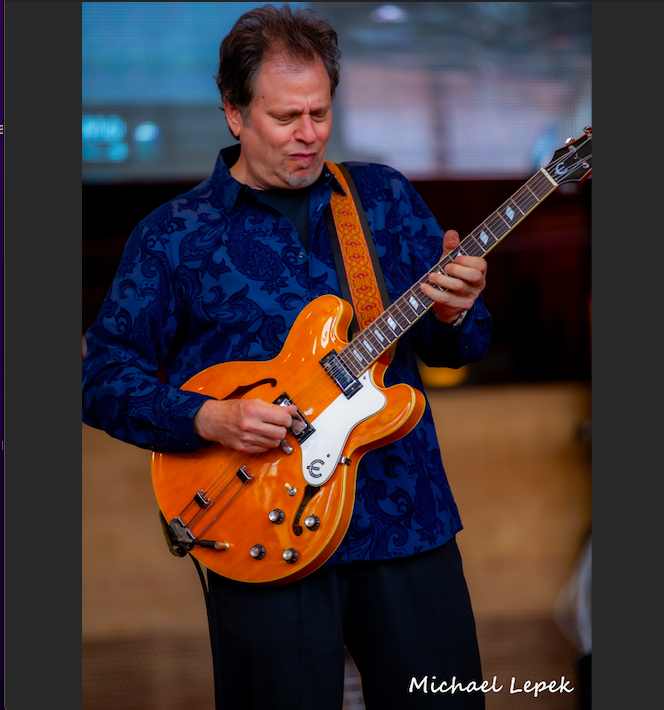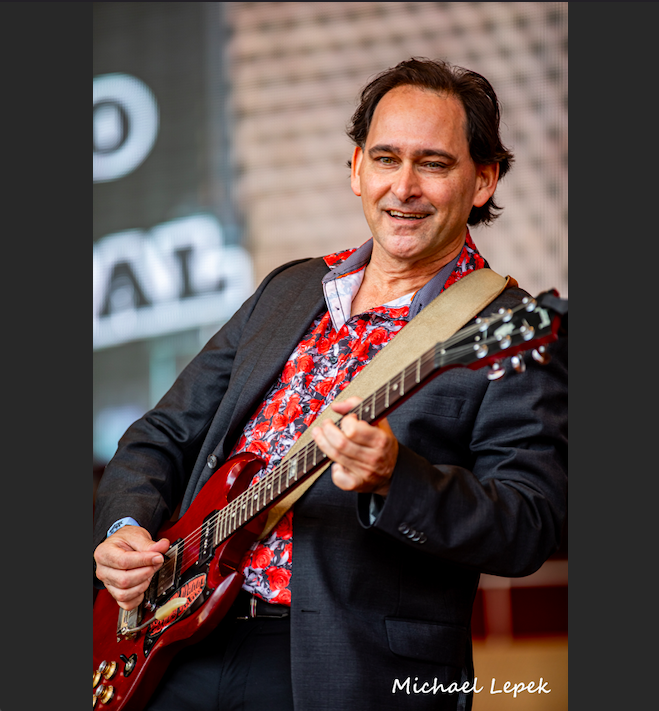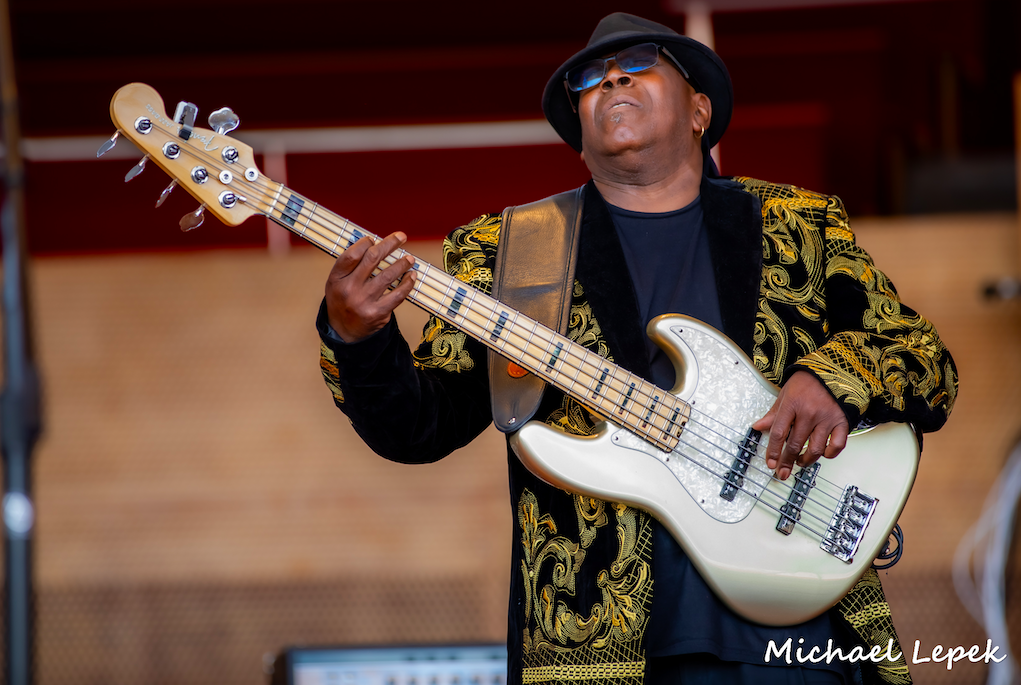 And here's a tip for those that couldn't witness all these fine musicians live on the big stage, you can still check out all the action on the Department of Cultural Affairs and Special Events (DCASE) YouTube channel. Tune in and marvel at the moves of bluesmen like Bob Stroger who is 92-years young.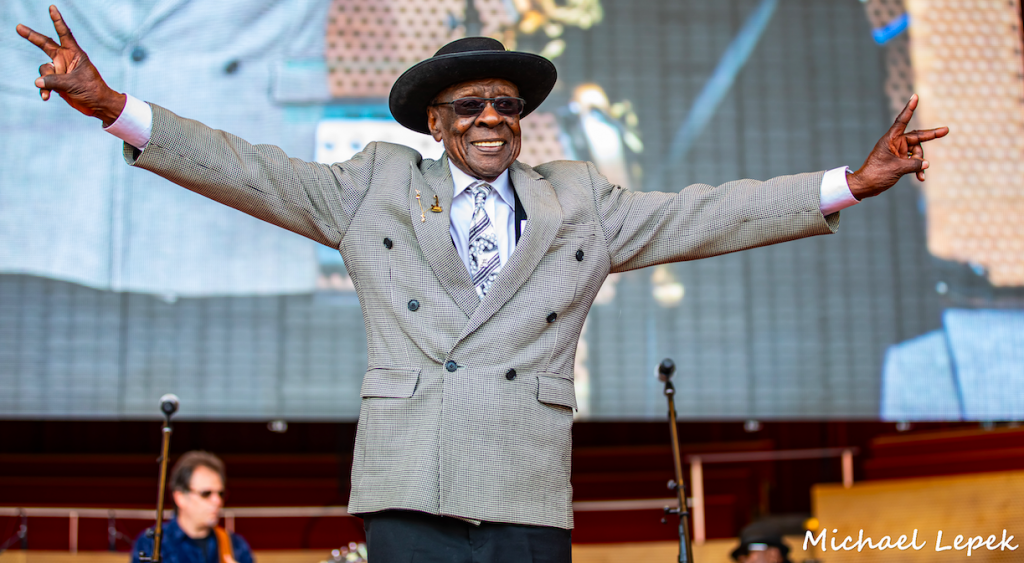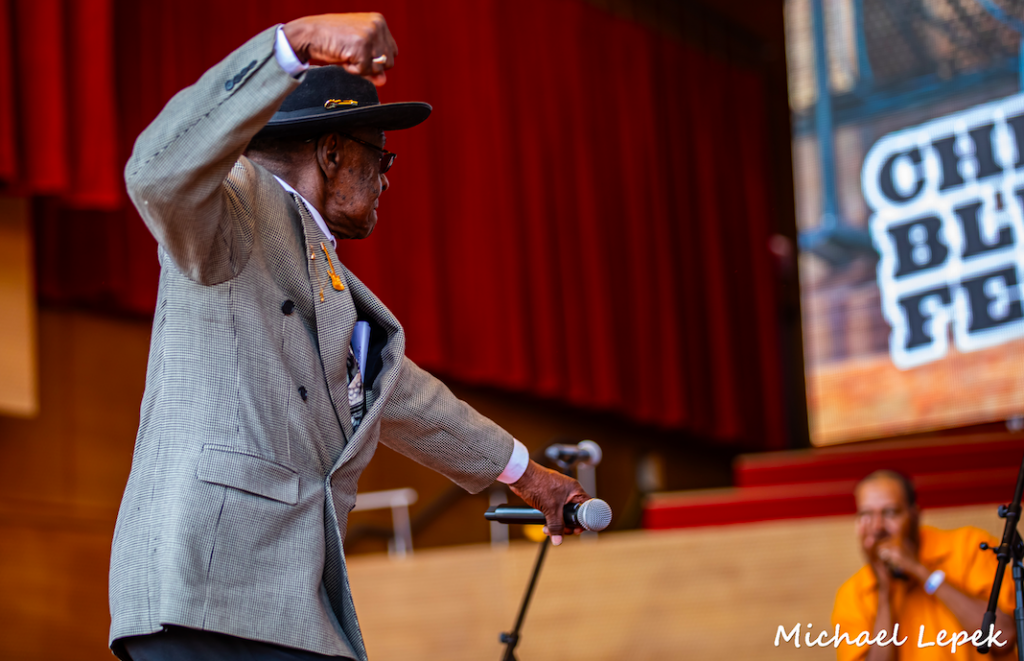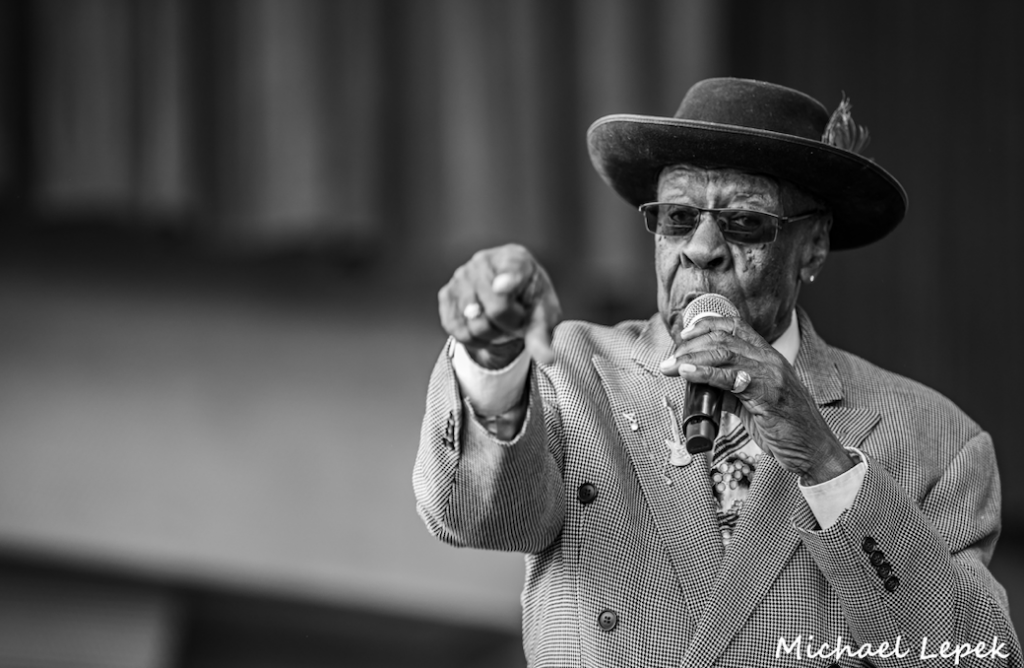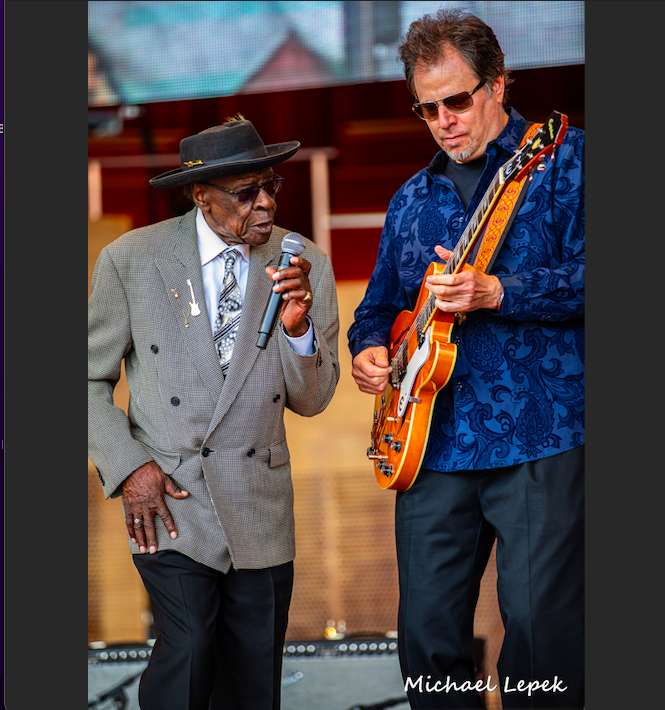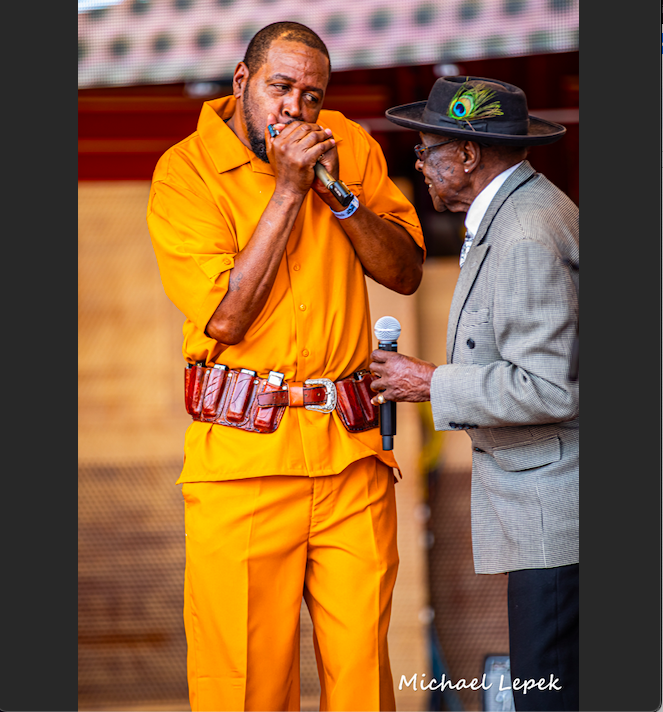 Hot on the heels of this delightful Delmark All-Star set, came two great performances by old and new standard-bearers of the blues. First was up-and-comer Jontavious Willis, who hails from Georgia and plays his own brand of country-flavored blues. Willis further burnished his musical credentials when he was mentored by both Taj Mahal and Keb' Mo'.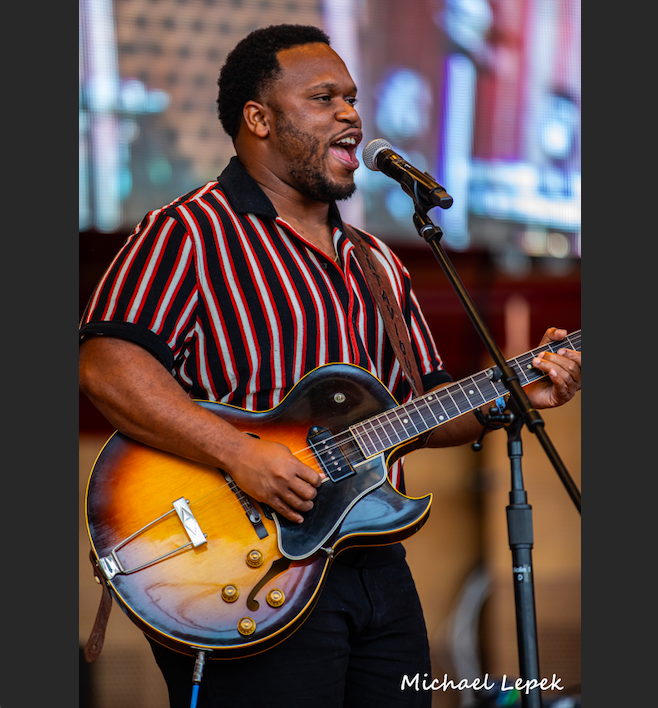 The ever-popular Jimmy Burns followed Willis on the main stage. Although Willis is still a young man and Burns turned 80 this year, they share a similar love of old-school country blues. Both men play a mean harp, too!
Burns came up to Chicago from Mississippi in 1955 and sang in a doo-wop group. He later took a break from music to raise his family and run a barbecue stand. Barbecue played a role in his musical reemergence in the nineties when Bob Koester, the then-owner of Delmark Records, caught Burns playing with Johnny Burgin at Smoke Daddy in Chicago. He signed Burns to record his Leaving Here Walking album and Burns was back in the music business.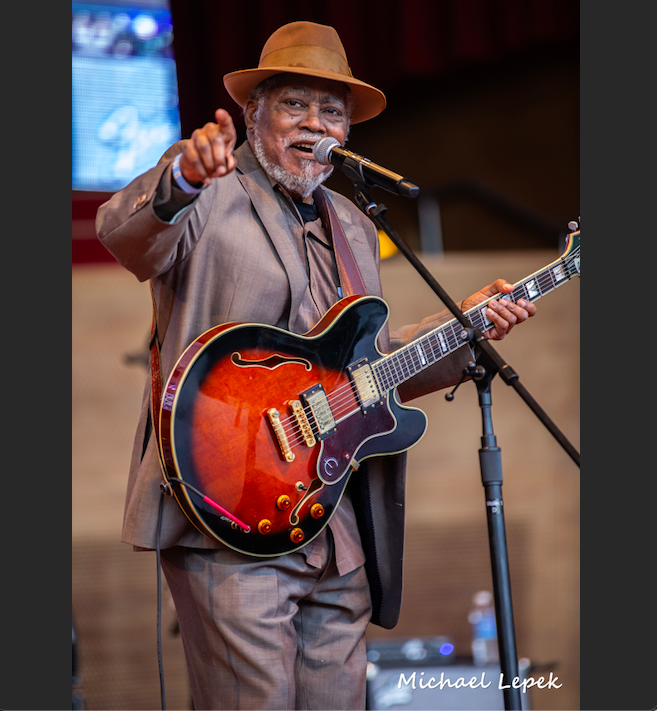 The octogenarian turned in an energetic set that included everything from a nod to his doo-wop roots with a rendition of "Stand by Me" to a cover of Foreigner's "Cold as Ice." Of course, he also played plenty of traditional blues for the appreciative audience.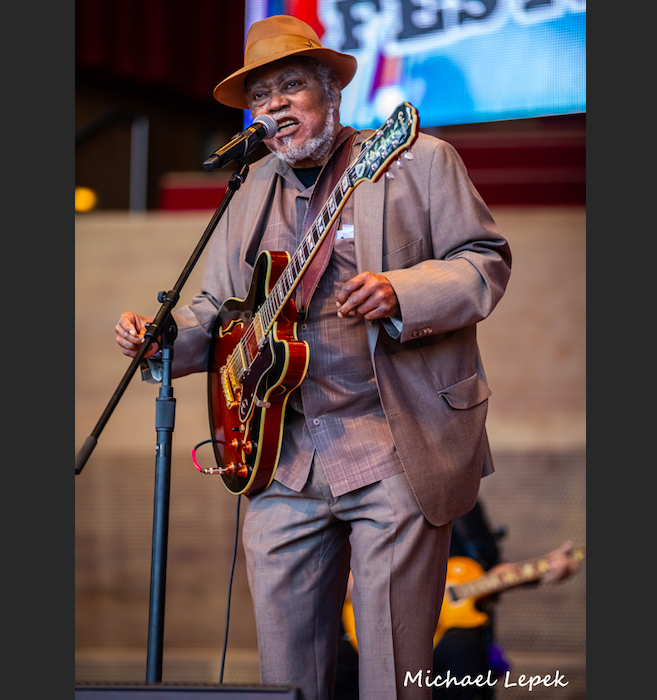 This non-stop Friday blues bonanza had the audience pumped up and primed for Blues Hall-of Famer John Primer and his Real Deal band. It goes without saying that Primer has been on a roll lately and his turn on the Pritzker stage was no exception.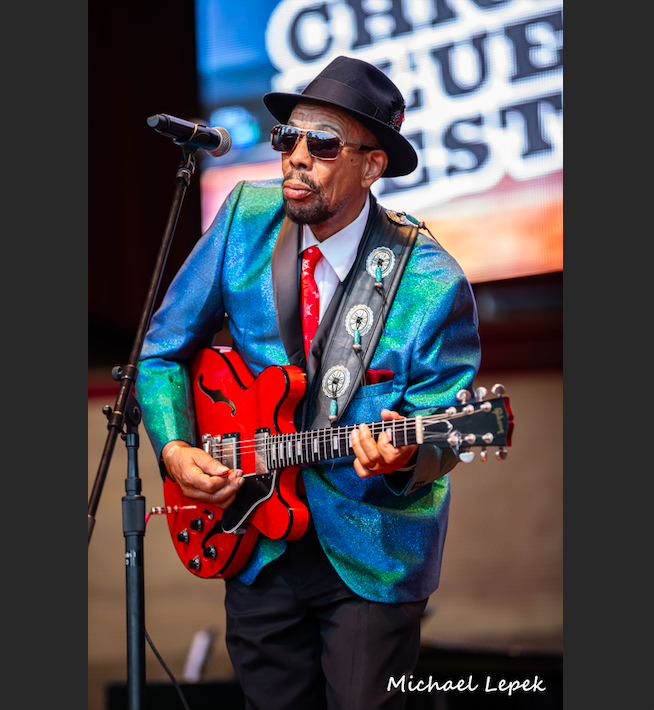 Resplendent in a shiny blue suit, Primer returned to the stage after receiving his official Hall of Fame award and proclamation from the Blues Foundation. But Primer wasn't resting on his laurels as he and the band launched into some red-hot blues following the award ceremony.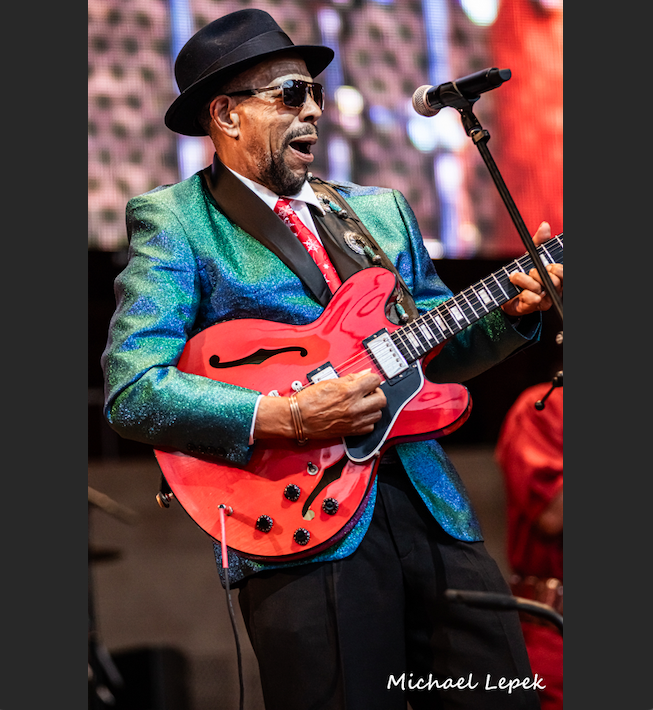 His band had a few Delmark All-Stars on board including Johnny Iguana on keyboards and harmonica ace, Steve Bell. Primer also shared the stage with fellow Muddy Waters' band member, Rick Kreher. Bass player David Forte and drummer Lenny Media rounded out the "Real Deal" blues crew.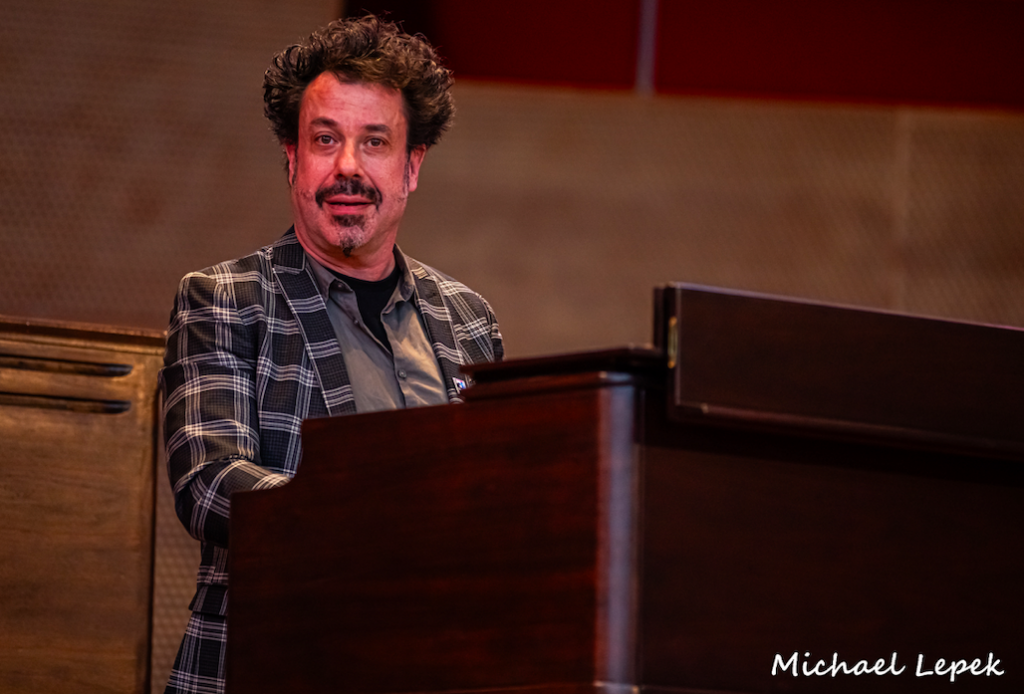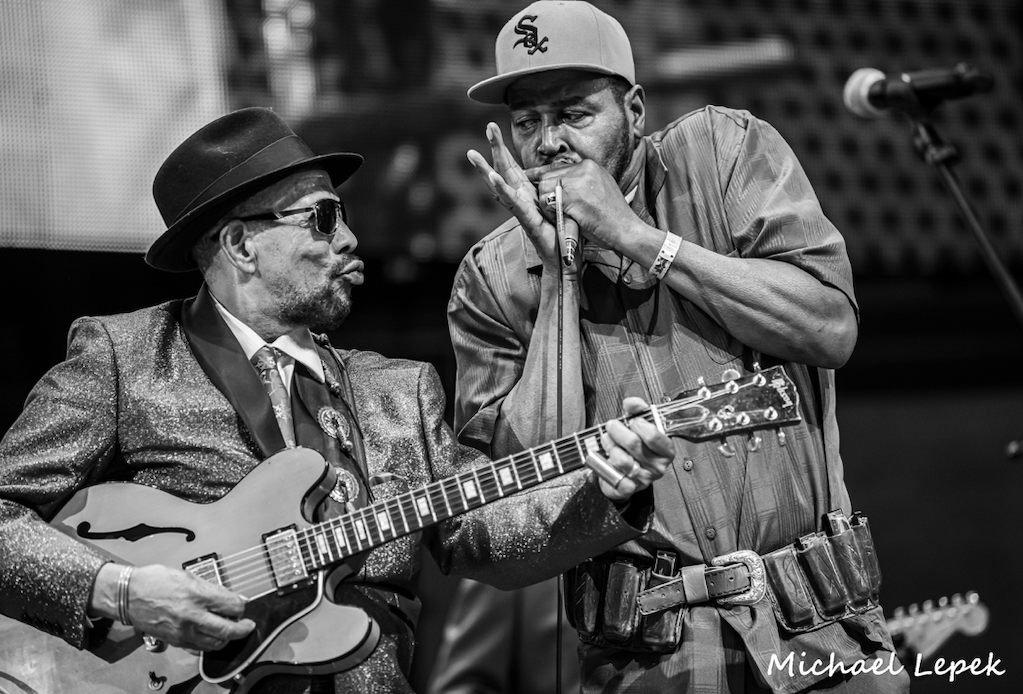 Primer and the Real Deal's set showcased everything from an extended jam of Muddy's "I'm a Man" and a musical tribute to his adopted hometown of Chicago to accompanying daughter Aliya on "I'd Rather Go Blind" and "Te Ni Nee Ni Nu."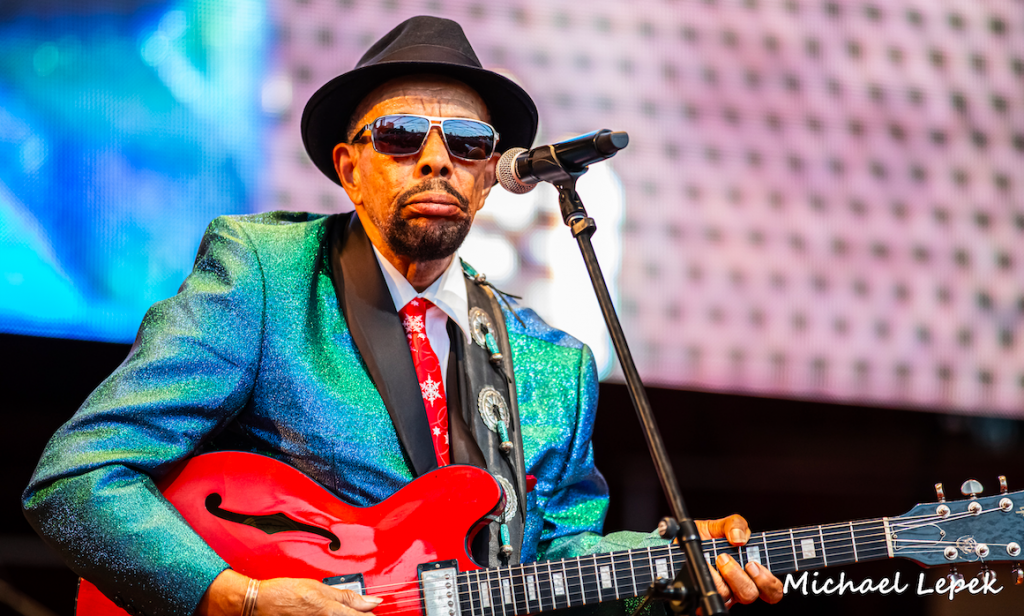 He also commented that his goal was to bring the music to the many young people in the audience and keep the "real blues alive." Judging from all the satisfied smiles on that stellar Chicago night, it was "mission accomplished" for Mr. Primer and company.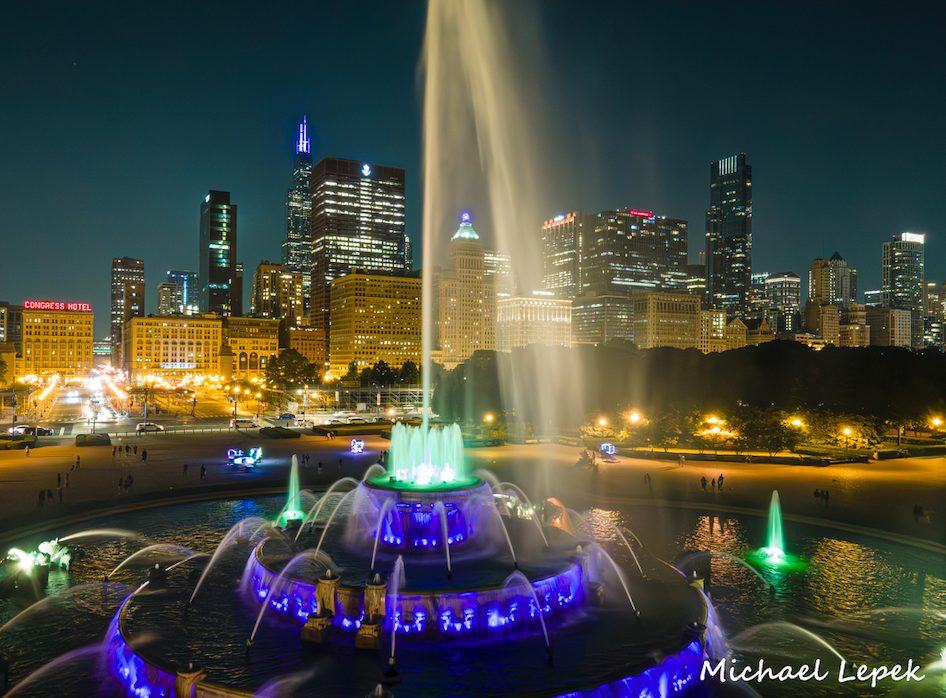 Check out our Chicago Blues Festival day one recap here.