With Gulf Coast Records guitarist/Blood Brother Mike Zito taking a break to be with his ailing wife Laura, who's in hospice care, acclaimed guitarist Gary Hoey is stepping in to take the additional guitarist slot alongside Albert Castiglia on the current "Blood Brothers Tour" as very special guest. Hoey, a frequent friend on several Gulf Coast Records artist's albums, is a natural fit for this slot for the upcoming shows in July and August.
"I just talked to my dear friend and third Blood Brother, Gary Hoey, today," said Albert Castiglia in making the announcement about the new tour lineup. "We discussed the summer tour and the kind of show we'll be putting on. I'm really excited to be working with him on this. This upcoming stretch is going to honor Michael Zito and his soulmate Laura Duke Zito and bring the fire that you'd come to expect from a Blood Brothers show. I couldn't have asked for a better person to hold it down until Mike gets back.
"I first met Gary about five years ago when he was a guest of mine on a BMA showcase in Memphis. We've been jamming and doing shows together ever since. I have a great chemistry with him onstage and people will witness it this Summer. Thank you, Gary for doing Mike and I this solid. You are a mensch!"
Mike Zito broke the news about Laura Zito's diagnosis in a Facebook post on June 20:
Laura went to resume chemotherapy last week in Houston, but her doctors told her they wouldn't be able to treat her anymore. Her cancer is just so advanced, the chemo would ruin her health and she would lose what quality of life she has left. Her doctors have suggested Laura start hospice right away. Of course, we were heartbroken, but we have been heartbroken for the past year. We have hoped and prayed and Laura has fought so hard the past 12 months, but we both knew there was a good chance this day would come.

With all this said, it's time for me to come home and be with my wife and my family. We don't know how much time we have left together and we don't want to be apart anymore. I will finish this week's Blood Brothers shows in Texas and Colorado, and then stop for the Summer or foreseeable future. The Blood Brothers Tour will continue with Albert and the band; a special announcement is coming this week. This is what Laura and I both want. We want the band to continue to perform and we want you to go see the band and support our shows. I will be there in spirit. We have started a GoFundMe to help my family and Laura. I won't be working and the money will help to pay our monthly bills and living expenses.
Released on March 17, the Blood Brothers album reached the coveted Number One slot on both the Billboard Blues Chart and iTunes Blues Chart shortly thereafter as the band hit the road in a heavy dose of touring. One of the most-anticipated albums of 2023, Blood Brothers features multi-Blues Music Award-winners Zito and Castiglia, who kicked-off a highly-successful string of "Blood Brothers" shows in the spring/summer of 2022, with the current 2023 tour running through the summer and into the fall, culminating with a special appearance at the Big Blues Bender in Las Vegas in September. Blood Brothers was produced by Joe Bonamassa and Josh Smith and recorded at Dockside Studio in Maurice, Louisiana.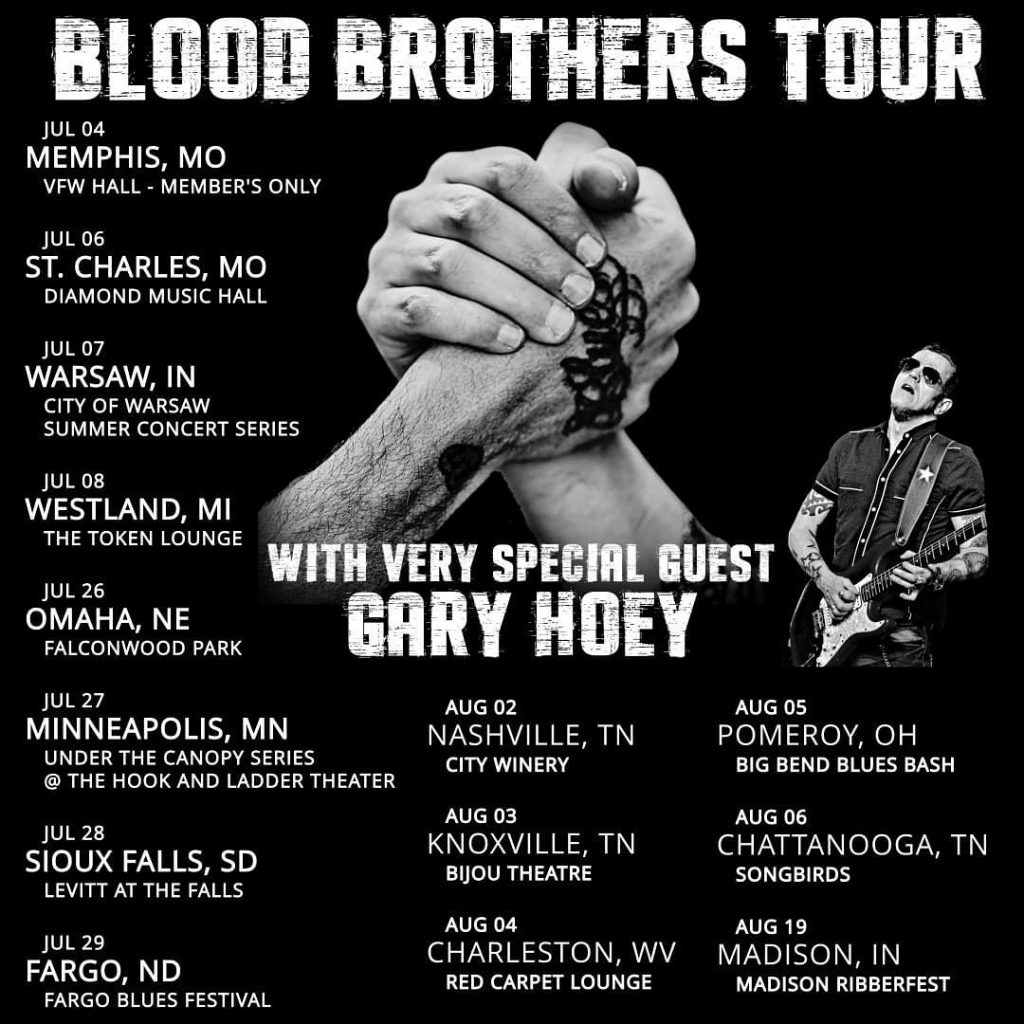 Blood Brothers Tour with Special guest Gary Hoey Itinerary:
𝐉𝐔𝐋𝐘
04 – Memphis, MO – VFW Hall – Member's Only
06 – St. Charles, MO – Diamond Music Hall
07 – Warsaw, IN – City of Warsaw Summer Concert Series
08 – Westland, MI – Token Lounge
26 – Omaha, NE – Falconwood Park
27 – Minneapolis, MN – Under The Canopy Series @ The Hook and Ladder Theater
28 – Sioux Falls, SD – Levitt Sioux Falls
29 – Fargo, ND – Fargo Blues Festival
𝐀𝐔𝐆𝐔𝐒𝐓
02 – Nashville, TN – City Winery Nashville
03 – Knoxville, TN – Bijou Theatre
04 – Charleston, WV – Red Carpet Lounge
05 – Pomeroy, OH – Big Bend Blues Bash
06 – Chattanooga, TN – Songbirds
19 – Madison, IN – Madison Ribberfest