In light of the passing of Sinead O'Connor, I was reflecting on the Kris Kristofferson song "Sister Sinead" and was awestruck by his ability to cut through to the heart of the matter so beautifully and succinctly. Upon listening to the third album from Minnesota-based singer-songwriter Tony Cuchetti, who draws influence from Kristofferson, I quickly realized he too has a gift for the terse and the truth-telling. Cuchetti follows his 2020 albums Hid It On The Sly and Live From Drum Farm Studio with Freer Street, out now via Farm to Label Records.
The album's cover is an old sepia-toned photo of his late grandfather, and is named for the street in Detroit that his grandfather lived on. Inspired by the hard-working and humble individual who "evoked wisdom in the simplest terms," this album honors his grandfather's love of music. "Although he didn't play music, he was truly a lover of it. He instilled that love in my father who, along with my mother, passed down to me and my siblings. Gramps was a huge influence on me and taught me how diligence, respect, and class will get you far. I miss him very much."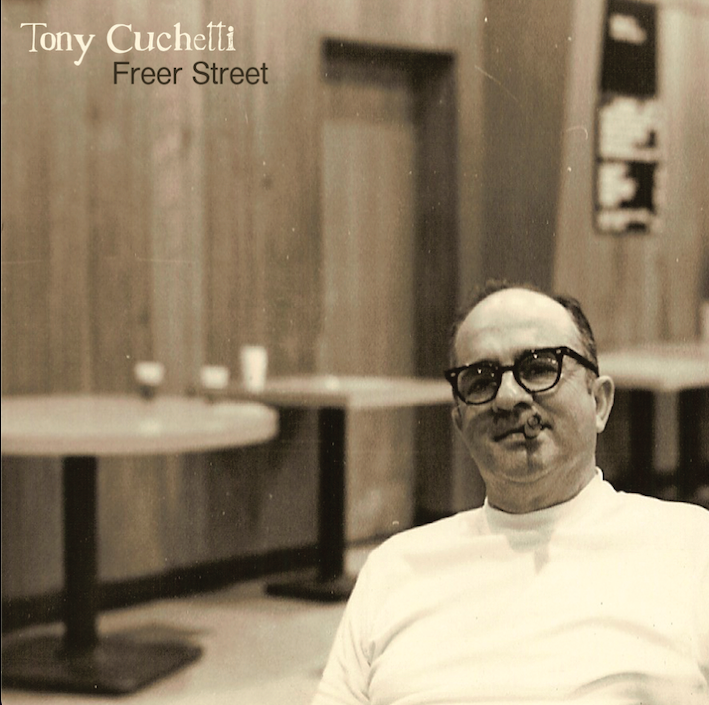 Cuchetti has had a crash course in life out on the road. Quite literally born into performing, he toured the last 10 years of the family band, in the era of the family band – malls, Vegas, resplendent costumes, bus and all. "That's pretty much how I grew up, on the road for ten or eleven months out of the year," he remembers fondly. "It was a pretty tight-knit production, and we were self-contained as a family." Outside of the musical influences gained from his parents and siblings, the most essential lesson extracted was how it taught him to really live in the world. "Growing up on a bus for sometimes eleven months out of the year and living in motels, dressing rooms, fairgrounds, etc., opens your eyes to things. I was experiencing life lessons and places first hand that most kids were only learning about in books. I had a great childhood and by no means feel like I had to 'grow up too fast' or anything, but I definitely learned how to see the world through a different lens. We worked our asses off touring and I thought it was great! That work ethic that was instilled in me early on has definitely carried over into my writing and performing at present."
It wasn't until later in his career that he discovered artists like Kris and another one of my favorite songwriters, Townes Van Zandt. "My family didn't listen to a lot of country music when I was growing up," he explains. "I was exposed to it from friends and the like, but, more than anything, it was after meeting my wife that I really got into country and roots music. She was raised on a farm and it was very prevalent in her household. She was the one that encouraged me to dig deeper into the genre. From there I started to discover all of these amazing storytellers and tunesmiths. I have to say I never went for the more pop-sounding stuff. I was drawn more into the world of the folks that could speak through their songs and sound like they were just having a conversation with you.
"It was during this revelation that I found myself head over heels for Kristofferson, Van Zandt, Guy Clark, Steve Earle, Patty Griffin, Eva Cassidy, and so many others. Their work spoke volumes to me and I absolutely loved how they could get their point across in a way I like to call 'simply sophisticated.' They just had a way of putting common words, ideas, and phrases into beautiful poetry, but poetry anyone off the street could totally relate to. I also felt the honesty resonate in their work and I think that, more than anything, is what really captivated me and made me want to emulate that style."
For this collection of originals and a couple covers, Cuchetti returned to Drum Farm Studio in Menomonie, WI to record. "It's a working farm out owned by John Richardson and his family. John is a drummer himself and toured with the Gin Blossoms as well as many other groups. He's a great guy and always full of stellar ideas; he makes great pizza, too. Drum Farm is a beautiful place and you feel so welcome out there. The studio is in an old barn and the vibe is just outstanding. John left the doors open to us and we were recording around the clock for the three and half days we were there. It was very cool."
Joined by fellow Minnesotan Erik Koskinen – who produced, played both rhythm and lead guitar, and co-wrote many of the tracks – together they gathered a seasoned crew. They recorded the majority of the album live in the studio with everyone in one room and with minimal overdubs or post-production. "We set up in a big circle and just cut the tracks the old way. Did a couple passes of each tune, and that was it! Even the lead vocals were done in an RE20 mic in that circle. It was magic. It was also cool that none of the players had heard the songs before coming into the studio. I had wanted it like that and Erik totally agreed. I wanted their initial reactions to hearing the tunes for the first time. Needless to say, their instincts paid off big time!"
He continues, "I had been wanting to work with Erik Koskinen for a while as I had been digging his stuff for quite some time. He's a great songwriter and musician, and I knew that his vibe was what I was after for this new project. He is a great guitarist and definitely has his own unique style and sound. He's played and produced on a ton of projects and has put out some amazing original work as well. Erik has worked with Bob Seger, Trampled By Turtles, Dead Man Winter, and a list that keeps on going. I could not have been more happy to have him take the reins on this record.
"Blair Krivanek is easily one of the top guitar players in the state and I'd venture to say beyond that as well. He cut his teeth in the twin cities music scene with legends like Sonny Knight and The Lakers as well as countless other bands. Blair is a phenomenal player and a great guy on top of that. He brought so much flavor to each tune. Blair always seems to know where to put things. His tone is truly his own and he's one of those players that if you don't see him, but are listening to him, you know right away that it's him playing. Nick Salisbury held down the low end. He's the consummate pro musician and really knows how to lay down the groove. Nick was in Sonny Knight's band with Blair and also tours off and on with Ryan Bingham and Brian Fallon. He's one of the most sought after players around.
"Erik suggested using JT Bates on drums and I'm glad I agreed. JT is also very sought after and has worked with Taylor Swift, Bon Iver, The National, and Ed Sheeran to name just a few. He brought such a fresh non-conventional approach to all of these tunes. It was extremely cool watching him craft his parts and he and Nick really locked in together and provided a solid rhythm bed.
"Gregg Inhofer laid down some amazing Hammond B3 parts. Gregg worked with Erik on other sessions and knew him from the scene. He came in and knew exactly what embellishments the tunes needed. A true pro. Gregg is a super cool hang and we had some great talks during the session. I had the most fun listening to him tell stories about when he played organ on Bob Dylan's Blood On the Tracks album."
Josh Gravelin plays bass in Erik's band and has played with the likes of Alejandro Escovedo. "I never knew how good of a singer he was until Erik suggested he sing background vocals on 'Time Moves On.' I'm really glad he did, because it really added a lot to that tune."
Cuchetti asked his good friend Aby Wolf to sing with him on the layered, orchestral "Stubborn Bones," inspired by observations of both how people treated each other during COVID and how people reacted in the aftermath of the George Floyd killing. "When we were listening to playback after laying that tune down, I looked over at JT (who's close friends with Aby) and said, 'Aby would absolutely take this track to another level.' JT smiled and nodded a resounding yes. Aby is an amazing songwriter and musician. Her vocals will floor you. She has been a mainstay in the twin cities scene for several years and is highly respected. When she started laying her parts down I immediately knew it was the right decision to ask her. Aby brought a whole other level of color to the track and I can't ever hear it now without her part."
One of the biggest highlights of the recording process, he says, is how everyone listened to each other during the session with no tension or egos. "It felt like we had all been playing together for years and was an extremely constructive and positive experience. I think we were all thoroughly blown away leaving that session and will always remember it fondly."
I hear the opening and closing tracks as emotional bookends. "The After," with its slow-building melody, points out the folly and hubris of carrying on like we have forever when clearly the sun is setting already heading for tomorrow. The song came to Cuchetti in a funny way, he says. "I got an email from my dad. Whenever he reads uplifting articles and what not he sends them to all the kids (there's 10 siblings, but that's another story). He sent this article that talked about how people wait to do what they really want to do instead of chasing it in the present. They wait for retirement to travel, they wait for a better job, they wait for more money, etc. They basically wait on 'the afters.'
"This really struck a chord inside me and I could very much relate to it. The formula of the tune didn't come right out of the gate. I had been messing with several different tempos, feels, etc. Then I got together with Erik Koskinen as we were going through the preproduction stuff on all the tunes. He was the one that suggested I keep it simple. We started throwing around ideas and before you know it it all came together. To me it felt like a train starting from a dead stop. It gets moving and then builds into this huge thing at the end that sends the tune off brilliantly."
And when asked which song truly encapsulates the spirit of the literal Freer Street and what it means to him and his family, he arrives at this song. "My grandpa's house on Freer Street in Detroit was always a place of happy memories for me and it taught me to enjoy the simple things in life. My family is very close and resilient and has been through many peaks and valleys. But through and because of all that we've learned to take joy in the life we were given. It's not always going to be an easy road, but you have to live it to the fullest and not wait around for it to happen."
A rock 'n' roller with foot-tapping Steve Earle vibes, the closing track "Time Moves On" was a culmination of stuff he had experienced around the time of writing. "For example, I was out walking and ran into a friend of mine that said he had tripped a few days earlier, faceplanted into the pavement, and ended up knocking most of his front teeth out. When I asked him how he did that, he just smiled and said something along the lines of 'That's just life,' or 'Gotta keep moving on.' Anyway it got me thinking, 'Yes, time keeps moving on and doesn't wait around for us.' I wanted that tune to be just a gritty rock and roll number and I think we pulled it off pretty good!"
Cuchetti has a feel for segueing songs, listening to several different track orders before settling on what can be heard on the record. "I put 'The After' first because it felt like the beginning of a journey and sort of got things moving, whereas 'Time Moves On' was, in my opinion, an excellent send off and makes you feel like it's all gonna be okay. Just keep on truckin'."
Befitting the album's emotional depth are cover songs "Convince My Heart" and "Lay It On Me," the former written by a good family friend named Tim Probst and the latter an Eddie Hinton tune. "(Tim) was in a lot of bands with my two older brothers in early '80s and was a great songwriter. I remember as a kid always admiring his performances and really digging the storytelling in his tunes. He always encouraged me to try writing out for myself and never forgot to mention how important being honest is when you're writing songs. Tim sadly passed a few years back so I was thrilled and honored to cut one of his tunes. I know he'd have been over the moon to see me take his song, give it my own twist, and give it new life again. I really feel that covering this tune was no accident and that Tim, along with whatever forces are working in the universe, brought this all together. It's a freeing feeling when you let go of control and let a song take you on a path it has always been traveling."
Of "Lay It On Me," Cuchetti says it "literally broke my heart and shot me through the roof all in about three minutes. Nick Salisbury (who played bass on my record) turned me on to a rare demo version he found of this classic Eddie Hinton tune. Nick sent it to me at like 2am, and I must have listened to it about ten or fifteen times in a row. It was one of the most raw and beautiful tracks I had ever heard. I immediately connected with Hinton's forlorn and ever so soulful vibe on this track. It hit me like a ton of bricks that I had to cut this tune. I was so surprised to find that no one had covered this song before, except for Gwen McCrae, but it made sense being that Eddie never officially released it himself. It's a great tune!"
Having spent the majority of his life out on the road, that's where he feels at home the most, playing over 200 shows a year both solo and with a full band. "I'm looking forward to going out and playing behind this new album. It'll most likely start off with more regional dates, but then you never know where it'll go from there. That's the fun in it!"