Folk Alliance International (FAI), the leading and largest nonprofit dedicated to the preservation, promotion and presentation of folk music, has confirmed the lineup of Official Showcases for its thirty-sixth annual conference, to be held February 21-25, 2024, in Kansas City, MO. The artists represent thirty-six countries of origin and twenty-one US states. The conference's theme in 2024 is Alchemy: A Transformative Force, showcasing the power of music to provide the change we need in the world.
FAI Executive Director Neeta Ragoowansi explains,
Official Showcases feature jury-selected, tour-ready musicians representing diverse cultures, languages, and sound. These 30-minute sets are performed on full production stages. Private Showcases turn hotel rooms into listening rooms. These performances are more intimate, often without any amplification, and turn each floor of the hotel into its own festival. The showcasing festival and conference will be held at the Westin Crown Center Hotel in Kansas City, Missouri, USA.
Folk Alliance International offers various networking and mentoring opportunities, including Peer Sessions (for agents, labels, festivals, and artists), speed meetings, artist mentorship meetings, and Affinity Group sessions for communities including BIPOC, LGBTQ2IA+, Women, Folks 55+, Folks with Disabilities, and more. Founded in 1989, and governed by a 21-member board of directors, Folk Alliance International (FAI) is the world's largest membership organization for the folk music industry and community. Its mission is to serve, strengthen, and engage the global folk music community through preservation, presentation, and promotion.
The organizations values diversity, equity, inclusion, and access, is committed to gender parity in all its programming, celebrates multiple languages and cultures, and actively welcomes participation from marginalized, disenfranchised, and underrepresented communities. FAI defines folk broadly as "the music of the people" (reflective of any community they are from), and programs a diverse array of sub-genres including, but not limited to Appalachian, Americana, Blues, Bluegrass, Celtic, Cajun, Global Roots, Hip-Hop, Old-Time, Singer-Songwriter, Spoken Word, Traditional, Zydeco, and various fusions.
FAI produces the International Folk Music Awards (IFMAs), an Artist in Residence (AIR) program, the Folk ExChange global market development program, the Ethno USA gathering, and the world's largest annual folk music conference and showcasing festival (typically drawing over 3,000 delegates from over 40 countries.
Past Artist in Residence partnerships include UNESCO, the International Rescue Committee, the WWI Museum, Kansas City Ballet, the Kansas City Police Department, the Topeka Women's Correctional Facility, UMKC's Mathematics Dept., and the Kansas City Art Institute.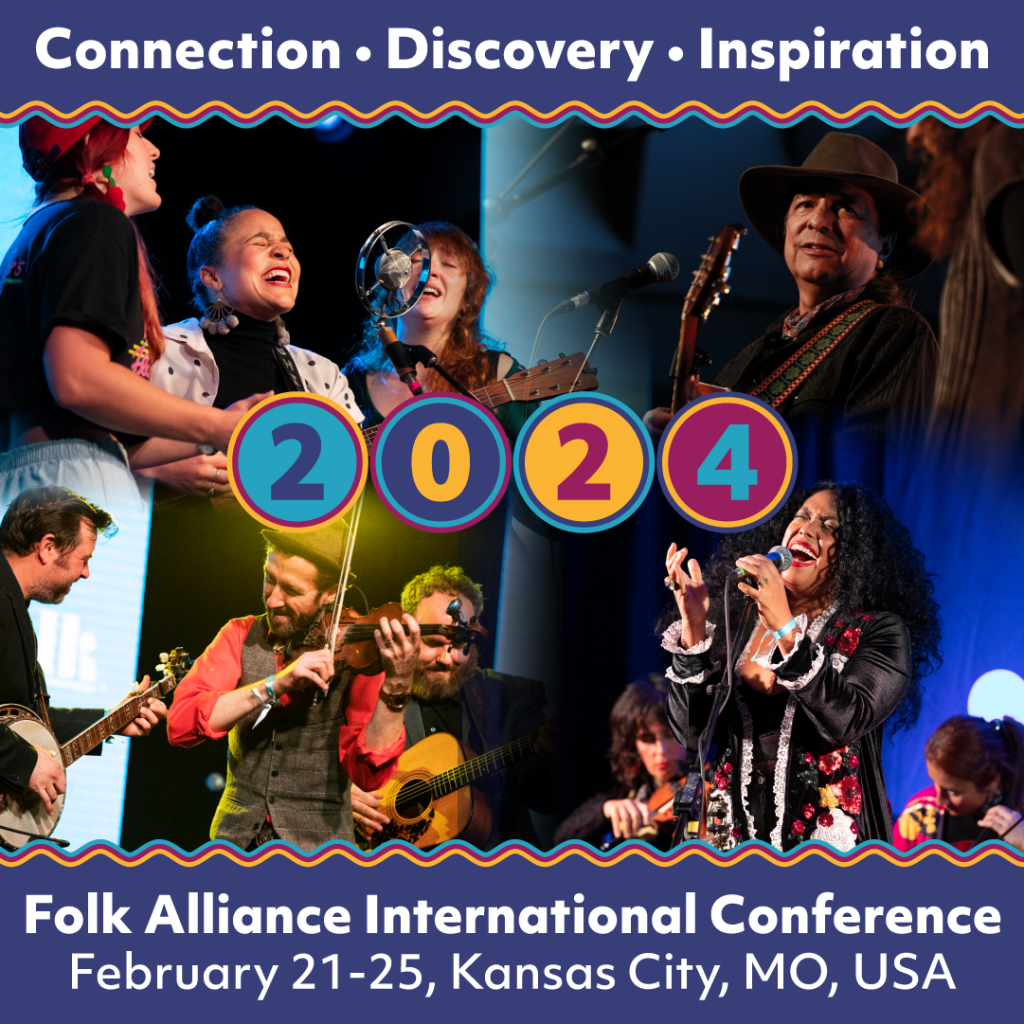 Initial Official Showcase Artist lineup:
Aaron James
Abby Posner Band
Acoustic Nomads
AJ Lee & Blue Summit
Alice Hasen & Josh Threlkeld
Alice Howe
Alisa Amador
Amilia K Spicer
Ammoye
Amrita Soon
Amy LaVere
Anna Smyrk
Barnaby Bright
Beth Nielsen Chapman
Billow Wood
Bruce Sudano
Calan
Cassie and Maggie
Ceara Conway
Chatham County Line
Connie Kaldor
Crys Matthews
Dean Owens & The Sinners
Digging Roots
Dimpker Brothers
Doug MacLeod
El Pony Pisador
Elias Alexander
Eliza Mary Doyle
Elliott BROOD
Ellis Paul with Radoslav Lorković
Ensemble Sangineto
Flamy Grant
Freedy Johnston
Gadan
Gaudea
Georgia Ruth
Gina Chavez
Gordie Tentrees & Jaxon Haldane
Grace Pettis
Gráinne Hunt
Handmade Moments
Henhouse Prowlers
Humbird
Ingrid Jasmin
Inn Echo
Iryna Muha
ISMAY
Jeff Pittman
Jessica Rhaye
Joachim Cooder
John Gallagher, Jr.
John Smith
Jolie Holland
Jorge Glem and Sam Reider Present Brooklyn-Cumaná
JP Hoe
Julie Alapnes
Justin Adams & Mauro Durante
Kaia Kater
Kalos
Karyn Oliver
Kellie Loder
Kelly Hunt
Kerryn Fields
Krea
Laura Cortese & the Dance Cards
Leverage for Mountains
Livingston Taylor
Lonesome Ace Stringband
Louisa Stancioff
Maggie's Wake
Malena Cadiz
Mark Wilkinson
Martin Kerr
Matt Andersen
Matt the Electrician
Memphissippi Sounds
Mia Kelly
Michele Stodart
Miranda Mulholland
Mireya Ramos
Mirja Klippel
Mitsune
Moneka Arabic Jazz
Musique à Bouches
Nani
Naxx Bitota
Noisy Pots
OKAN
Olive Klug
Ordinary Elephant
Over The Moon
Pat Byrne
Patrick stefan
Pau Figueres
Paul McDonald
Pete Muller & The Kindred Souls
Polky
Rachel Maxann
Rainbow Girls
Rakish
Ray Bonneville
Resonant Rogues
Ron Artis II
Rosier
Rum Ragged
Sav Buist
Scott H. Biram
Seffarine
Shauit
Shovel Dance Collective
Siger
Siobhan Miller
Sirène et Matelot
Skerryvore
South For Winter
Spencer LaJoye
Sprig of That
Stillhouse Junkies
Strange Boy
Susan Werner
Suzie Vinnick
Svavar Knutur
The Accidentals
The Heart Collectors
The Langan Band
The Pleasures
The Steel Wheels
The Trials of Cato
The Weeping Willows
Tim Easton
Tony Kamel
Violet Bell
Viv & Riley
Vox Rea
Walter Parks & The Unlawful Assembly
Whiskey Mash Band
Willi Carlisle