Ever since witnessing big brother Jimmie playing a three-string guitar as children, Stevie Ray Vaughan had a serious case of "Wow, me too!" and set about following in his guitarist footsteps.
Parents Martha and Jim bought ten-year-old Stevie a toy guitar, a Masonite model from Sears decorated with cowboys, horses, and other Wild West decals. Despite it being a plaything, Stevie tried his best to get music from the guitar.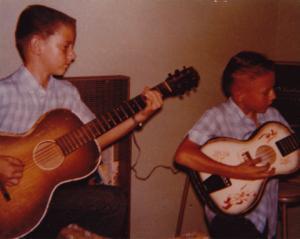 The toy guitar didn't suffice so when Jimmie graduated to a Gibson ES-300, Stevie got Jimmie's first electric guitar: a three-quarter-scale Gibson Messenger ES 125T.
Nine years later in 1973, Stevie met his "first wife," Number One, an already well-worn American Fender Stratocaster with 1959 pickups, a '62 neck and a '63 body. The guitar was given to him by the owner of Ray Henning's Heart of Texas music shop in Austin, Texas and was previously owned by fellow Texan musician Christopher Cross.
For the remainder of his life, Number One was Stevie's go-to musical companion, using the guitar on all five of his studio albums, as well as Family Style.
Seven years and many shows later, Stevie spotted a '65 Fender Stratocaster that would soon become Lenny, at a local pawn shop. The Strat had been stripped of its original sunburst finish and refinished natural. It also displayed a custom ivory and tortoiseshell inlay behind the bridge. Although the asking price was only $350, Stevie had yet to break beyond Austin's music scene and couldn't afford it.

His wife Lenora, and a group of friends each chipped in $50 to buy the guitar, giving it to Stevie as a birthday present. Stevie was so touched by the gesture that he stayed up that night writing the eponymous "Lenny" and later played the guitar on "Riviera Paradise."
In late 1983, Stevie purchased a 1962 sunburst Fender Stratocaster from Charley's Guitar Shop and had it repainted by Fender in Fiesta Red, resulting in its very simple name, Red.
In '86, a left-handed neck was installed and the now-famous "SRV" stickers were applied to the pickguard. Three years later in '89, the neck on Number One was unable to handle anymore re-fret jobs, so Stevie replaced it with the original neck from Red. However, the next year, after a concert at the Garden State Arts Center in Holmdel, New Jersey, a stanchion fell onto Stevie's guitar rack, splitting the neck from Red that was installed on Number One.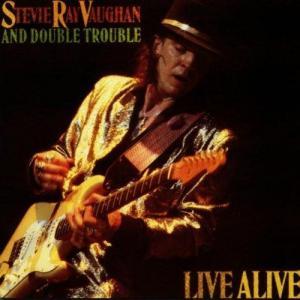 A year after acquiring Red, Charley Wirz presented Stevie with Yellow, a 1959 Stratocaster formerly owned by Vanilla Fudge's lead guitarist, Vince Martell. The body had been hollowed out to allow space for "a shitload of humbuckers," but Wirz designed a new pickguard in which he placed a single Fender Strat pickup in the neck position and painted the body bright yellow. The guitar was later embellished with the letters "SRV" on the pickguard.
Stevie reportedly played Yellow on the studio versions of "Tell Me" and "Honey Bee." The Strat was stolen in '85 at the Albany International Airport in New York City, but was later recovered and is now on display in the Las Vegas Hard Rock Cafe.
In the same year he became acquainted with Yellow, Stevie also became the proud owner of Charley, a white, custom-made Stratocaster style guitar named after his good pal Charley Wirz who built the instrument. Wirz built Charley in late '83 with three Danelectro lipstick pickups, and engraved "To Stevie Ray Vaughan, more in '84" on the neck plate.
Stevie often played Charley during "Life Without You," which is said to have been penned as a tribute to Wirz.
1984 was topped off with a Hamiltone guitar known as Main, or more famously the "Couldn't Stand The Weather" guitar. Main was a custom-made Stratocaster-style guitar built by Jim Hamilton, and presented to Stevie as a gift from Billy Gibbons.
Billy had originally ordered the guitar in '79, when Stevie was still going by "Stevie Vaughan," but put the project on hold until his other guitars had been made.
The guitar features a two-piece maple body and a three-piece "neck-through body" design. Its fingerboard is ebony with a mother-of-pearl inlay that read "Stevie Ray Vaughan." Stevie used Main in "Couldn't Stand the Weather" because he didn't want to get Number One wet during filming.
For the remaining five years of his life, Stevie used a 1961 Fender Stratocaster known as Scotch that he obtained in the fall of '85. Scotch was originally intended to be given away as a drawing prize during one of his shows, but Stevie liked the guitar so much that he decided to keep it. He went on to use it both in the studio and onstage, giving away another of his instruments as the prize.
Scotch has a butterscotch finish and a tiger-striped pickguard that was made by Stevie's guitar tech Rene Martinez. Stevie had the tiger-striped pickguard installed because Buddy Guy had a similar pickguard on his butterscotch-finish guitar at the time. Stevie also added his signature "SRV" prismatic stickers atop the tiger stripes.
In 1990, the final year of his life, Stevie played a Guild Acoustic JF6512 on MTV Unplugged, and on "Life By The Drop" from his posthumous album The Sky Is Crying.