Craft Recordings celebrates the 40th anniversary of Violent Femmes' 1983 eponymous debut with a special reissue of the seminal cult classic. Due out December 1st and available for pre-order now, the deluxe 2-CD and digital formats will feature newly remastered audio and over a dozen demos, B-sides, and live performances from the pioneering folk-punk trio — including alternate versions of iconic songs like "Blister in the Sun," "Please Do Not Go," "Gone Daddy Gone," and "Add It Up."
A special 4-disc vinyl box set will follow February 9th, 2024, limited to 5,000 copies worldwide. Housed in a lift-top box with die-cut window detail, this collectible edition offers three 180-gram LPs — the original album, alongside the demos, and live material — plus, a replica 7-inch single ("Ugly"/"Gimme the Car"). The original album and single discs are cut from the original analog tapes, while lacquers for the complete set were cut by Kevin Gray at Cohearent Audio. Both the CD and LP editions will feature an expansive book with new liner notes by journalist and Rolling Stone senior editor David Fricke, complete with interviews with Violent Femmes members Gordon Gano, Brian Ritchie, and Victor DeLorenzo.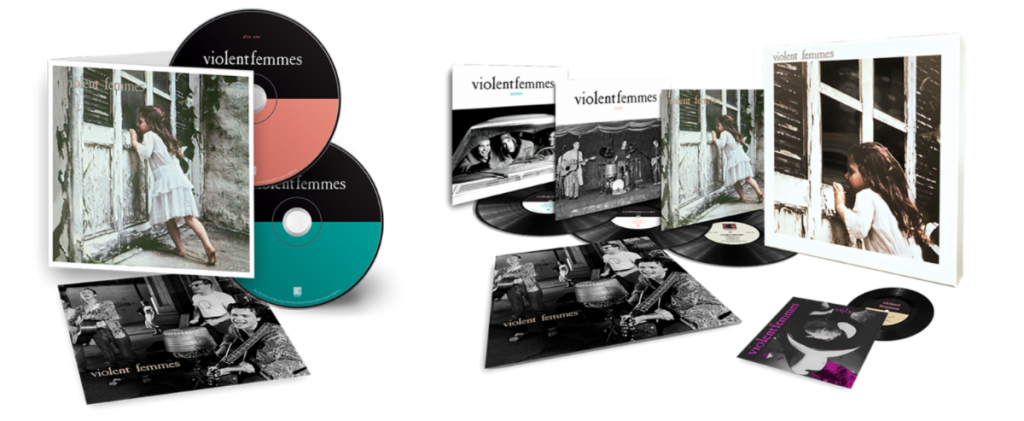 Reflecting on the album's 40th anniversary, bassist Brian Ritchie shares: "I am frequently stopped on the street by people who tell me, 'Your album changed my life,' or some variant. I don't have to ask, 'Which album?' because it is implied that they're talking about the first one. The uncanny thing is that these people range from early teens to septuagenarians, and they all have the same testimony." Ritchie adds, "Sometimes music is more than just a pleasing sound that entertains. It takes on greater meaning. Multiple generations have found the songs to be relevant in their life situations…"
In July 1982, Violent Femmes headed to a Lake Geneva studio and cut their debut album's 10 songs in just a week, funding the sessions with a $10,000 emergency loan co-signed by DeLorenzo's father. Produced by Mark Van Hecke, Violent Femmes mostly consists of the band's first takes and centers on a raw and potent sound augmented by their idiosyncratic instrumentation (Ritchie favored an acoustic, mariachi-style bass, while DeLorenzo's minimalistic drum kit included an upside-down metal tub).
"We were using tape, which was expensive, and paying for this record ourselves," Ritchie says today. "We might have a few, false starts. We'd get a take, then say, 'That sounds pretty good, let's try a few more.'" After sorting through a deluge of rejection letters from record labels, the band released their full-length debut via Slash Records (a now-defunct offshoot of the Los Angeles punk zine, also home to punk trailblazers like X, the Germs, the Misfits, the Gun Club, and more).
Today, fans can visit digital platforms to pre-save Violent Femmes (Deluxe Edition) and stream or download the advance single "Gone Daddy Gone / I Just Want to Make Love to You (Live)." Recorded in January 1983 at Folk City in New York, NY, this raucous early version of the longtime fan favorite includes a complete verse from Willie Dixon's 1954 song "I Just Want to Make Love to You" (originally recorded by Muddy Waters). Like all the bonus material featured on Violent Femmes (Deluxe Edition), "Gone Daddy Gone (Live)" was previously unavailable in digital format. 
Released on vinyl and cassette in April 1983 — and certified Platinum by the RIAA in 1991, the same year it charted on the Billboard 200 for the first time — Violent Femmes has achieved cult status and served as a perennial discovery for music lovers partial to unbridled expression of teen angst. Just a year prior to recording their debut, Gano (vocals, guitar), Ritchie (bass), and DeLorenzo (percussion) co-founded the band in Milwaukee and got their start performing in the streets (a point of necessity rather than preference, given that local clubs refused to book them and it was too hot to practice in DeLorenzo's basement).
But when members of the Pretenders caught Violent Femmes performing on the sidewalk during a tour stop at Milwaukee's Oriental Theatre, the legendary British/American band spontaneously added them to the bill at that night's sold-out show. By the following summer, Violent Femmes had landed a spot opening for punk heroes Richard Hell and the Voidoids at New York City's Bottom Line.
To celebrate the 40th anniversary of Violent Femmes, the band recently embarked on a headlining tour of the U.S. — check out the full tour itinerary below and head here for ticket information.
Tour Dates for Violent Femmes:
10/11 – Queen Elizabeth Theatre (Toronto, ON)
10/12 – Mtelus (Montreal, QC)
10/13 – MGM Music Hall at Fenway (Boston, MA)
10/14 – Ulster Performing Arts Center (Kingston, NY)
10/15 – College Street Music Hall (New Haven, CT)
10/17 – Webster Hall (New York, NY)
10/18 – Starland Ballroom (Sayreville Station, NJ)
10/20 – Rams Head Live! (Baltimore, MD)
10/21 – The NorVa (Norfolk, VA)
10/22 – The National (Richmond, VA)
10/27 – Arizona State Fair (Phoenix, AZ)
11/16 – The Novo (Los Angeles, CA)
11/18 – Darker Waves 2023 (Huntington Beach, CA)