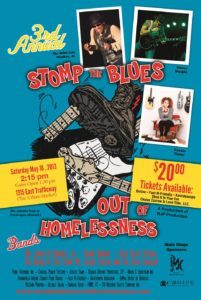 (SPRINGFIELD, MO) The Stomp The Blues Out of Homelessness Festival has announced their much-anticipated lineup for the non-for-profit festival's third annual event, which will be held  May 18, 2013 at 1315 E. Trafficway in Springfield, Missouri.
Among the festival performers is blues legend John Lee Hooker, Jr, young blues rocker Shane Dwight, Cassie Taylor and the Soul Cavalry, and local favorites Blue Plate Special.
The son of one of the most legendary blues men of all time, John Lee Hooker, Jr. was raised in the blues, playing on Detroit's WJBK at merely 8 years old. By eighteen, he'd already recorded with his father on Live ad Soledad Prison, and was playing at prestigious venues across the country. After a bout with personal demons, including some homelessness himself, Hooker returned with 2004's Blues with a Vengeance to reclaim his place as blues royalty.
Over the past 10 years, Shane Dwight has performed over 2,000 live shows, released seven CDs with over 60,000 units sold, been a repeat performer on the Legendary Rhythm and Blues Cruise, and headlined and performed at some of the biggest music festivals around the world. The young, self made blues man has been winning hearts and audiences across the country for years!
The Queen of this year's festival is Cassie Taylor and her band The Soul Cavalry. The daughter of bluesman Otis Taylor and a successful musical force, Cassie has made it a part of her life to visit Springfield, where the event takes place, and help at places that the festival coordinators serve; Bill's Place and The Rare Breed. Cassie has helped serve food and compassion, as well as giving a free show to the youth at The Rare Breed.
Stomp The Blues, which has a longstanding goal of raising awareness and humanitarian aid for for homelessness both locally and nationally, has enjoyed rapid year-over-year growth towards their mission and outreach goals. "Each year our mission and outreach grows," reports festival founder Jim Payne, "the number of people with income below the poverty level living in extreme poverty and homeless situations increases exponentially.
"With this in mind we are extremely happy and fortunate to have Blues Legend John Lee Hooker, Jr. as a performer and as a person committed to our mission. Young and exciting Shane Dwight. Who is also an outstanding performer and person of character."
The event will take place on Saturday, May 18th with the first band, Blue Plate Special, taking the stage at 2:30 PM. Patrons can enjoy live music until at least 10:30! Great food vendors and beverages will be on-site, and guests are encouraged to bring a lawn chair and stay all day.