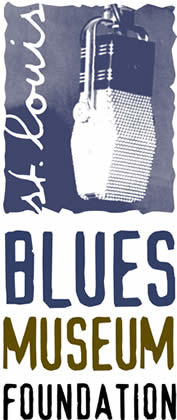 The phrase "Saint Louis Blues" often evokes images of the hockey team, but it's blues music roots run almost as deep as a town can get; Saint Louis played a pivotal part in the development of both modern rock and blues.
Now Saint Louis is embracing that blues heritage with a museum & hall of fame!! As part of an expansive redevelopment to enrich & revitalize the riverfront area of downtown Saint Louis, the Saint Louis Blues Museum Foundation has been studiously planning the museum, from the architecture to the exhibits and entries.
The blues is certainly not weak in Saint Louis! Along with dozens of blues clubs like BB's Jazz, Blues & Soups, there's the excellent Broke and Hungry Records that puts out delta blues music, and several festivals like the Big Muddy Blues Festival and Bluesweek. If that's not enough, STL, being a pivotal stop on Highway 61, was home to dozens of extremely talented & popular blues folks, including Chuck Berry, who still lives there, Sunnyland Slim, Lightnin' Slim, Johnnie Johnson, Louis Jordan, Little Milton, Henry Townsend, Ike Turner, Big George Brock, and even an early Albert King! The plan and hope is that this new establishment will help swell interest & acceptance of the blues in the heart of Saint Louis. The foundation is doing a number of events, concerts, jams, etc. for fundraisers. We'll keep you posted as we find out about them!
Find out more about the Saint Louis Blues Museum here!
http://www.ksdk.com/news/local/story.aspx?storyid=214280&catid=3
For kicks, here's St. Louis Blues as played by the master, Louis Armstrong, along with Velma Middleton

Matt Marshall runs Bluescentric.com, which has a unique blend of blues music information, history, and blues t-shirts!