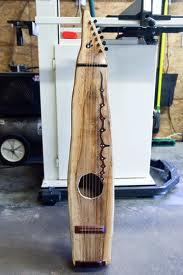 Today, we were able to interview the owner of Sipsey River Steels, a company that creates custom lap steel guitars from scratch! "Lap Steel" doesn't refer to the instrument itself being steel; in fact, these are made from the roots of cypress trees. Rather, they're meant to be played in one's lap with a steel bar (or a medicine bottle, beer bottle, bone, or whatever else works as a slide!) I first found and played with a Sipsey River Steel at Juke Joint Festival in Clarksdale, Mississippi, and I've been eagerly watching the company ever since.
Jack, you custom make lap steel guitars. Can you tell me a bit about your process?
I do make custom lap steels. My process begins with the cypress knee (roots that I use) which grows in Southern swamps. Let me begin by clarifying that I don't go into the swamps and cut these down, but rather use what has already been harvested by timber companies. The batch I currently have was actually displayed outside of a west Alabama gas station where I saw and purchased the whole lot. This is a sore spot for some, so I figured that I'd make it clear that I don't spend my time destroying the forest. Anyway, I begin by slicing the knees to expose the grain and shape, and then build and shape the maple core/ headstock assembly. I sand, shape, drill, add inlays pickups and hardware a good finish, and out pops a really cool one of a kind lap steel. I build several models, and the process varies from model to model, so there is no set process that covers all avenues. Tha's what makes these things so unique. I build solid bodies, hollow bodies, acoustics and some really weird hybrid monsters.
I've personally played one of your lap steels and it's an amazing thing to touch and play with; mother-of-pearl inlays and brilliant finishes. It seems like you put a
lot of work into making just one of these. How long does it take? What do you have to do to get them perfect?
Each instrument varies in time as far as the build goes. Each knee has it's own personality, and depending on the model, options, inlays, etc., it may change dramatically. I don't think I have any less than 30 or 40 man hours in each instrument, and much, much more in some. As far as getting them perfect, I just work on them until I'm satisfied.
What got you into making these instruments in the first place? Did you just pick up and start building them?
I began building the Sipsey River Steels when my brother kept insisting that I build him a lap steel. I had been building my own basses for some time, so he figured that I could just as easily build him a lap.
In late summer 2008, me and my son took a day trip to West Alabama with my flat bottom boat where we decided to motor up the Sipsey River [In Alabama] for something to do. A farmer had cut a path through some cypress knees to allow his cows a path to the river, and there was a pile of knees on the bank. I threw a couple of them in the boat, figuring that at some point, I'd make something with them. After several months, I decided to try and make a lap steel out of one of them, and the rest is history.
I hear your steels are really getting out there. Magazines, musicians, festivals and the like seem to be taking notice. Tell me about what's been going on lately? Are you making any steels for anyone of note?
A lot has been happening with local newspapers, TV, and some festivals. These things really seem to draw attention wherever they are. They are so different as well as sounding incredible, and the combination seems to be volatile. They were featured in Guitar Player magazine Sept. 2010 issue in the new gear section as well as their October Holiday buyers guide. They also have been featured in Premeire guitar's online magazine. I sent one of the original prototypes to award winning Australian lap player, Andrew Winton, and he made an 8 minute promo video for Youtube at his own discretion. I'm currently finishing a 13 string monster that we co-designed, and will be sending it over in a week or two. I am also beginning a build for a very prominent (huge) player in Nashville. Hopefully that he will love it, play it, and expose it to a larger audience. This thing is still in it's infancy, and obviously, I'm hoping that in the next year or two, that I'll be able to build instruments exclusively and lose my day job. It's a little hectic juggling the two, and building instruments is my passion.
Where can people buy one of your lap steels and what can they expect from the process?
I can be reached through my website, www.dontfretinstruments.com. As far as the process, I send pictures of various slabs that I have cut, and they pick out their slab, choose their model, options and any ideas they might have, and we design and build their one of a kind SRS. it's pretty simple, really.
Where can people see your steels? Will you be at festivals, trade shows, etc?
My steels can be seen on my website, as well as festivals that I might be doing which I post as they happen on my FB page which is www.facebook.com/…/Sipsey-River-Steels/
We also use my instruments in our band, 2blu and the Lucky Stiffs. We have incorporated the steels into one very unique aspect of the band, in which we use primarily all of my stuff, like the steel, upright 6 string bass, various percussion instruments, etc. We have written several songs around the instruments. It's kind of a delta blues/americana/country smorgasbord of weirdness that is really different and enjoyable. Our band website is www.2blumusic.com




I'm limited on how many trade shows that I can do at this point, so I guess I'll do what I can and let folks like you decide if my lap steels are worthy of further notice. So far, they seem to be pretty much taking care of themselves.