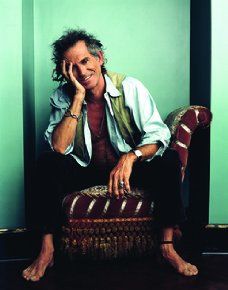 Keith Richard's 500+ page autobiography has been out a little more than a month, now, and as Rolling Stone Magazine poignantly put it, "nobody expected it to be so good!" Keith leaves nothing back when discussing the magnificent details of his life, his influences, his world-changing band, and the guitar riff he could never get. Maintaining a straightforward and friendly nature throughout the book, he provides an intimate & necessarily grungy view of his wild life, leaving the reader feeling as though you're sharing a cold pitcher at a bar. The first chapter is almost impossible to put down, kicking off the book with an absolutely hilarious story of Keith and company being caught with a carload of drugs in a rural small town in Arkansas during their infamous 1975 "STP" tour, and the ensuing botched investigation, fan riots, and drunken judge. It cleverly sets the pace for the rest of the electrifying book.
Many people knew Keith was a die-hard bluesman, but surprisingly, that reputation doesn't do him enough justice. (I began dog-earing pages and highlighting sections in the book where he, sometimes awestruck, discusses the blues. It wasn't until more pages in the first three hundred were dogeared than weren't that I gave up.) While he spends a great deal of time discussing the blues, Keith is clearly a lover of music, drawing on not only blues, but jazz, country, and various other influences and enjoyments. He devotes an entire page on the proclivities of Jimmy Reed's unique chord progressions, which he comically calls "(a) the laziest, sloppiest single thing you can do in that situation, and (b) one of the most brillaint musican inventions of all time"
Definitively, this may be one of the greatest rock autobiographies ever written. It contains something for everyone; blues fans will pour over the pages upon pages of Keith's reverent discussion on learning about the blues, playing with Muddy Waters, his awe at hearing Robert Johnson, Jimmy Reed's unique guitar style, how the Stones "just wanted to be the best blues band in London", and even Jazz/Blues legend Mezz Mezzrow. Fans of the Stones will pour over every word about how the band got it's often comical start and it's sometimes hard-earned reputation. Most will almost certainly get goosebumps as Keith discusses their legendary stay at Nellcôte and the recording of one of their most prolific albums, Exile On Main Street. Guitarists everywhere will enjoy candid discussion about the guitar, straight from one of the most iconic guitarists to have ever lived, including the elusive riff he could never master.
Of the many rock groups that were born from trying to play the blues, the Rolling Stones might be the most defining, and, often the most vocal about their roots. Keith certainly pays great homage to the blues he loves so much, and frankly and simply discusses the events of his life, from his humble early years growing up, his hard time "as a junkie", and the death of his son while he was on tour. Nothing is spared nor sugar coated. For any music lover, this is a memorable read, full of ups, downs, & twists that will keep you laughing out loud, mourning losses, but always drawn to the book, from beginning to end.