If you haven't ever heard Cee Cee James before, once you do, you're going to wonder why not. Cee Cee is the kind of artist and performer that makes you ponder, "Where have I been?" or possibly, "Where has she been?" at your first encounter… and it certainly won't be your last!
Often compared to Janis Joplin for her raw style, energy and vocals, Cee Cee James sings the Blues in a way that defines the genre itself. With a dynamic range that matches her energy, Cee Cee will take you from passionate & soulful, to raw & volcanic, and then back home again, all within the same song.  She is also an accomplished songwriter, with originals like "Black Raven" & "Love Makes Change".
Through the many trials of her life,  from a challenging childhood,  through her loves lost, (and then love found again), Cee Cee feels that her soul has been transformed and deepened. With that soul, she has found new depths to her vocal range. It was these adversities that conspired and compelled her into the Blues genre at this time in her life. Cee Cee's trials have meant good fortune for those of us who love the Blues. If you need any more of a reason to love your Blues, or if you need another blues ambassador for your tardy friends, then pay a little visit to Cee Cee James.
Cee Cee represented Oregon's Klamath Blues Society in the 2010 International Blues Challenge, and won the 2010 award for Best Blues Songwriter from the Washington Blues Society, who's board member Roy Brown dubbed her, "The Vocal Volcano". Cee Cee has also been a real pleasure to work with and an honor to capture on video before her recent move to Nashville.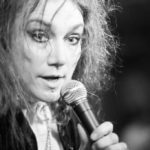 In February, Cee Cee completed her first tour of Europe, where she brought the Blues version of shock & awe to her many new fans there. We'll be discussing Cee Cee and the European Blues Scene in upcoming articles. If a picture can tell you 1000 words, what can a video tell you? In her appearance at Club Hollywood in Seattle, the vibration of Blues was unmistakably thick in the air. Cee Cee James is destined for great things, and one room, one city, or even one country will not confine her. She will win fans for the Blues where ever she goes.
From Club Hollywood
Seattle, Washington
Ron Beatteay
For The American Blues Scene