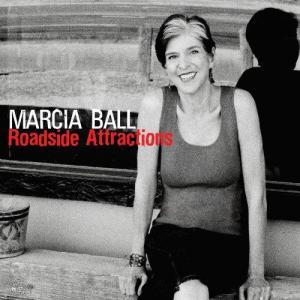 It's not hard to see why Marcia Ball's popularity keeps growing; she's a force of New Orleans piano playing & a Texas roadhouse fireball who spreads her uniquely energetic brand of blues across the country. Her latest album, Roadside Attractions (Alligator Records), due out tomorrow, is a piano blended gumbo of horn-infused New Orleans style a la 'Fess Longhair with a healthy dose of traditional Texas grandeur.
The album kicks off with "That's How It Goes", packed with slide guitar, some Hammond B3, and inspired lyrics. "This Used To Be Paradise" is a phenomenal, yet bittersweet Cajun-inspired song on the former greatness of a childhood Gulf Coast, where the shrimp were plentiful and cypress trees stood strong. "The Party's Still Going On" is a fun rock n' roll social soiree — New Orleans style!
We've had the pleasure of seeing Marcia play live on an occasion or two, and have always had a fantastic time. Marcia is full of energy, life, and, of course, skill. Her stage presence gracefully transfers to her studio work; energetic and genuinely fun to listen to. The tracks range from jumping party music, Tremé style, to a darker song about a messy affair, a heartfelt track about the man-made death of a once-beautiful Louisiana coast, and, a fun little number about — what else, roadside attractions! All songs were written or co-written by Marcia, and the album, (partially autobiographical, according to her), truly shows off her magnificent artistic songwriting capabilities. The guitar throughout the album is Cajun blues at it's finest, and the skillful use of horns and accordion add depth and fatten up it's sound. Produced by Gary Nicholson, the album is everything we've come to expect from Alligator Records and Marcia Ball. what do we expect? Excellence, of course!
Pick up a copy of Marcia Ball's Roadside Attractions at Alligator Records