This post is a partial reprint of our article "Son house Remembered", in October.
Today in 1902, delta blues legend Son House was born just outside of Clarksdale, Mississippi, which is known as "Ground Zero of the Blues". Therefore, today seems a fitting time to celebrate the life of one of the fathers of modern rock and blues.
In the days of sharecropping, poor black workers were virtually forced into an oppressive system of hard labor for nearly no money, six days a week. Saturday nights were the only time to be free from the stresses of a hard-lived life, and the people got together for house parties and at juke joints, (often the two were one in the same) to drink and dance and enjoy guitar playing. Son House often played these house parties, along with a number of other delta blues legends such as Charley Patton and Willie Brown, (who just last month was given a headstone, thanks to the generosity of blues fans.)
A number of men in the Mississippi delta learned to play guitar from one another, and in that respect, Son House was a pivotal influence to Muddy Waters, Howlin' Wolf, and Robert Johnson. In fact, it was likely Son did more to further the legend that Johnson sold his soul to the devil than anyone else. In the 1960s, Son often told the story about how Johnson used to take House's guitar and try and play it when he would take break at a house party or juke joint, but it sounded awful. Soon after, Johnson disappeared then reappeared six months later a delta blues master. "He must've sold his soul to the devil to play like that!" exclaimed House.
Son, a religious man, was alternately a preacher and a bluesman, which was extremely uncouth at the time. Blues music was played in conjunction with things like drinking and dancing, and many didn't know how to look at or handle the blues (much like the Blues' baby, Rock n' Roll, some 25 years later). People still called the blues "Devil's music", and good church going people shunned those who played and listened to it. Son House lived the life of an archetypical black blues man of the era; he spent some time in the notorious Parchman Prison Farm for killing a man, lived and sharecropped on plantations, and Saturday nights, could often be found playing guitar at a delta juke joint.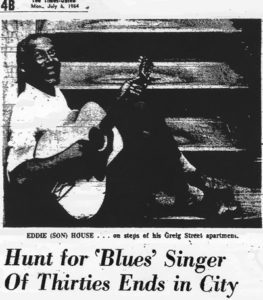 The legendary folk researcher Alan Lomax found and recorded Son House in 1941 & 1942. Shortly afterwards, Son simply "disappeared", not an uncommon thing for a black man in Mississippi at the time. In actuality, Son moved to New York, put away his guitar, and began working on the railroad. During the 60s folk revival, his records were discovered by likes of Bob Dylan and Alan Wilson from Canned Heat, among many others, and his previously obscure records exploded in popularity, unbeknownst to Son. When he was finally tracked down in the 1960s, he was reportedly shocked to discover he had such a following. Son promptly took to playing again, enjoying a large and dedicated fanbase and vocal famous fans like Dylan and Lynyrd Skynrd. He played the legendary Newport Folk Festival in 1965, toured Europe, was met by an awestruck Rolling Stones, and his European presence played no small part in the British musical explosion that spawned the likes of Led Zepplin, The Yardbirds, The Stones & the The Beatles, among many others.
Son's broad spanning legacy through the skill and emotional rawness of his music still shines. Jack White of the White Stripes often credits Son House as being his biggest influence and favorite musician. In fact, the White Stripes dedicated their first album to House, and Jack often covers Son's work. Warren Haynes of Allman Brothers and Gov't Mule plays a number of scorching Son House covers, and Son's influence can be deeply felt in Hayne's music. Even from the Allman Brothers clan, Derek Trucks has strong ties to the school of Son House. House retired in the mid 1970s, and in 1980 was inducted into the Blues Hall of Fame. His influence can be felt across music, and his music is celebrated and revered for his larger-than-life playing and accomplishments. Not bad for being born into a destitute life of rural sharecropping in Mississippi.
Follow Son House's life in an excellent, interactive Flash presentation, courtesy of the Delta Blues Museum in Clarksdale, Mississippi
Below is a rare, full color video of Son House playing Death letter. For all of you guitar fans, there's some great close-ups of his hands hard at work. (It should be noted that the facts at the beginning of the video are not quite correct. Son house lived well into the 1980s, not the 1960s, and about 15 albums were put out by Paramount, not four. But forgiveness means understanding that they didn't have Google in the 60s!)