It's been said that Joe Bonamassa is the best guitarist you've never heard of. Of course, those of us who are on the inside of the blues and blues-rock world know all about him, and how massively talented he is. With twelve albums to his credit, and possibly his best release hitting store shelves tomorrow, Joe is clearly on top of his game. This is a man that has a concise objective: Put on a killer live show and bring that sort of energy to the CD. That plan has allowed him to build a fanbase full of Bona-Rockers that absolutely love him and his music. We got a chance to spend a little time with Joe yesterday, and here's how it went:
According to what I see on Facebook a lot of people are seeing you for the first time and getting their doors blown off.
A lot of people ask where have I been? I've been here. Where have they been?! I've been here! [laughs]
Why in the heck aren't you in the Rolling Stone Top 100 Guitar Players list!? You'd better be in there the next time!
This should put it all in perspective; do you know who is on the cover of Rolling Stone this week?
Ummm, I don't know, Justin Beiber?
Even worse, this one is Snooki. She's on a show called Jersey Shore. So quite frankly, the Rolling Stone has as much credibility as the National Enquirer. Honestly, that magazine has never printed my name in there at all. 12 records. Hundreds of thousands of tickets sold every year throughout the world, and my name has never appeared in Rolling Stone. I actually take that as a badge of honor. Same thing with Spin Magazine. The only time my name ever appeared in Spin is when we took out a full page ad. They don't give a shit about me and that's fine.

Truth be told, my whole career has been based on underground support and a cult following and I'm fine with that, because that means we a have real solid foundation. I have nothing but foundation. All of my bricks are bricks, there are no compromising points. As long as you keep your eye on the ball, do a quality show, and put out a quality record, those things stay with you.
I couldn't agree more! You've basically done this without the benefit of a major crossover radio hit. It's all about the body of work. Playing what you want to play instead of what some corporate spin doctor wants you to churn out.
Yeah, that's true. There's no record company, there's no A & R guy. There's none of that other stuff. It's just us.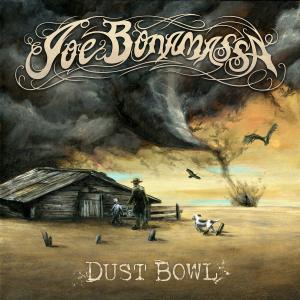 Lets talk a little bit about Dust Bowl. That CD seems to have something for everybody.
Thanks.
I really liked "Prisoner"
That song has been a little bit debated. Some seem to really like it though.
"The Last Matador Of Bayonne" reminded me of Gary Moore.
Yeah, it's definitely done in the style of Gary Moore.
Where do you think Dust Bowl stands compared to your other stuff?
I don't know if it's any better or any worse. At the end of the day, I think it is some of the strongest writing I've done in a while and its also one of my deepest records. As far as the songs go… The songs have a story behind them. They don't really meander along in the same kind of cliche. I've made 12 records at this point, so I don't know. I couldn't tell you. It's pretty subjective, I guess. Some people are loyal to the first two…others are loyal to some of my other records like the John Henry stuff and Sloe Gin. Everything is different and has a different viewpoint.
I suppose its like comparing guitar players…they have different styles so they are hard to compare.
Oh yeah, you can get a different answer on the same day from the same guy! Nothing can be universal you know.
Facebook question time… Richard Clark asks: "What is your favorite guitar and why? Is it sentimental or the tone character?"
I have a 59′ Les Paul Sunburst that's my favorite. It just responds to everything you do. That's the thing. It's just one of those guitars… The Sunburst guitars were really special. They had a great tone, a really great tone. I have over 300 guitars but out of all of them, that one is definitely my favorite.
I watched a video of you and Tallan Latz. That kids pretty good huh?
Oh yeah. He's wicked! He's really good. I just saw him the other day in Milwaukee.
What would you say to any other kids around his age? Any particular music they should listen too? Any advice?
Here's what I would say: you have to go and carve out your own niche. Its never the same way twice. As far as listening to music, everything! As much as they can. If they are a blues based player they need to listen other types of music. Non-blues music as well. At the end of the day you can't just listen to one type or style of music and be a well rounded musician. You have to kind of cross-pollinate. I think that is the real key.
I definitely hear a lot of Classic rock in your music. Are you a Bad Company fan? Because I hear them on Dust Bowl.
I am a total Bad Company fan!
More Facebook questions. Apparently, Joe found the American Blues Scene Facebook Page while we were talking, and he was reading the questions from some of our friends on there!
Sarah Fendley asks Joe: "Ask him if he has any tattoos or piercings. Oh, and when is he coming back to Birmingham Al, We love ya Joe!"
No tattoos or piercings. I have an aversion to pain.
Susan Wylde asks: "What motivated Joe to get involved with Blues music and what keeps him there?"
That's a good question, actually. Truth be told, the motivation was getting into the kind of music I liked, and what keeps me there is, I believe in my heart of hearts, that the blues will have one more if not many more renaissances, but people have to open their minds a little to what the definition of that is. You know what I mean? Look at it this way: like a car has changed from 1930 to 2011. Some cars have videos, some Lexus' will parallel park themselves. So there is a huge difference between a 1939 Plymouth and a 2009 Lexus. It's kind of the same way with blues music. This is what it sounds like now. I think a lot of time you hear people say things like, "That ain't the blues." Truth be told, what is it? You define it, then! And don't say Muddy Waters and don't say Robert Johnson! True, that is the blues but Zeppelin is just as much the blues as those guys… so is B.B. King and John Mayall, who have a lot in common as well, they just interpret it in a different way. That's what keeps me in it; it gives me the inspiration to try to shake things up a little bit.
You are a big fan of British blues and I am too! Or I should say their interpretation of the blues.
Once again, all this categorization of it dilutes the initial concept of what the blues was. What you gotta do is get involved in it and get excited about it. That's how this music will survive for another century. It just dies on the vine if the old generation hangs on to it with all their might and there is nothing left to build on. For a blues artist now, if you are going out and playing nothing but blues clubs, there aren't that many to play. There's nothing there.
With you, some people just think they are listening to the Classic Rock sound. They don't even know they are listening to the blues, but that's a good thing in my opinion.
They just like the music either way, they aren't categorizing it, they just like the song, and I will take that more than anything.
I noticed you'll be playing the High Voltage Festival. I also noticed Jethro Tull will be there. Any chance you'll be playing together?
I love Jethro Tull, and I'm good friends with Ian Anderson and his son. They are one of my favorite bands. It's tough because a lot of the bands are playing all over the park and a lot of them are playing at the same time. Even my landlord Joe Elliot  [from Def Leopard] was there last year, but Festivals are hard sometimes to get the cross pollination going, because they are so spread out.
I was reading an article about a local guitar shop closing and your name was listed as one of the famous people that has visited.
That's what I do during the day when I'm bored!
How do you feel about some of the smaller places that seem to be forced out by the big stores?
Joe Bonamassa and his extensive, hard earned collection of guitars

I don't think it's the big stores' fault, and this comes from someone who's father opened up a Mom & Pop guitar shop. I believe necessity is the mother of invention, and people want a cheaper guitar and they are going find the cheaper place. That comes along with a capitalist society. Sometimes businesses price themselves out of the game and you cannot compete with the bigger chains. A Mom & Pop shop can compete, but they have to find a niche. They are not going to be able to go head to head with the chain stores on a new Gibson or Fender. They have to get out and hustle on some used gear or collectible gear. They need to focus in on stuff that chains don't do. When the little guys get lazy is when they go out of business. That's what happens. My father did the same thing. He was in a niche market. He was in the collectible market where you are paying $25-30 grand for a guitar and make two grand. If you make a mistake, it costs you ten grand. Wasn't a solid model. Gotta be careful.
At this point, I mentioned to Joe that I have a radio show and would like a release to play some of his music. He said you have the release recorded right here. So he gave me permission to play anything I want of his on the air!
We also talked a little bit about promotions and the team he has assembled. Joe told me is just the traveling salesman. He said he sells lots of shower curtain rods! That he does!
What's it like having you own social network?
It's cool! For the first couple weeks, I didn't really understand what we were even doing. [laughs] But now we are close to 6000, (Over 6000 now,) and it's like Facebook with my picture on it. It the same kinda vibe. We do a lot of special things for them, and they in turn have really done a great job for us!
Thanks for the conversation Joe and I'll be seeing you at the Paramount in Seattle in December.
Joe: I'm looking forward to the Paramount, it will be wicked! I appreciate you doing this too!