FOR IMMEDIATE RELEASE:
Seattle-based blues guitarist/songwriter Dudley Taft signs deal with Germany's MIG records
Seattle – April 18, 2011 – Blues guitarist/singer/songwriter Dudley Taft is pleased to announce a licensing deal with Manfred Schuetz's Made in Germany (MIG) record label. MIG will distribute Taft's album "Left For Dead" worldwide on their String Commander imprint, with an option to distribute a second album.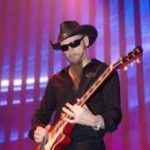 "Left for Dead" will be re-released in Europe this summer with an additional track – Taft's smoking rendition of "When the Levee Breaks" – with an American release date set for late summer/early fall.
The deal is the third for Taft, who came up in the early 1990s Seattle music scene with the bands Sweet Water and Second Coming. Taft and Second Coming gained notoriety in 1999 with the song "Unknown Rider", which was co-written by Taft and featured on the "Sixth Sense" soundtrack.
"I feel very happy to be getting a third chance," Taft said. "I'm really comfortable being in this for the long run. It's the beginning of a new chapter in my life. It'll definitely bring about some changes."
Originally from the Midwest, Taft's foundation of music was laid with the help of local guitar hero Rob Swaynie, who taught him music theory interspersed with B.B King and Deep Purple riffs.
In high school, Taft co-founded "Space Antelope" with Trey Anasatasio (of Phish) playing many school events.
After stints in Sweet Water and Second Coming, Taft embraced the blues, recognizing it as the foundation of all the great 1970s rock he was exposed to as a teenager. The more investigating he did, the more he realized that the blues was his true musical home.
"It's a very comfortable fit for me, I'm doing what comes naturally," Taft said. "I don't have to write the next hit single. There is no pressure to be the next U2 or something like that. It's just me doing what floats my boat. And if people like it, that's good."
In 2010 Taft released "Left For Dead" his first blues album. "Left For Dead" earned critical acclaim, including a perfect "five star" rating from the Blues Underground Network.
"If you got a hankering to listen to some good old kick-ass blues/rock mixed with a dash of classic rock, then please step right up and grab yourselves Dudley Taft's debut release 'Left For Dead'," John Vermilyea wrote. "'Left For Dead' is a non-stop feast for the ears in the timeless tradition of old ZZ Top and Stevie Ray Vaughan, which is sure to be recognized as one of 2010's best albums in this style."
Taft joins MIG's impressive roster which includes albums by the Mick Fleetwood Blues Band, Michael Schenker, UFO, Roger McGuinn's Thunderbyrd, Steve Lukather/Edgar Winter, Johnny Winter and Gino Vannelli. Taft's label mates on String Commander include Louisiana blues guitarist Lance Lopez and English bluesman Todd Sharpville.
A European tour is planned for later this year.
For more information contact:
Dudley Taft: music@dudleytaft.com
USA Publicity – Mark Pucci, Mark Pucci Media. E-mail:mpmedia@bellsouth.net. Tel: +1.770 272.1033
Record Label Enquiries (USA): Maria Ouellette, KO Entertainment LLC, e-mail maria@ko-entertainment.com Tel: +1.732.272.1033
USA Radio: Todd Glazer, Todd Glazer Promotions LLC, E-mail: toddg@gci.com Tel: +1.907 279.8546
Record Label Enquiries (Europe): Wilfried Pinnau, MIG Music GmbH, E-mail: Wilfried.Pinnau@mig-music.de. Tel: +49.511.8069.1611