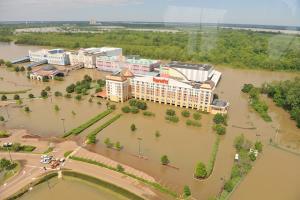 The mighty Mississippi River crested in Memphis last night at 47.85 feet, sparing most of the city and falling barely short of the 48.7 foot record, set during a devastating 1937 flood. The treasured landmarks of the Tennessee city, Stax Records, Beale Street, Graceland, Sun Studio, were all safe. As most who've traveled to these Memphis musical meccas will be able to attest, none were realistically in danger, despite what several news outlets reported.
Counties in Kentucky, Mississippi, and Tennessee, including Shelby County, which holds Memphis, were declared disaster zones by the President on Monday, which allows for federal resources and FEMA to aide in disaster recovery.
Further downstream, though, the age-old dangers of levee breaches and widespread flooding were still imminent as flood waters will continue to rise to unprecedented levels for at least a week. Countless acres of Mississippi and Arkansas delta farmland are either underwater, still in danger, or are facing inevitable flooding. Wheat and corn crops, just shy of ripe, are being destroyed as farmers scramble to create levees and save what crops they do have, and homeowners either struggle to save their belongings, or wait for the waters to recede so that they can survey the damage to their flooded homes and land.
Clarksdale, a blues tourism staple, appears to be safe from the waters. "Fortunately, it's business as usual in Clarksdale." says Roger Stolle, owner of Cathead Delta Blues and Folk Art Gallery in downtown Clarksdale. "We just had our Clarksdale Caravan Music Fest this past weekend, and everything is normal in the historic downtown. The Sunflower River is higher than normal but actually going down at this point. We are very lucky here." Further downstream, however, other blues sites are not so lucky, as Leland was forced to cancel it's annual Highway 61 festival in anticipation of potential flooding in the area. The floods in Mississippi are threatening levels of the Great Flood of 1927, arguably the worst in American history, though a series of levees built after that flood are serving to protect against the possibility of damage on 1927 levels. Memphis Minnie famously sang about the 1927 flood; her words still ring true:
If it keeps on rainin' levee's goin' to break
And the water gonna come in, have no place to stay
Well all last night I sat on the levee and moan
Well all last night I sat on the levee and moan
Thinkin' 'bout my baby and my happy home
Down river, Louisiana braces for the incoming surge of water. The Army Corps of Engineers opened a spillway some 30 miles upstream from New Orleans that diverts some of the Mississippi's wrath into Lake Pontchartrain and, ultimately, the Gulf of Mexico in an effort to ease pressure on New Orleans' many levees. This was only the tenth time that the spillway has been opened since it's construction in 1933, according to the Associated Press.
Still, preventative measures will not stop the flooding in much of rural Louisiana, as 21 parishes have issued emergency declarations, and the Corps warned that residents in seven parishes will receive five to twenty five feet of flooding in areas. On it's website, the Corps is not predicting New Orleans to be in danger of flooding.
To find more information on the flooding in regional areas, see the Army Corps of Engineers website