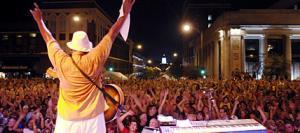 The 2011 Roots N' Blues N' BBQ festival, quickly becoming one of the most prominent festivals in the country, has recently announced it's lineup. Roots N' Blues, located in Columbia, Missouri, is being held September 9th and 10th. With past rosters including Buddy Guy, Derek Trucks and Susan Tedeschi, Tab Benoit, Dan Tyminski, Blind Boys of Alabama, Joanne Shaw Taylor, Ana Popovic, and many fine artists from the Music Maker Revue, it's easy to see why the festival has become such a celebrated success. Located in Columbia, at the heart of Missouri and home to the University of Missouri campus, the festival serves up the area's best Bar-B-Q and a prodigious blend of gospel, soul, bluegrass, and country, headed up by some of the world's greatest blues, including the roots giant Taj Mahal, back for his second time as headliner.
Roots N' Blues has gained some amount of notoriety for it's ability to predict and book early and emerging successes, as well as it's strength in bringing in some of the biggest headliners in the world. This year's profound predictions for soon-to-be widespread fame are Fitz and the Tantrums and Reverend Peyton's Big Damn Band, two very intuitive choices. Fitz and the Tantrums have recently made VH1's list of "Artists on the Rise", were recently reviewed highly in Rolling Stone, and made a popular appearance on The Tonight Show, among other incredible accomplishments for a band barely celebrating it's first birthday. Reverend Peyton is the bottleneck slide master roots artist who, fresh off 2009's Warped Tour and preparing for 2010's, has a live show and aura that is unmatched. The Big Damn Band consists of Peyton's wife on washboard, his distant cousin on drums, buckets, and various other percussion instruments, and the good Reverend on finger-picking, slide playing roots n blues guitar. Peyton has just announced the upcoming release of "Peyton on Patton", an album of entirely composed of Charley Patton songs.
Roots N' Blues is also a strong supporter of the Blues in the Schools program, a Blues Foundation accredited program that  uses the tradition of musical teaching to give students a fun and immersive way to learn through the effective use of blues music. This year, Roots N' Blues commissioned a two-story high mural to spread the word and increase community awareness about the BITS program.
2011's Roots N' Blues N' BBQ Initial Lineup is as follows
Taj Mahal
Dr. Ralph Stanley
Robert Cray
Fitz & the Tantrums
Robert Randolph and the Family Band
Mavis Staples
Sam Bush
The Flatlanders
Ana Popović
Music Maker Revue
Reverend Peyton's Big Damn Band
William Elliot Whitmore
Two-day tickets are currently available for only $35 on presale, which ends March 16th. Roots N' Blues also features a luxurious VIP ticket, or what it calls the Whole-Hog Pass. The pass includes special reserved up-front concert seating, private bar & lounge seating, massages, valet parking, and more.