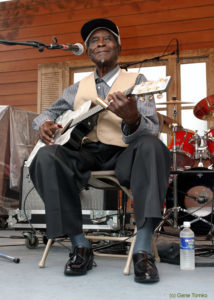 We have just received the word that the famous David "Honeyboy" Edwards, the now oldest living delta bluesman, is retiring.
Michael Frank, Honeyboy's long-time manager and friend from Earwig Records made this simple Facebook announcement:
"Honeyboy Edwards has retired, due to ongoing health issues. Send him a get well note to mfrank@earwigmusic.com"
Dick Waterman, the legendary photographer, has declared:
"Manager Michael Frank has made it official that Honeyboy Edwards is retiring. He is truly the last of the pre-war musicians and he brought authentic blues to thousands of fans who saw him over the years. Here's wishing him good health, long life and our thanks for both the music and the memories."
The American Blues Scene extends it's most heartfelt wishes to Honeyboy. In his ninety-six years as a bluesman, he has seen more of the unfolding of the modern world than many of us could ever hope to achieve, and through war, brutal racism, and an American landscape wrought with endless change, the Delta Blues master has spread a simple message of the human condition through music to countless adoring fans. Thank you, Honeyboy, for a vast lifetime's worth of amazing music.