Today marks the day, 34 years ago, that Elvis Presley passed away at the young age of 42. Presley was, in effect, the country's first great rockstar. He was also one of the country's most prominent tragic losses; a early rock victim to drugs — though there would be many others. But before Elvis' truly meteoric rise to international super-stardom, he was a young man from Tupelo, Mississippi, a town nestled deep in the heart of the Mississippi Delta, who only wanted to play the blues that he had listened to and fell in love with on the radio.
Elvis received his first guitar in 1946 for his eleventh birthday, and continued to avidly play. Despite bullying, rejections from bands & teachers, and what he described as an intense shyness, he continued to overcome and hone his craft. As a teenager, like so many other aspiring musicians at the time, including B.B. King & Arthur Crudup, Presley found himself drawn to the thriving blues scene that was developing around Beale Street in Memphis. The young man spent hours in record stores, emulating many of the country, gospel, and blues singers and players of the day. He was said to have spent some nights in the juke joints, and he recalled avidly listening to the "black" radio stations playing blues, during the era of still-rampant racism in the south. His apathy towards color boundaries became a defining characteristic, and along with his refusal to round out his music, opting to leave it rough and in the style of many black blues performers of the day, aided in breaking down racial barriers.
[pullquote]If I could find a white man who had the Negro sound and the Negro feel, I could make a billion dollars.
– Sam Phillips [/pullquote]Sun Studio is located in a relatively unusually shaped building on Union Avenue, in Memphis, Tennessee, just a jog away from Beale. today, a giant, yellow guitar hangs from the pinnacle of the building, and hundreds of tourists flock to the Rock n' Roll mecca every day to pay homage. In 1953, however, Sam Phillips, who owned the then-unassuming building and it's Sun Records label, was simply looking to develop any good talent that he found, and was constantly on the hunt for a particular kind of talent. "If I could find a white man who had the Negro sound and the Negro feel," said Phillips, "I could make a billion dollars." Blues, and any music made by African Americans, was still considered to be taboo for white people in the deeply segregated south. But Phillips was convinced that there was something special about the blues, and that all it would take to help break down that racial barrier was to give white people someone white that they would listen to, that did the same thing.
In August of that year, Phillips found what he would call the second greatest discovery of his life; Elvis Presley. Elvis walked into Sun Records asking to make a recording that he claimed was for his mother's birthday — though he almost certainly had a loftier goal of being discovered, since his mother's birthday was still 6 months away. He recorded two ballads and went on his way. Almost a year later, Phillips called Elvis back in to Sun Studio to play, as a try-out. The session was going poorly, as Elvis sang different songs from different genres. Finally, at the end of a frustrating day, Presley wildly launched into song, transforming into a jumping, dancing, guitar-playing force as he began playing the blues. He had launched into "That's All Right, Mama", an Arthur "Big Boy" Crudup song that he had long enjoyed on the radio. Phillips flipped the recorders on and had the first hit from a man that would shoot to international super-stardom like no other person in history had. Who was Sam Phillips' self-described greatest discovery, that "The King" of Rock n' Roll was second to? Howlin' Wolf.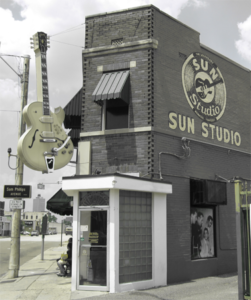 Before Presley's 21st birthday, Sam Phillips sold his contract for $35,000, which may seem paltry, but at the time, it was the most any record contract had ever sold for, by leaps and bounds. Soon, Elvis was gracing national televisions and radio stations with his unique blend of blues & country that came to be known first as Rockabilly, then as Rock n' Roll. Around the time he found Elvis, Sam also discovered Carl Perkins, Johnny Cash, Jerry Lee Lewis, and Howlin' Wolf, among a number of others. After he sold Presley's contract, Phillips never enjoyed the same musical success. However, he invested heavily in a start-up hotel business called Holiday Inn, which quickly netted him a fortune.
Elvis became a sensational hit, and after being drafted into the military for a modest hiatus, he went on to pop and film, enjoying commercial success and widespread fame on unprecedented levels. Towards the mid 1970s, the man had become deeply depressed, regularly taking copious amounts of painkillers, playing infrequently — often not lucidly, and staying mostly relegated to his bedroom. On the afternoon of August 16th, 1977, the day he was scheduled to go back on tour, Presley was found dead in his bathroom — the result of an overdose. His legacy has continued to live on for the decades after his passing, with hundreds of thousands visiting Graceland every year. This week was "Elvis Week" in Memphis, where tens of thousands of Elvis fans descend upon the city for an entire week of celebration. The remembrance culminates in a candlelight vigil the night before his death, where thousands of fans, with candles lit, walk up the drive to Graceland and back again in honor of "The King". Though Presley was wildly successful on a level never previously known, his successes came with a heavy toll, one that eventually became his undoing. But for a shy, young man from little Tupelo, Mississippi, who's first photo was of him visiting his dad in the notorious Parchman Farm, he stood as a bastion of success, simply by playing the blues.