This is the second of three reviews in a week-long series on new biographical books of delta blues men, written by Mike Rugel, who hosts the Uncensored History of the Blues for the Delta Blues Museum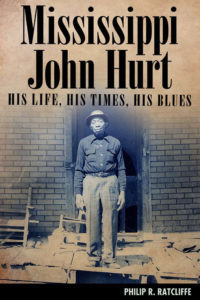 In Mississippi John Hurt: His Life, His Times, His Blues, British researcher Philip Ratcliffe deals with the lack of direct sources about John Hurt's early life by plunging into census records and information about Avalon, Mississippi and other towns where John Hurt and his ancestors lived. It's all valuable information and well-researched, but it's dry and often boring to read. Beaumont provides a lot of historical context that is appreciated, but at times it goes a little astray. A discussion of the 1927 flood describes an event of undeniable importance to the history of the blues, but the fairly long section ends with a statement that the flood probably didn't impact Hurt's life. At times it seems like filler to try and create a book-length study.
Like the other biographies, Hurt's later life is depicted in a far more interesting way. Ratcliffe collected plenty of great anecdotes about Hurt's life and music in the period after he was rediscovered by Tom Hoskins. In 1963, Hoskins was famously inspired to visit Avalon after a light bulb went off when hearing Hurt sing "Avalon's my hometown," on his record "Avalon blues."
Nearly everyone he came in contact with describes Hurt as gentle (an interesting contrast to Son House). Hurt still sounded remarkably similar in the 60s to when he recorded twelve songs at two sessions in 1928. He became the most popular of the rediscovered blues musicians on the coffeehouse/folk festival scene. He wasn't producing enough money to make anyone rich, but there was enough to produce conflict over contracts and gigs. It continued even after Hurt's death in 1966. The last section describes the infighting and legal battles between Hurt's handlers including Hoskins, Dick Waterman, and Dick Spottswood.
The book ends on an optimistic note, describing the founding of the Mississippi John Hurt Museum by his granddaughter which confirmed the important role of family that Beaumont had described in Hurt's life since his earliest year. Hurt's music ensured his legacy, but it's nice that the museum will help. Like the museum, these three books are all worthy tributes to great musicians that should help blues fans learn to appreciate them even more.