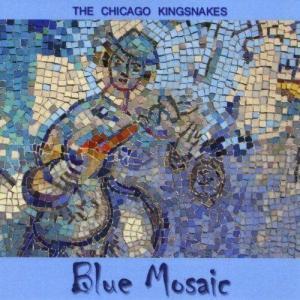 The Kingsnakes have been playing and touring for nearly 20 years. The musicians in the band come with a laundry list of credentials, from touring across the world with Little Milton and Junior Wells to Byther Smith and Jimmy Witherspoon. Their latest release, Blue Mosiac, is filled with twelve original tracks in their most comfortable setting; Chicago blues. The band is tight, with a top notch rhythm section and Nelson Keaton playing blues harmonica that dances in between the original lyrics sung by James "Ang" Anderson. Mike Bailey holds down the bass.
"Lefty" is a fun, upbeat song with a danceable and familiar groove. The last two tracks are two different takes of the same song, "Mary Jane" — one a haunting, hypnotic style acoustic jam with a finger picking guitar and harmonica as Anderson sings in veiled references. The electric version kicks up the pace with stinging electric and heavy snare drums, courtesy of Gus Gotsis,  for a danceable rhythm.
Overall, the songs are original and the music is easy to listen to. Fans of Chicago blues will enjoy the album and it's numerous references that will be instantly recognized by Chicagoans. There's nothing particularly ground breaking in the album; it's got a traditional sound that's well known and often played to blues fans. It is, however, simply good, easy to digest music. There are mixed influences in the album, from soul to R&B, but on Blue Mosiac, the Kingsnakes are largely doing what they've done best for nearly two decades: Chicago Blues.