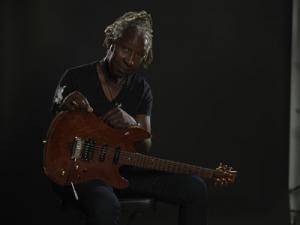 Eddie "Devil Boy" Turner is a blues guitarist who was born in Cuba, and raised in Chicago, Ill. He currently lives in Denver, CO. A past member of the Otis Taylor band, having made five albums with Mr. Taylor, he also held membership with Tracy Nelson's 'Mother Earth', as well as being a guitarist for the Colorado based 'Zephyr' band. After playing with Taylor, Turner was signed with the Northern Blues Music label. Turner has released three albums; in 2005 Rise; 2006 The Turner Diaries; and 2010 Miracles & Demons. In 2006 he was listed as a nominee among the 'Best New Artist Debut Album' by The Blues Foundation.
Turner now performs with his own band, as singer/songwriter/guitarist. He was the winner of the 6th annual Independent Music Awards Vox Pop vote for best Blues Album, The Turner Diaries. His song "Mr. Blues", was nominated for the 8th annual Independent Music Awards Blues Song of the Year. In January 2011, his song "Miracles and Demons II", was nominated for The 10th Annual Independent Music Awards. He is currently a Nominee 2011 Blues Blast Music Awards in "Best Contemporary Blues CD" for his 2010 release, Miracles & Demons.
Eddie Turner does not so much as play his instrument, (he studied piano as a youngster), as he coaxes it to glide over the notes and fill the air with an otherworldly mystic. Yes, he certainly plays the blues — but with the chording of a jazz feel. The textures of any one of his songs, "Dangerous", "I'm A Man", "Wind Called Mary", "Mr. Blues" ,"Booty Bumpin", "So Many Roads", along with others, or his instrumental "Stratus" are all presented with such easy charm that the audience cannot help but be drawn under the spell of this progressive 'in-the-moment' musician. He has often said that each performance is different, depending on the mood of both player and audience. "If you want to hear my records, fine, buy them, take them home. I believe in giving my fans something more, something special, each time they come and see me. That way, they are never bored and neither am I."
Creating musical experiences has been at the forefront of Turner's art for decades. Even when he took up another career, this one in Denver real estate, he continued to play. He found that after more than twenty years as an agent he missed the interaction, as well as weaving his magic ways in the recording studio.
On his three albums there has been a tight collaboration with his musical counterpart, the talented bassist/keyboardist Kenny Passarelli, of Joe Walsh, Hall & Oates, Elton John, Brain Wilson fame. Yes, Passarelli has toured extensively with all these star acts, and more. Because of the unique gifts both these players bring to the studio, the end products set benchmarks. This is why Eddie Turner continues to satisfy the most discriminating of listeners. With every play of a tune, with every live presentation, you get to hear and experience far more than you had ever hoped to expect.