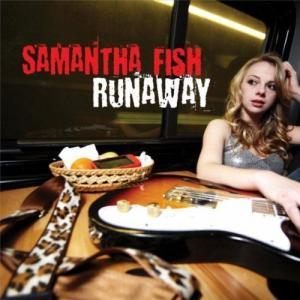 Samantha Fish is a relatively young newcomer in the world of blues. Hailing from Kansas City at 22 years old, her new album Runaway is surely a sign of more good things to come. Exciting blues rocker Mike Zito, also from Missouri, produced the album, and plays a righteous duet with Fish on "Push comes to Shove". The album sports ten tracks, 9 original, and snakes across various styles of solidly guitar-driven blues, from jumoin' boogie to swampy blues.
The first track starts with a menacing bass line and blows into a screaming slide guitar before Samantha dives into a gritty, rockin', guitar-heavy blues number that formidably sets the pace for the rest of the album. "Feelin' Alright" is a slow and sultry jazz number that feels slightly out of place, but is a good vehicle for showing her diversity. The notable "Louisiana Rain" is packed with soul and emotion. The slide guitar and skilled lyrics paint a vibrant picture of gulf coast blues. It's a standout track in an overall strong album. The aforementioned "Push Comes to Shove", a duet between Mike Zito and Fish is an excellent duet with a catchy groove and a groove that can easily be stuck in your head.
Fish is an excellent guitar player who sports fun to listen to licks and is developing a creative style that's all her own. While vocally, there are some softer points, the music on Runaway is overall exciting and fresh. We will be looking forward to Fish's career in the blues, where extremely talented women have continued to deservedly take top spots in recent years.