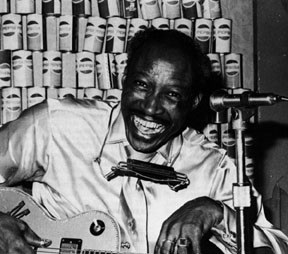 We're celebrating a birthday today — that of the vastly influential guitarist and harmonica legend Jimmy Reed, who was born September 6th, 1925. This day is an excellent opportunity to reflect on the amazing music and rocky life of a blues legend. Indeed, Jimmy Reed's contributions to the development of rock and blues have helped to shape modern music as we know it.
Reed was nearly a perfect archetype of a blues man in the post-war era. Born in the rural Mississippi Delta, he learned to play guitar in the delta style from close friend Eddie Taylor. He made his way north to Chicago and then Gary, Indiana, where he switched from the acoustic to the electric, at a time when the public's hunger for electric blues was just beginning to hit it's stride. In Indiana, his popularity as a performer grew, and he was signed for a recording contract with the storied and famous Vee-Jay Records thanks, interestingly enough, to the efforts of Albert King. At the time, King  was acting as a drummer for John Brim's Gary Kings band, and would later go on to massive successes at Stax Records.
Reed's style was distinctive; he often played droning chords that were deceptive in their illusive simplicity.  the Rolling Stones' Keith Richards lamented in his recent memoir that Reed's chords were "(a) the laziest, sloppiest single thing you can do in that situation, and (b) one of the most brillaint musician inventions of all time." It's well known that Reed's electric work has a profound impact on the development of arguably the most famous band on the planet; the Rolling Stones. Much early Stones material included covers of Reed's music.
As prolific as Jimmy Reed's music was, he was well known as a ardent alcoholic. Stories of Jimmy's alcohol-induced antics have been around almost as long as his music. His wife, "Mama" reed, would often have to sit beside him when he recorded and whisper him the lines, as he was either too drunk or too forgetful to know them. Thus, she can occasionally be heard speaking his lines to him in a number of recordings. To keep him on beat, she also be heard singing his lines to/with him on two of his biggest hits. In several other tracks, Jimmy occasionally sings something to the effect of "Sing me the line, Mama!", lyrically asking for a prompt.
His penchant for alcohol aided in the diminishing of his reputation. At one live show, he was said to have managed to play a single chord just before throwing up all over the front row. According to the book All Music Guide to the Blues, back stage at the Apollo Theater, Reed urinated on a top-billed performer's dress — a story often told in conjunction with conversations about Reed. During several shows, he would start the set sober, but somehow seem to become more drunk as the show progressed, despite never having visibly picked up a whiskey bottle. Instead, he hid the bottle in a jacket pocket, with a long tube running from the bottle to an apparatus on his harmonica rig that he could sip from discreetly.
Despite these sometimes debilitating issues, Reed still accomplished dozens of hits, his biggest coming from his Vee-Jay era. Reed's third single,  "You Don't Have To Go", would be his big breakthrough, reaching number five on the Billboard charts. That track was followed by a string of similar successes, including "Big Boss Man", "Take Out Some Insurance",  "Baby What You Want Me To Do", and "Bright Lights, Big City", among numerous other hits he would enjoy. Nearly all were played in his seemingly sloppy, droning electric guitar-with-harmonica accompaniment, a formula that proved it's widespread appeal time and again.
Reed had Epilepsy, which began manifesting in the late 1950s, but because of his rampant alcoholism, was mis-diagnosed for a significant period of time as DTs — tremors commonly associated with alcoholics. Vee-Jay Records filed for bankruptcy in 1966, and Reed signed with the LA-based ABC-Bluesway label. There he released several albums which were poorly received. Jimmy never again accomplished the former glory of his Vee-Jay days, and on August 29th, 1976, he passed away in Oakland, California.
Jimmy's hit tracks rapidly became blues standards that continue to be widely popular and re-recorded to this day. His unique sound was broadly influential, being covered by the Rolling Stones, Elvis Presley, Buddy Guy, B.B. King, the Grateful Dead, The Yardbirds, Tom Petty,  and dozens of other popular rock acts. He was inducted into the Blues Hall of Fame in 1980, and in 1991, Reed was posthumously inducted into the Rock and roll Hall of Fame for his many accomplishments in the development of modern music. His distinctive, one of a kind style had a reach and appeal that has continued to thrill and influence listeners worldwide.