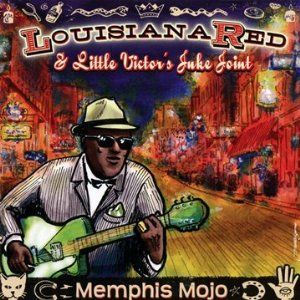 Louisiana Red, a multi-Blues Music Award and W.C. Handy Award-winning artist, has recently released his energetic new album "Memphis Mojo" with Little Victor's Juke Joint. The album, a shining display of true down-home style, simply simmers with the kind of gritty, energy-soaked blues that stirs the soul. For those that haven't had the extreme pleasure of finding themselves in a southern juke joint or delta blues bar, this album is an example of what your life's been missing. Red and company effortlessly float between a slow droning number and searing harmonica fused with mean, mean licks.
Louisiana Red's vocals can, at times, instill an almost desperate cry. That desperation makes a stirring rendition of "See That My Grave Is Kept Clean", as he sings a mourning traditional blues number about the singer's impending passing as slide guitar, while relatively brief, scorches out licks over skilled, heavy percussion. "I'm Getting Tired" calls up the ghost of R.L. Burnside and throws in a little Odell Harris with Red's trademark twist. "So Long, So Long" has a throwback feel to the bluesmen that came from Clarksdale, Mississippi in the heyday of the blues. L.R. manages to bring it full-circle by slipping the new Clarksdale blues legends, Big Jack Johnson and Super Chikan Johnson, into lyric.
The distinctly appealing echo the reverberates from the vocals and instruments on some tracks will make the listener feel like they're sitting at a bar deep in the delta while Red and company play their hearts out. It's perfectly clear where Red's influences come from, throwing down an occasional Howlin' Wolf howl, Muddy slide, and John Lee Hooker drone. But L.R. uniquely makes it his own, a feat that is far more challenging than one would think. There's a track for everyone on the album, and all are excellent.