LOS ANGELES (AP) —  Johnny Otis, the "godfather of rhythm and blues" who wrote and recorded the R&B classic "Willie and the Hand Jive" and for decades evangelized black music to white audiences as a bandleader and radio host, has died. He was 90.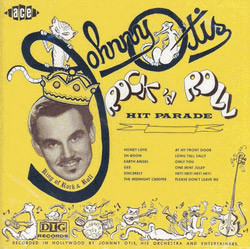 Otis, who had been in poor health for several years, died at his home in the Los Angeles foothill suburb of Altadena on Tuesday, said his manager, Terry Gould.
Otis, who was white, was born John Veliotes to Greek immigrants and grew up in a black section of Berkeley, where he said he identified far more with black culture than his own. As a teenager, he changed his name because he thought Johnny Otis sounded more black.
"As a kid, I decided that if our society dictated that one had to be black or white, I would be black," he once explained.
His musical tastes clearly reflected that adopted culture and even after he became famous, his dark skin and hair often led audiences and club promoters to assume he was black like his band mates.
Otis was leading his own band in 1945 when he scored his first big hit, "Harlem Nocturne." In 1950, 10 of his songs made Billboard Magazine's R&B chart. His "Willie and the Hand Jive" sold more than 1.5 million copies and was covered years later by Eric Clapton.
He later wrote "Every Beat of My Heart," which was a hit for Gladys Knight & the Pips.
But the influence of Otis was felt most through his ability to recognize and promote talent. He wove into his bands such diverse and legendary R&B vocalists as Etta James, Hank Ballard, Big Mama Thornton and The Robins, the latter a group that would evolve into the Coasters.
He produced Thornton's original recording of "Hound Dog," a song that would later become an even bigger hit for Elvis Presley.
"His band shows a different style on pretty much every new recording," said Piero Scaruffi, author of "A History of Rock Music, 1951-2000." "The reason is that Otis did not force his personality on others but worked with the personality of the others. He may not have been a great composer or performer himself, but he was an impressive conductor."
Otis launched his professional music career as an 18-year-old drummer for bawdy barrelhouse pianist Count Otis Matthews, although he had never played the drums until then.
Matthews instructed him to simply pound out the syncopated "shave and a haircut, six bits" beat that would become the backbone of early rock 'n' roll. His mastery of it soon proved his ticket to other bands and eventually to headlining his own group.
Otis saw himself as curator of black popular music, which for him represented much more than a diversion or livelihood. His cross-country R&B reviews and his radio and television appearances were dedicated to delivering black music to white audiences.
"The music isn't just the notes, it's the culture — the way grandma cooked, the way grandpa told stories, the way the kids walked and talked," he once said.
While he always returned to playing music, in later years touring with his sons Shuggie and Nicky, Otis' eclectic interests also included politics, art and organic food.
He worked for years as deputy chief of staff to state Assemblyman Mervyn Dymally when Dymally served in the Assembly, state Senate, as lieutenant governor and as a congressman.
In later years, Otis spent much of his time painting and sculpting. He also opened an organic grocery store in Sebastopol in the early 1990s to sell his son Nicky's vegetables, decorating the store with his own colorful murals.
Although he had little success selling groceries, he did draw large crowds to the market every Friday and Saturday night when he performed there with his band.
"It was a smashing success," Gould said. "You had to make reservations three weeks ahead. It was amazing."
Otis also had a regular show playing records on the nonprofit Pacifica Radio Network's stations until failing health prompted him to retire in 2005.
In addition to his sons, Otis is survived by his wife, Phyllis, whom he married in 1941; daughters Janet and Laura; and several grandchildren.