Piano great Omar Shariff died on January 8th of an apparently self-inflicted gunshot wound. He reportedly had been living in severe pain from cardiac and circulation problems. Shariff had recently relocated back to his hometown of Marshall, Texas after several decades on the West Coast. His Texas blues roots could be heard in everything he played. Marshall bills itself as the birthplace of  boogie-woogie piano and Shariff had returned to become an artist-in-residence and the town's musical ambassador.
Shariff was equally adept at playing jazz and R&B. He was the type of musician that could sit in with absolutely any band or play solo without losing a thing.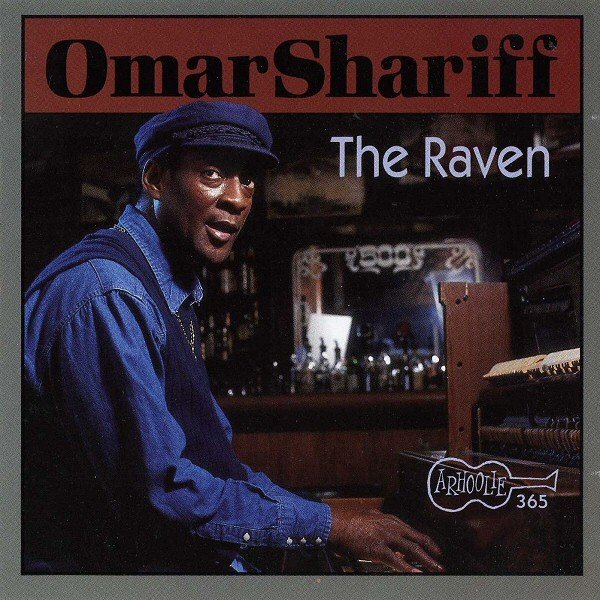 He started recording blues music in 1969, initially performing under his birth name–Dave Alexander. Alexander was the pianist in L.C. "Good Rockin'" Robinson's band in the late 60s and early 70s. He also recorded two albums for Arhoolie Records under that name in the early 70s. He first recorded under the name Omar Shariff for Arhoolie in 1991 when he made his classic album The Raven. Shariff recorded three very good albums for Have Mercy Records between 1993 and 2000. A complete discography can be found at Stefan Wirz' site.
It was hearing the album The Raven, that turned me on to his music. The title track is simply one of the most haunting and beautiful blues I've ever heard. The vocal intensity is almost overwhelming on a close listening. The song evokes loneliness and abandonment in an incredibly powerful way all rapped around a fear of death. It uses Beethoven's Moonlight Sonata, but it's a unique recording that's pure blues. It will be a lasting monument to Shariff's immense talent.
Shariff lived in a variety of California cities since the 1960s. He was based in Sacramento since leaving San Francisco in the 1993. He complained bitterly about the city in his song "Seven Years of Torture" on his 2000 album Black Widow Spider. "It's been seven years of torture in this town of fruit pickers and rednecks. This a funky little town where people like to deal from the bottom of the deck." It's just one example of many where Shariff would express his dissatisfaction in song.
The one time I made it to Sacramento, I caught Shariff playing a rather odd gig at a place called Jazzmen's Art of Pasta. The restaurant had a stage, but Shariff wasn't on it. He was alone behind a keyboard in the dining area providing background music for hungry spaghetti eaters. I heard about a 90-minute set where Shariff played without breaks, each song seamlessly segueing into the next. There were classic R&B and pop hits, but everything had a blues feel. I probably wasn't the only one who had his ears open while my face was in the pasta bowl. Those of us that were paying attention got to hear an absolutely stellar musician in total command of his instrument.
Those types of engagements helped Shariff make a living, but there were better and higher profile gigs too. Theses includes the Ann Arbor Blues Festival, the Fillmore West, and opening for The Band at The Last Waltz. He was a regular at the San Francisco Blues Festival. Unfortunately, like many bluesmen, Shariff was never able to break through to achieve the kind of recognition his talent deserved. But he's left a legacy of great music.
The memorial service for Omar Sharriff will be Saturday, January 14 at 1 pm at the Marshall Convention Center, followed by interment at Algoma Cemetery.