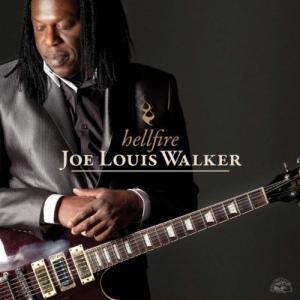 Joe Louis Walker is the mighty guitarist from the west-coast who has brought home 4 Blues Music Awards, including Album of the Year, been nominated for nearly fifty, made the cover of Blues Revue magazine, been featured in the New York Times, and continues to win fans as he tours the globe. Hellfire, due to be released Tuesday, is Walker's first release from his recent collaboration with Alligator Records, and it is a powerhouse album with stirring energy & wild licks. Walker's vocals simply burst with enthusiasm as he clearly and emphatically puts his whole soul into every track.
"Soldier for Jesus" is packed with rip roarin', stinging gospel in guitar riffs that are fraught with the kinds of hellfire energy that are usually reserved for southern baptist ministers during revival season.  "Ride All Night" starts out with a commanding introduction reminiscent of the Rolling Stones and screams into captivating vocals and infectious overdriven guitar. The backing vocals & harmony are a perfect addition to the rockin' tune. "Black Girls" is soul as only Walker can define it — with vocals that demand attention, guitar that is second to none, and energetic backup vocals and harmonies. "Got to have those black girls to put the soul back up in your song!" he wails!
Grammy-winning songwriter & producer Tom Hambridge, who worked on Buddy Guy's last two releases, produced the album. It's quite easy to see why Walker is collecting awards and playing into the hearts and minds of blues fans everywhere — It's only January and Hellfire is almost certain to rank among the best albums of the year.