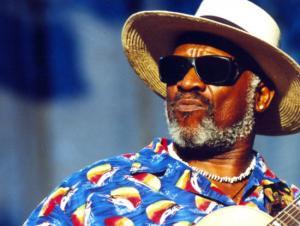 Composer, multi-instrumentalist and vocalist Taj Mahal is one of the most prominent and influential figures in blues and roots music. His style represents virtually every corner of the globe – West Africa, the Caribbean, Latin America, Europe, and more. Taj Mahal's best known hits include the studio and live albums Dancing the Blues, Phantom Blues, An Evening of Acoustic Music and the Grammy® Award-winning Señor Blues. The Taj Mahal Trio will bring their lush style in concert to The Ridgefield Playhouse on Thursday, March 1, at 8 p.m. This event is part of the Doyle Coffin Architecture Singer/Songwriter Series.
In his almost 50-year career, singer-songwriter Mahal has done much to reshape the scope of blues fusing it with other sounds from around the globe. A student of the world, his stage name "Taj Mahal" came to him while he was dreaming about Gandhi, India and social intolerance. His trio includes Kester Smith on drums and Bill Rich on bass while Taj sings and plays guitar, keyboard and banjo.
For tickets ($65), call or visit the box office at The Ridgefield Playhouse, (203) 438-5795. The Ridgefield Playhouse is a not-for-profit performing arts center located at 80 East Ridge, parallel to Main Street, Ridgefield, CT; ridgefieldplayhouse.org.