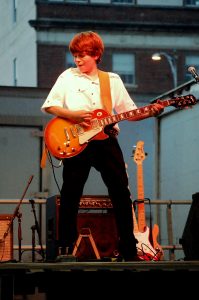 From Gibson Guitar:
Matthew Davidson, a 13-year-old blues and rock guitarist, who the American Blues Scene interviewed back in May, has won the 2011 Robert Johnson New Generation Award! The Shreveport Times reported that Davidson, who is from Shreveport, Louisiana, was chosen from among 25 artists by the Robert Johnson Blues Foundation.
As the winner, the guitarist and singer was given a Gibson Robert Johnson L-1 guitar, along with the opportunity to perform at a future foundation event.
"His style was kind of advanced for his age," said Steven Johnson, Robert's grandson and vice president of the foundation. "It was crisp; it was professional. His style with that electric guitar was amazing."
After winning, Davidson expressed appreciation for the legendary bluesman, and discussed his musical influences, including The Beatles, ZZ Top and Chuck Berry.
"I've always been a huge fan of The Beatles," he said. "In the past couple of years, I've started getting into the blues, and that's been great for me because I've gotten so many opportunities and honors in the blues world. But I still like classic rock and some pop."
Davidson performs with The Matthew Davidson Band and is scheduled to play the New Orleans Jazz Fest in May. For more information on this young star, visit MatthewDavidson.net.