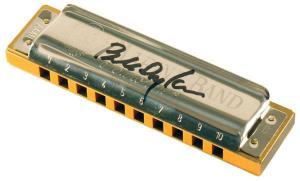 Over the course of the history of the harmonica there have been hundreds of manufacturers, and very likely many early players tried one brand or another. Hohner, however, came to be the most prominent of all of them. In 1857 the company's founder, Matthias Hohner, began producing harmonicas. He was not the inventor, but he was an able entrepreneur with the ability to create fine instruments that produced a pleasing sound and were of high quality. In addition, having solid business acumen, Hohner was able to promote and sell his instrument widely. When he created the Marine Band model, he was hoping to capitalize on the popularity of John Philip Sousa's marching band. How could he have ever guessed the consequences of his actions?
In 1896, after nearly forty years of producing various types and styles of harmonicas, Hohner introduced Model 1896, the Marine Band. The Marine Band is a 10-hole diatonic harmonica. Adorning its top and bottom are shiny cover plates made of sheet metal, originally nickel-plated brass, now stainless steel. Beneath the cover plates lie brass reed plates slotted for ten reeds on each plate, two for each hole. The reed plates are fastened with nails to a pear wood comb, changed from the original peach wood at some point in its history. The reeds are arranged to play an eight-tone scale similar to that of the white keys on a piano. The arrangement of the notes allows for ready playing of what were then popular Western and European diatonic melodies. Further evidence of the instrument's original intent comes from the name Marine Band. After an early model name of "Marine Orchestra" Hohner renamed his creation the Marine Band, gaining visibility from public favor for Sousa's band. He even talked Sousa into endorsing the product to increase sales. (Note earlier mention of Hohner's business savvy!)
Though it seems unlikely that Sousa ever tried to bend a note, it did not take long for other musicians to realize there were more notes to be had than the prepared layout offered from the Hohner plant in Trossingen, Germany. Diligent players realized that careful lip, mouth and breath control of the "mouth organ" could be used to bend reeds, achieving additional notes and sounds. Further manipulation of the tongue and breath could produce all manner of sounds from what was a seemingly simple instrument. Adding in vocal whoops, hollers and other effects made for a full performance by one person.
Always reliable and of great tone, the Marine Band has remained a standard in blues harmonica. Untold countless early recordings were produced using Hohner's able instrument. The list of blues players who do use or have at one time used the Marine Band to produce raspy squawks, smooth vibrato, rhythmic chugs and sweet melodies is so lengthy as to make it impossible to compose a complete list. Hitting only a very few of the high spots provides blues fans with outstanding performers such as Sonny Terry, Walter Horton, Rice Miller/Sonny Boy Williamson, Paul Butterfield, Gary Primich, Little Walter, Peg Leg Sam, Jimmy Reed, Kim Wilson and James Cotton. Investigate recordings by any of these players as a stellar introduction to what one person can do with a tiny sandwich of wood, brass and steel. It may not have been M. Hohner's original intent, but it's nothing short of outstanding.
For additional reading of a variety of harmonica players, see "Harps, Harmonicas and Heavy Breathers" by Kim Field. For an exhaustive history of the Marine Band itself, consider visiting Pat Missin's site at www.patmissin.com.