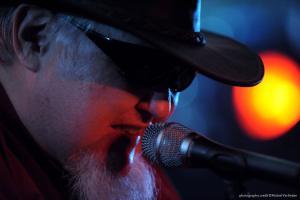 Just a month after spinal fusion surgery, New Orleans legend Bryan Lee wants his fans to know that the procedure was a success and how very grateful he is to everyone who bestowed him and his wife Bethany with their prayers, gifts, and financial support. The performer, co-winner of the 2011 Blues Music Award for Rock Blues Album of the Year, expects to be back on his beloved Bourbon Street in early March feeling better than he has in years. The 68-year-old Lee is also eagerly anticipating the June release of his first recording on Severn Records, the winner of a 2012 Keeping the Blues Alive Award.
Lee, who lost his sight as a young child, was evacuating from New Orleans the day before Hurricane Katrina hit in 2005 when he stumbled over a speed bump and fell hard on his posterior. "It felt like I destroyed everything right up to the top of my head," he recalls. "My bass player was like, 'We've got to get out of here. Let's get in the truck and go.' I couldn't get to a doctor for two months." Initially told that the damage was irreparable, he found sporadic relief in enormously expensive steroid injections whose effectiveness finally wore off.  Lee resigned himself to what he thought was a future of excruciating pain. "Good Lord," he thought. "I accept whatever you have in store for me. Only my faith is going to get me through this."
Lee was delighted when he was finally referred to Dr. Joseph Zavatsky a surgeon who offered him some hope for relief through a minimally-invasive procedure. After a thorough examination, Lee told the surgeon, "I can tell from being here with you for this hour that you really love what you do. I said, 'I love what I do; I make people happy with what I do. It's a gift that God gave me. I love to share my gift. God gave you a gift.' He said, 'Yes, it is a gift. I can't wait to get up every morning and go to work and try to fix people. I don't always win but I try my very best.'" With that, Lee was convinced he had found the right surgeon and scheduled the procedure for January 12, 2012.
Finding the doctor was just part of the challenge facing Lee and his wife, though. Bethany had given up her teaching career in order to become her husband's manager, so the prospect of both of them being out of work for months was terrifying. "We're lucky that the blues community is just a terrific community. They stick together, they help their own," Lee says. "When we put the word out that I was going to have to have this surgery, and that I would probably be out of work for two months, a lot of people got together, and not just here in the States with the various blues society – even over in Europe. They all came through for us."
Lee is eager to credit the Jazz Foundation, MusiCares Foundation, and the Actors Fund as organizations which provided financial support. Miro and the members of the MusicStar made and sold DVDs of a performance Lee had done at Wolfgangs, a venue near Hamburg, Germany. The ChaBah and Mehlsack venues in the Black Forest of southwestern Germany held fundraisers, as did Reverend Raven and Craig Panosh from the Lees' home state of Wisconsin.  Steve Jones of the Illinois Crossroads Blues Society will be holding a benefit soon.
Jay Sieleman of the Blues Foundation and Bill Wax from Sirius/XM satellite radio both were instrumental in identifying resources available for assistance. Kathy Richard, Louisiana Economic Cultural Foundation, was also very helpful in identifying programs available. Employees at Buddy Guy's Legends in Chicago graciously passed the bucket on Lee's behalf to collect contributions during the month of January.
In addition to the prospect of getting back onstage soon, Lee is thrilled to have recently signed a contract with David Earl's Severn Records of Annapolis, Maryland. Lee says that his new CD, Straight to Your Heart, will hold some soulful surprises for his fans. "I think some people will be shocked," he hints. "I give David Earl all the credit in the world. He has a way to push your buttons and come up with something out of the blue. It's an interesting album, I'll tell you that! None of my albums were boring, but this one is really different."
Anyone interested in providing financial assistance to Bryan Lee may do so via his PayPal account, BrailleBluesDaddy@yahoo.com, or by mail to Brian Kumbalek, P.O. Box 9453, Metairie, LA 70055.