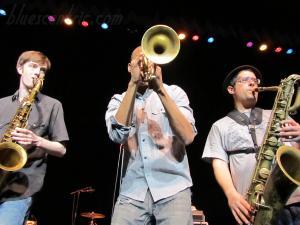 The First Annual Nolafunk Jazzfest Series, produced by Creative Entertainment Group (CEG), will take place April 27 – May 5, 2012, during the evenings of the New Orleans Jazz & Heritage Festival. Veterans of the frenzied, no-holds-barred music scene that descends upon New Orleans after dark, New York City-based event promoters CEG co-produced the Backbeat Jazzfest Series from 2008 – 2011, booking such luminaries as Trombone Shorty & Orleans Avenue, Medeski Martin & Wood, Aaron Neville, Punch Brothers, Booker T, Ghostland Observatory, The Radiators, Gene Ween, and many more.
Under the Nolafunk moniker, CEG honors the musical heroes and spirit of New Orleans in New York City all year round, producing concerts in the Big Apple featuring many of the Big Easy's finest musicians, such as Dr. John, Kermit Ruffins, Big Sam's Funky Nation, Bonerama, Eric Lindell, George Porter Jr., Jon Cleary, Soul Rebels, and many more. In addition, CEG amasses all-star Nola-centric lineups for both the annual Nolafunk Mardi Gras Ball and the annual Nolafunk Summer Jazzfest.
The First Annual Nolafunk Jazzfest Series Inaugural Event will launch at Republic on Friday, April 27 with a lineup that pulls out all the stops. During the second weekend of last year's Jazz Fest, Anders Osborne and his band, the Grateful Dead's Bill Kreutzmann, Little Feat's Paul Barrere and Fred Tackett, and Billy Iuso took the stage at The Temple for the first time ever together with not even one note of rehearsal. What ensued was the stuff of legend– three hours of Grateful Dead, Little Feat, and Anders Osborne tunes alongside a bevy of thrilling covers. Many in the sold-out crowd hailed it as the best show of Jazz Fest in 2011. Nolafunk will revive this band for one night only, inviting long-time Nolafunk friend Marco Benevento and his band to open the festivities and newer Nolafunk friends ALOto close out the evening.
On Friday, May 4, Republic will play host to Bill Kreutzmann and his Nola-based bandmates in 7 Walkers. The hot new Royal Southern Brotherhood, featuring Cyril Neville and Devon Allman, will open the show, placing a member of the Grateful Dead, a Neville, and an Allman on one jam-packed bill. In addition, Zion Rock Godchaux (son of former Grateful Dead members Keith & Donna Godchaux) will close out the night with his underground electronica-meets-psychedelic rock band BoomBox.
The Nolafunk Jazzfest Series also includes an eagerly-awaited rare appearance of poly-ethnic Cajun "slamgrass" progenitors Leftover Salmon; a Jazzfest return of Latin rock titans Los Lobos; a rare late-night appearance featuring very recent Grammy Award winners Rebirth Brass Band; plus Anders Osborne & special guests along with annual fan-favorite Tab Benoit's "Swampland Jam"; and much more.
All shows in the initial lineup will take place at Republic, apart from one show at the Howlin' Wolf on April 28 with Leftover Salmon, 7 Walkers, and Anders Osborne.
All Republic shows go on sale Friday February 17 at noon EST at www.nolafunk.com/nola, Ticketweb.com, and (866) 468-7619. Leftover Salmon, 7 Walkers, and Anders Osborne at the Howlin' Wolf on April 28 is on-sale now.
As is tradition with Nolafunk's prior shows in New Orleans as part of the Backbeat Jazzfest Series, all Republic shows will be non-smoking.
Show information and tickets can be found at the series' website, www.nolafunk.com/nola.
First Annual Nolafunk Jazzfest Series Initial Lineup 2012
9pm Doors 10pm Start on All Shows unless otherwise noted
Friday Apr 27 // Republic New Orleans, LA
First Annual Nolafunk Jazzfest Series Inaugural Event!
Anders Osborne, Bill Kreutzmann of the Grateful Dead, Paul Barrere & Fred Tackett of Little Feat, and Billy Iuso
followed by ALO
plus opening act Marco Benevento
$35adv – $40dos
Saturday Apr 28 // Republic New Orleans, LA
Los Lobos w/ special guests tba
$39adv – $45dos
Saturday Apr 28 // Republic New Orleans, LA 1:30am Doors 2am Show (Technically on 4/29)
Grammy Award Winners
Rebirth Brass Band w/ special guests
$20adv – $25dos
Saturday Apr 28 // Howlin' Wolf New Orleans, LA
In Association With Soul'd Out Productions
On Sale Now At www.thehowlinwolf.com
Leftover Salmon plus 7 Walkers feat. Bill Kreutzmann of the Grateful Dead and
Anders Osborne
$35adv – $40dos
Thursday May 3 // Republic New Orleans, LA
EOTO
w/ special guests Kraddy
and Wyllys & the NY Hustler Ensemble feat. Jen Hartswick & Natalie Cressman of Trey Anastasio Band
$22adv – $25dos
Friday May 4 // Republic New Orleans, LA
7 Walkers feat. Bill Kreutzmann of the Grateful Dead
followed by BoomBox feat. Zion Godchaux
plus opening act Royal Southern Brotherhood (Cyril Neville, Devon Allman, Mike Zito, Yonrico Scott)
$30adv – $35dos
Friday May 4 // Republic New Orleans, LA 1:30am Doors 2:00am Show (Technically on 5/5)
BoomBox Only ticket (These Tickets Will Not Be Accepted Until 1:30am)
$20adv – $25dos
Saturday May 5 // Republic New Orleans, LA
Anders Osborne & Special Guests
Tab Benoit's "Swampland Jam"
More tba
$32adv – $35dos