Here's how my night went.  I checked the mail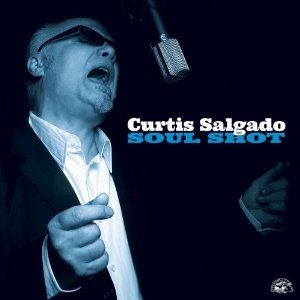 just as I was walking out the door to head to dinner.  In the mailbox was the latest release from Alligator Records and the great Curtis Salgado. Honestly, I almost skipped dinner so I could listen to it but I was starving and I figured Curtis wouldn't want me making that kind of sacrifice.  So Soul Shot had to wait for a few hours. It was worth the wait.
There is so much good stuff on here I don't even know where to start. To begin with,  while I was listening to the CD I decided to text Curtis (yes, he's a texter). I just told him how awesome I thought Soul Shot was.  A consummate gentleman always, Salgado texted back "Thank You, that means a lot, I work my ass off to get this right, so again, thank you".
With  Soul Shot, his Alligator Records debut, Curtis is poised to reach the largest audience of his career and no one deserves it more than he.
It's clear that picking a favorite or a stand out track on Soul Shot is going to be extremely difficult.  One song just flows into the next, fluidly and seamlessly. Tracks one through eleven deliver some of the most soulful sounds on the planet today.  The production behind this latest release is absolutely flawless, Salgado and Marlon McClain co-produced it and damn these guys work well together. "I wanted to make a soul record that you can listen to and dance to," says Salgado. On that note, this is Salgado's version of R&B at it's very best, from any time period and trust me Soul Shot will speak to any generation of Soul, Funk, Blues or R&B faithful. Curtis and crew also mix in his brilliant originals with a few songs by George Clinton, Bobby Womack, Johnny "Guitar" Watson and Otis Redding. Curtis once again proves that he is one of the most talented singers in the business as he shapes note after fantastic note.
Everything else was so good I  didn't even mention Curtis's  killer Chicago Saxophone work.  Well after all it is Salgado and I guess that just goes with out saying.
This is the best work Salgado's ever done and that is saying something. This will most definitely be an instant classic and this is a CD that needs to be listened to from front to back.
Soul Shot will be available for purchase on April 10th from Alligator Records.