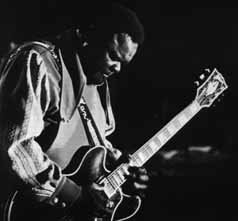 Freddie King, one of the titans of Blues and a Rock n' Roll pioneer, will be inducted into the Rock & Roll Hall of Fame in Cleveland this weekend by two members of ZZ Top, who have long professed King's influence on their music and existence.
Born in Texas, the influential blues master learned guitar as a child and later cut his teeth in clubs on Chicago's south side. Signing to Federal Records, he quickly released a stream of hits for which he is still most well known, including "Have You Ever Loved a Woman", "You've Got to Love Her With a Feeling", and his still-popular instrumental hit "Hideaway", which reached into the R&B top ten. He earned the name "The Texas Cannonball" for his attacking guitar style and his unique combination of vocal/guitar creativity.
In 1976, King passed away at 42 years old after a rigorous, long-term touring schedule.
King helped shape the modern face of Texas Blues and Rock guitar, including for Stevie Ray Vaughan, ZZ Top, and many others. In 1993, the Governor of Texas declared September 3rd Freddie King Day.
King will be the only entry posthumously inducted this year as an "early influence". Billy Gibbons and Dusty Hill will be doing the honors at this weekend's ceremony. Freddie will be among exclusive company in the Early Influence category, which includes Howlin' Wolf, Robert Johnson, Jelly Roll Morton, Willie Dixon, Lead Belly, and fellow Texas rock pioneer T-Bone Walker.