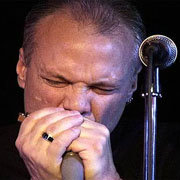 If you've never had the opportunity to catch Curtis Salgado play live, you're missing out on one the most energetic and entertaining performers in the music world. Playing before a packed house at Seattle's classiest blues club, Jazz Alley, Salgado brought his "A" game. Backed by a full stage of absolute professionals, Curtis and the "Big Band" raised the roof — or tore it off; we're not sure which.
This was the CD release party for Curtis' new album Soul Shot on Alligator Records, and it lived up to it's hype. American Blues Scene reviewed Soul Shot recently, and we aren't the only ones who love this release.
If you've ever spoken with Salgado, then you know how hilarious the harmonica master is. While introducing the band, Curtis explained how he came across his new guitar player. He mused that they kidnapped a band called "The Insomniacs", buried them out in the desert, and kept their guitar player Vyasa Dodson. Then Curtis amusingly quips, "He's pretty good for fifteen, huh"? We still haven't been able to confirm or deny this story!
The set included many classics, including "Born All Over" and "A Woman Or The Blues" from Soul Shot. Then, a blistering Harmonica solo, or the "Chicago Saxophone" as Curtis puts it, that went on for nearly ten minutes. Truthfully, we couldn't  say how long it was, and it's doubtful that anyone in the room could, either. Nobody was looking at their watches. Salgado had the crowd hanging on his next note… and he knew it! The crowd broke out in raucous applause when the display rolled to an end.
It's not often that you see a room full of well dressed people with their "horns up" at a blues show but that's the effect this amazing musician has on people.
If you missed last night's show, we have good news: Curtis Salgado and the Big Band will hit the reset button and do this all over again tonight. Enjoy!